While you need other security hardware to secure your place of business, advanced security locks usually come first, and that's what a commercial-grade keyless lock offers you. Besides, using keyless entry door locks helps reduce the added worry that arises when you lose your keys.
With keypad locks, you can program temporary and permanent access codes and never worry about misplacing your keys. More so, having unique codes gives you absolute control over those who have access to certain parts of your property.
Whether you are looking for commercial keypad door locks or need a lock that features both keyed and keyless entry systems, we have spent meaningful time researching the best commercial smart locks that will meet your needs.
First off, a quick look at our choices.
Our Top Picks:
| | | |
| --- | --- | --- |
| | | |
| | Schlage, Brushed Chrome FE595CS V PLY 626 ELA Plymouth Light Commercial Electronic Keypad Lock | |
| | Prodigy SmartLock MaxSecure Cylindrical Commercial Grade Lock with RFID Keyless Entry | |
| | Trilogy By Alarm Lock T2 Stand Alone Digital Lock | |
| | HAIFUAN Digital Door Lock—Unlock with Remote Control, M1 Card, Code and Key | |
| | Advanced Security TurboLock Keyless Smart Lock Keypad | |
| | Hangcheng Keyless Entry Door Lock | |
| | Kwikset 92640-001 Contemporary Electronic Keypad Single Cylinder Deadbolt | |
| | AGPtek Keyless Electronic Programmable Security Keypad Door Lock | |
Best Commercial Keypad Door Locks: Reviews
1. Schlage FE595CS V PLY 626 ELA Plymouth Light Commercial Electronic Keypad Lock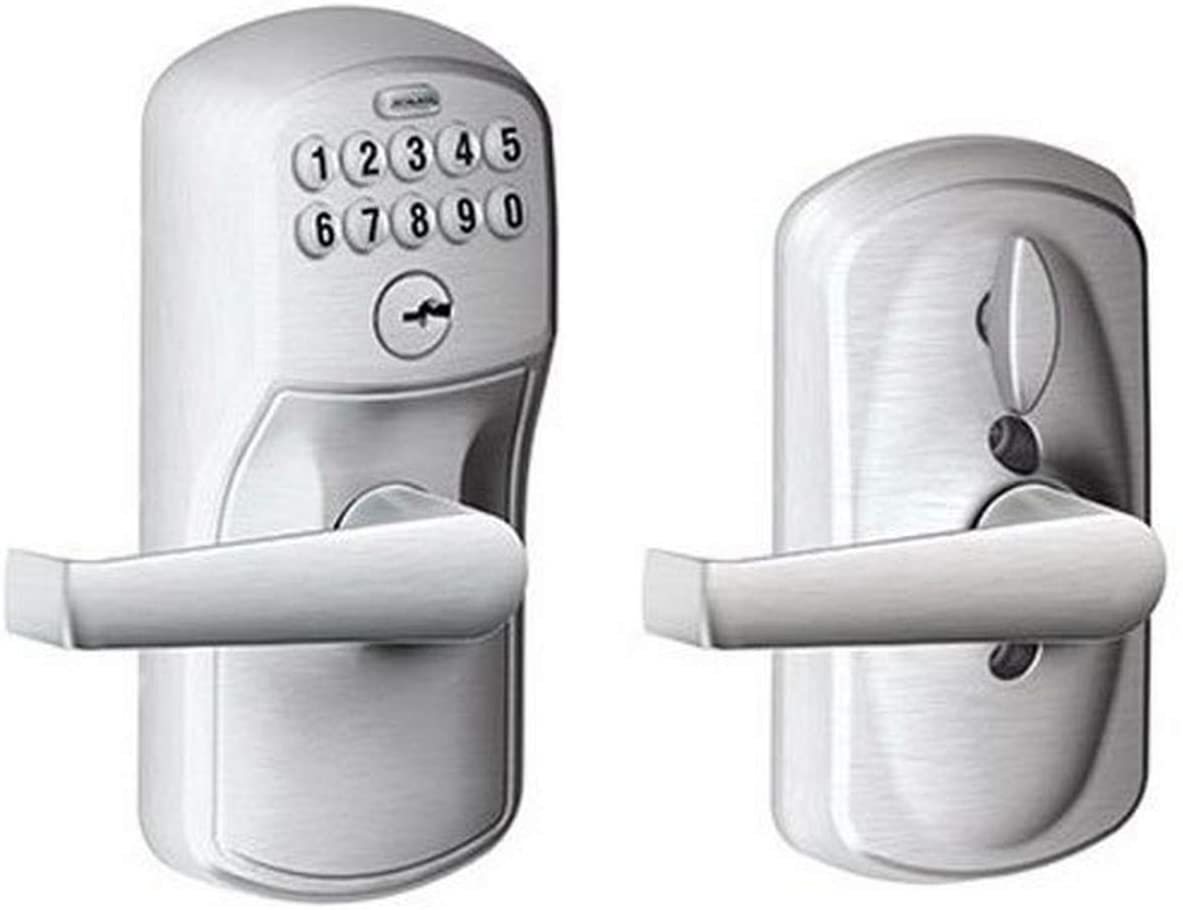 Using a keyed deadbolt that features a keyless system provides an extra layer of security. The Schlage Plymouth Commercial Electronic Keypad lock is perfect for business settings. Its exterior panel features a keyhole and keypad for entry.
The lock allows users to program up to 19 different access codes and also delete them at any time. You also don't have to fumble around the keypad at night as the buttons are backlit.
You can install the lock on most standard doors, and the installation process is easy.  This Schlage lock model is battery-powered and comes with a 9V battery. With Grade 3 ANSI rating, the lockset offers the peace of mind a rated lockset provides.
2. Prodigy SmartLock MaxSecure Cylindrical Commercial Grade Lock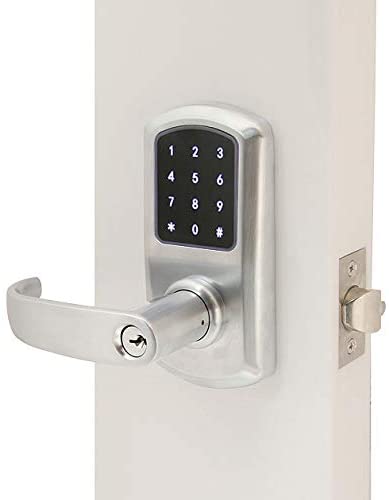 Sometimes, style may not be necessary when choosing a door lock that offers optimal security. But that's not the case with the Prodigy Smart Commercial Grade Lock as it comes in a beautiful finish that complement different door designs. The lock accepts both mechanical keys and numerical codes for easy entry and exit. The keyhole is built right into the curved lever, and it features a thumb turn on the inside to bolt or open your door.
You can create up to 400 user codes, and the system works with RFID keycards/stickers. The lock is Grade 1 ANSI rated, which is recommended in business settings for optimal security. The lock can be installed on most standard doors with 2-3/8" backset. You can simply follow the instructions on the users' manual for easy installation.
3. Trilogy By Alarm Lock T2 Stand Alone Digital Lock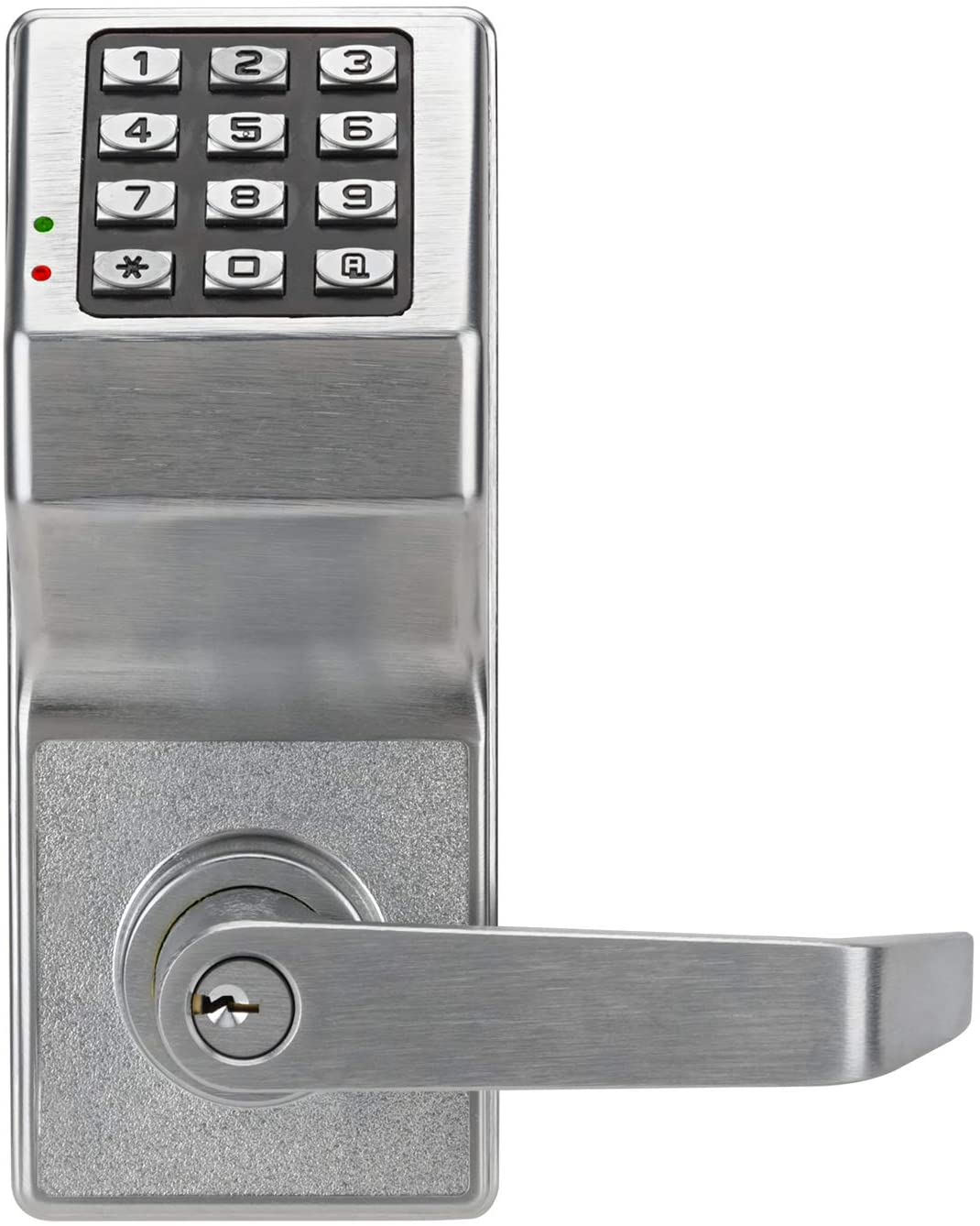 If you are looking for a standalone electronic keyless access lock that offers advanced security, you may want to consider the Trilogy T2 DL2700. It's a sturdy commercial grade lock with anti-pick and kick-resistant features.
The lock has a keyhole for mechanical keys and a keypad for electronic access. You can create up to 100 unique codes for temporary and permanent access. You have total control over the codes as you can add or delete them easily.
The lock fits most standard doors, and you can install it yourself if you can follow simple DIY tips. But it's okay if the process seems difficult. You can get a locksmith for proper installation.
More so, this lock has a lever handle that can be adjusted for either left or right-sided operations. It's worth mentioning that the lock system is powered by 5 AA batteries, which is included in the box. The lock has the Grade 3 ANSI rating, making a reliable option for securing your doors.
4. HAIFUAN Digital Door Lock — Unlock with Remote Control, M1 Card, Code and Key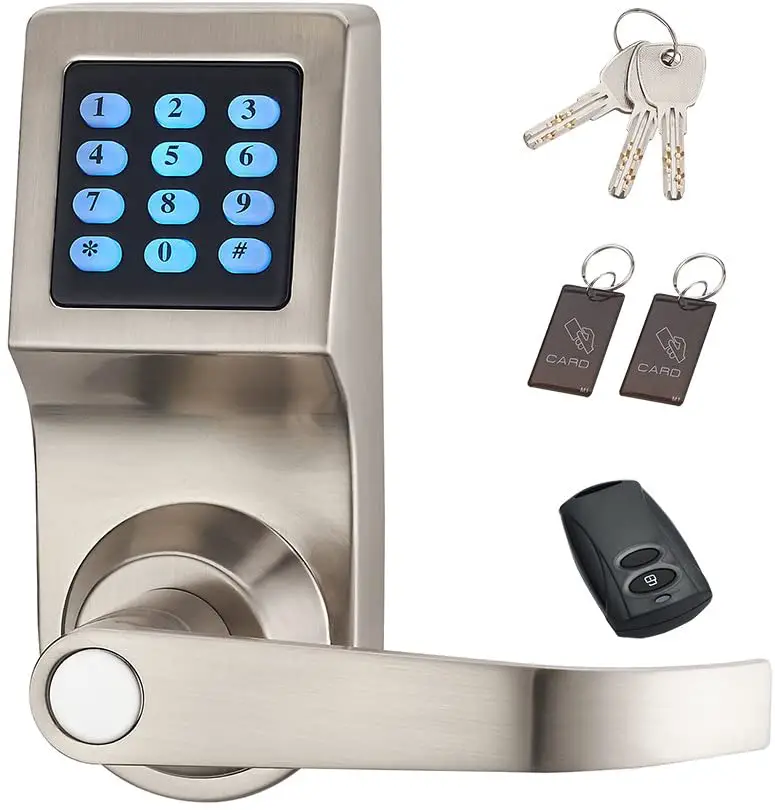 Using door locks that feature a keyless system in your business environment provides more security and convenience. You can ditch mechanical keys that may be susceptible to attacks and also save yourself the stress of carrying mechanical keys around.
The HAIFUAN Digital Door Lock is a sturdy commercial lock with keyed and keyless entry. That means you have the freedom to rotate your entry mode—access codes or via a mechanical key, a unique key card, remote, and voice commands.
More so, the lock features backlit buttons, meaning you don't have to fumble around the buttons at night. The lock is suited for doors with a thickness range of1.2" to 2.17". With the installation guide, you can easily install the lock and programming the codes in no time.
5. Advanced Security TurboLock Keyless Smart Lock Keypad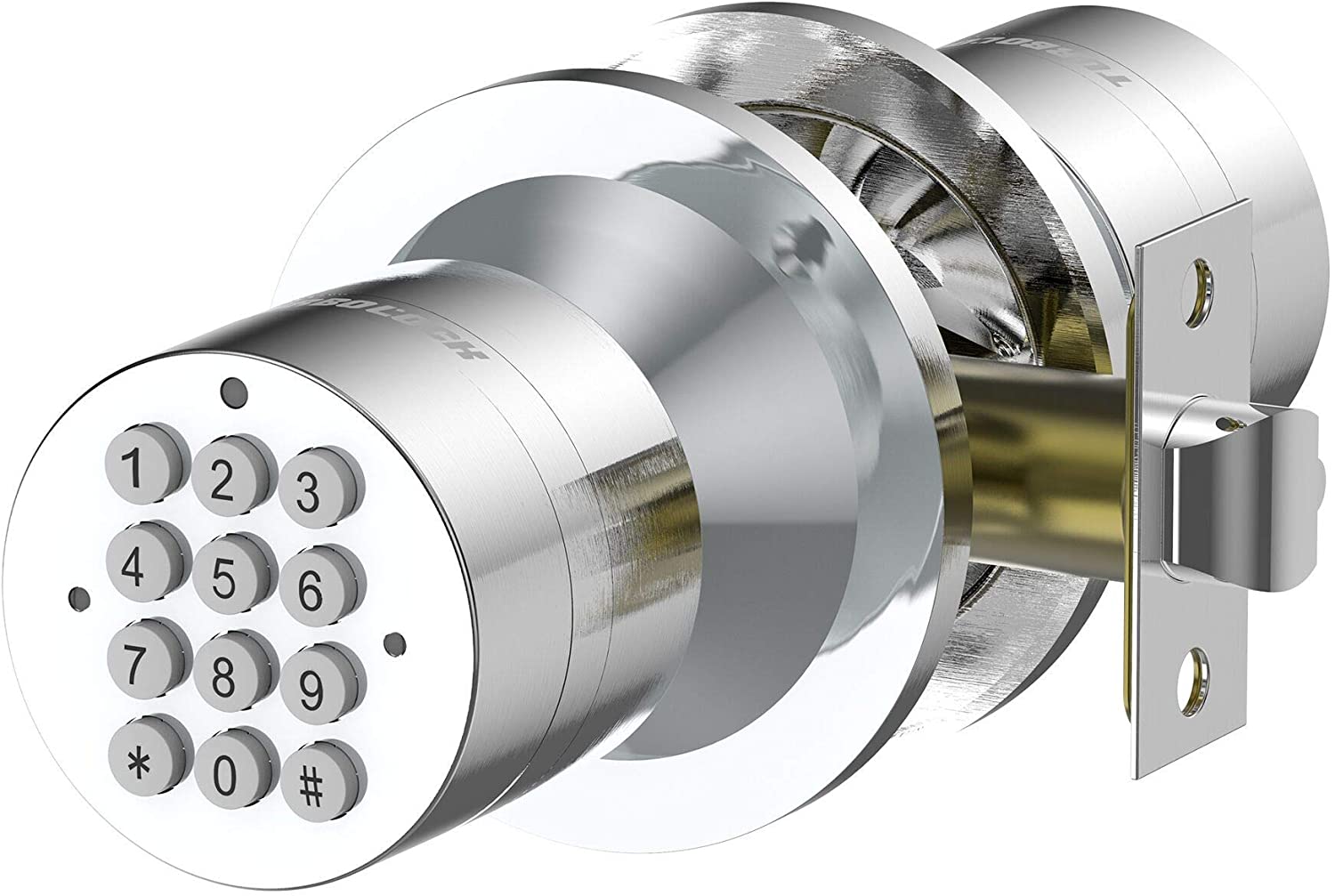 This TurboLock Smart Keyless is a rounded door lock that can be fitted on most standard front doors. Entry is mainly through access codes, and you can create up to 10 unique codes. To open it from the inside, the lock features a knob turn that lets you open easily. This lock is keyless and gives you the luxury of assigning different codes to those that you should have access to your business place—staff and others.
The TurboLock is powered by 4 AAA batteries and equipped with an emergency battery port that can be used to unlock the door if your battery runs out. Installation is easy and doesn't take much time. This TurboLock keyless commercial door lock is ideal for interior doors in your business place. You may have to use other locks if you're looking for a commercial lock to use on exterior doorways.
6. Hangcheng Keyless Entry Door Lock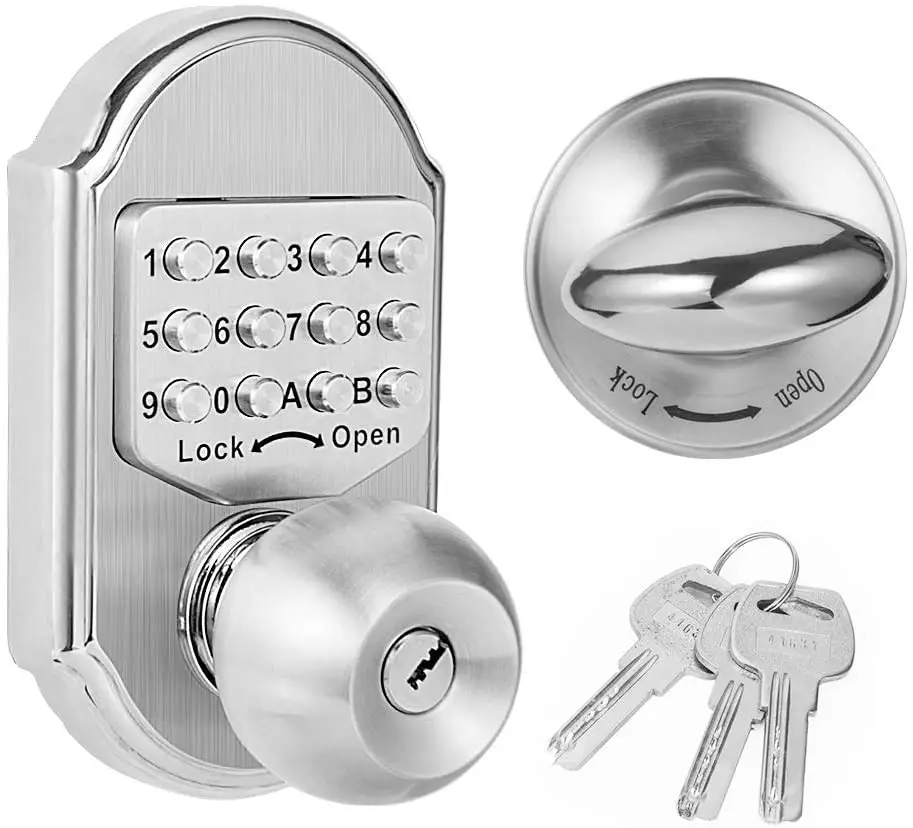 If you're looking for a door lock that offers both a mechanical locking mechanism and a keyless entry system, the Hangcheng Keyless Entry Door Lock could be a perfect option. The lockset features a keyhole for mechanical key access and a keypad for electronic code access. With the keyless entry, you can set unique codes for those you trust; perhaps your employees.
The lock requires a knob turn on the inside to bolt your door. The keypads are wear-free, which means no touch prints or clue will be left for burglars.
The lockset can be fitted on double bores standard prepared doors with a maximum diameter of 2-1/8". If you also need something that fits with your existing door, the stainless steel design complements most door finishes.
The lock is easy to install and fits both primary and secondary doorways. This feature has earned the Hangcheng Keyless Entry Lock several recommendations by existing users.
7. Kwikset 92640-001 Contemporary Electronic Keypad Single Cylinder Deadbolt
Using a door lock that offers both key and keyless entry is an effective way to enhance your business's security. The Kwikset 92640-001 Electronic Keypad lock is an active commercial door lock that lets you set up to 6 different passive codes and one master code. You can also program a one-time code for contractors and others who need temporary access to your property.
The lock features a single cylinder electronic deadbolt that can be operated via the keypad, a mechanical key outside, and a thumb turn inside. This lock also has a built-in alarm that sounds after a wrong code is entered five consecutive times. The keypad is also deactivated at that instance for 45 seconds. This is sure a great addition to its security features.
The lockset is battery powered and features a low-battery indicator that notifies you when the battery is running low. This lock fits well on standard exterior doors with 1 – 3/8 to 1 – 3/4″ thickness.
8. AGPtek Keyless Electronic Programmable Security Door Lock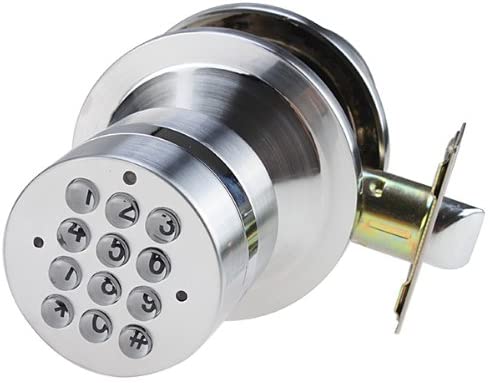 AGPtek is completely a keyless commercial grade lock with advanced security features. It has no mechanical key and you won't have to worry about lock picking and the like.
With the electronic codes, you can program 1 master code for yourself and set up 9 different unique codes for trusted third parties. The lock is battery powered and comes with a power adapter.
You can fit the lock in a standard doorknob installation door hole. The lock also comes in a white finish that looks good on most door designs. If you are looking for commercial digital locks that offer total keyless entry, the AGPtek Keyless Entry Lock is worth considering.
SEE ALSO: 5 Most Reliable Schlage Mortise locks
Frequently Asked Questions About Commercial Keypad Locks
Are Commercial Keypad Locks Safe?
Yes, commercial keypad door locks are safe as they are not prone to lock picking and bumping as traditional cylinder locks. To make your locks more secure, you should change access codes from time to time.
Can Commercial Keypad Door Locks Be Hacked?
Like other similar electronic devices, keypad locks are susceptible to hacking, especially those that work with Wi-Fi, Z-Wave, and the like. So commercial keypad locks can be hacked, though the chances are slim as users can monitor entry and exit activities and also remove any access code.
On the one hand, you can leave your keypad locks vulnerable to attacks if you share access codes with untrusted people. To ensure you are extra safe, protect your passcodes from third-party access, and change them periodically.
How Do You Reset a Keypad Lock?
Keypad locks are of different types, and the resetting process varies. For most keypad locks, the resetting is as simple as entering a unique code via the keypads to clear off all codes.
Depending on your lock brand, you may find the master code on the back of the lock. You should check with your manufacturer to see where your unique code is placed. You may also check the users manual for resetting guidelines.
SEE ALSO:  9 Reliable Schlage Digital Locks for Home Security
How to Choose the Perfect Commercial Smart Lock: Buying Guide
If you're looking to get the best commercial keyless door lock, here are the features you need to consider:
Size of Door/Lock
No matter how good the lock appears, you don't want to purchase one that won't fit your door. While you may be able to return it if you are buying on marketplaces like Amazon, it's not worth the stress. So, before you buy any lock, ensure you know the size of your door and confirm that it fits your door type. Most smart locks recommended here fit standard doors, but you should confirm before purchasing.
Security
While elegance and the convenience of controlling your locks remotely are notable features of smart locks, security remains the primary function. So ensure you settle for a lock that can withstand forceful entry and break-in attempts. More so, for commercial electronic door locks, you want locks with bump proof, anti-pick, kick-resistant, and other security features. You should also consider security ratings such as ANSI/BHMA standards.
Of course, we have featured the best locks that can withstand any of the above mentioned breach attacks.
Battery
Most smart commercial keypad locks work with a battery. You don't want a lock with a weak battery or one that you may hardly find the replacement. We have mentioned the battery types for most locks; they perform well and have a long lifespan. So make sure to check the battery life (if the lock is battery powered) before finally making a purchase. Locks with weak batteries could make the whole smart locks idea a mess, and you don't want to experience that.
Ease of Installation
If you're looking to install the lock yourself, you need a lock with easy installation processes. Besides, ease of installation is a significant feature in keyless locks and others. Even though you may hire a technician to install the lock, you can do some fixes yourself with an easy to operate/install door lock. However, all the locks reviewed here are easy to install, so you won't have difficulties installing when you purchase from our list.
Durability
Value for money works hand in hand with durability and functionality. You don't want a smart lock that will function optimally for a few days or weeks and eventually stop working. So, ensure you consider durability. The recommended locks here are durable based on a survey on current users—you can also head over to Amazon or the like to see what users are saying about the locks before making a purchase.
You may also want to consider the compatibility with wireless network devices such as Alexa, Google assistant, Wi-FI, etc. But this is purely based on your preferences.
Final Words
Using a commercial keypad door lock eliminates the worries of carrying physical keys around and perhaps misplacing them sometimes. You can create access codes and also revoke them at any time. More so, you won't have to worry about key picking, which is one of the techniques used by burglars.
To get the best out of these locks, ensure you install them correctly on compatible doors only. While the installation is easy, you should call a locksmith to handle the installation if you're not sure of handling it properly.
If you're looking for more advanced smart locks that offer remote and hand-free control, see our recommended Wi-Fi, Alexa and Z-Wave commercial door locks that may suit your needs.