Schlage and Weiser are both leading brands in the lock and door hardware industry.
Since they are the top competing brands, it may be difficult to choose between the two when buying hardware products. 
Not only are their locks and other door hardware products incredibly durable and reliable, but both brands also offer an extended warranty, which has won the approval of many customers. 
Let's get right down to the facts in this detailed Schlage vs Weiser guide to help you find products that best fit your needs!
When and How Did These Companies Start?
Schlage
Schlage has been in business for over 100 years. If that doesn't scream RELIABLE, we don't know what does.
In their own words, "We didn't invent the lock. We perfected it."
100 years allows for a lot of grace time to create and reinvent their locksmith technology.
There is a very wide margin for trial-and-error within that time frame, which perhaps contributes to the accredited success of Schlage. 
The evolution of their hardware began when they received their first patent in 1909.
The inventor, Walter Schlage, patented a door lock that had the ability to turn lights off and on. This put Schlage on the radar as a serious businessman. 
He opened up his first lock shop in 1920, and manufactured the first lock with a push-button device in the doorknob.
He then went into widespread production, producing this product that would forever revolutionize the door lock industry.
The company soon expanded internationally and developed into what is now famously recognized as the classic door lock brand.
With so many years of experience, it's no wonder that Schlage is an exponentially popular brand with a huge customer base. 
Read our related article on the most Reliable Schlage Digital Locks for Home Security! We cover various locks in an in-depth review and guide.
Weiser
Weiser is a trusted lock hardware company that has been in business for 115 years and is the leading lock brand of Canada. 
They have produced innovative content, and even developed some of the world's first hardware products such as their Brilliance Anti-Tarnish finish as well as their Powerbolt Keyless Home Access System. 
Weiser had a different beginning as a family-run foundry in Southern California casting metal and received much popularity after being in some Hollywood films, and in the homes of movie stars of that time. 
They have since become an internationally acclaimed brand.
Weiser claims that "Quality and security are an integral part of every product", and due to their century of success as a business, this claim is very justifiable. 
Times and styles may have changed since their start in 1904, but Weiser's reliable hardware has only improved over time.
They have mastered customer service, and have years of discerning the demand of customer's needs.
Weiser focuses on the style, security, and quality of their products, with great focus and attention to their customer's needs. 
Read our related article on the Best Weiser Door Locks. We tested the top Weiser locks and here are our results!
Company Pros and Cons
Both Schlage and Weiser sound like the top, durable, and high-quality brands. So how do you choose between the two reputed companies? 
Both are becoming increasingly popular, and their keypad door locks continue to rise in sales.
Below we have included some pros and cons of both companies and their products.
Schlage Pros
Besides their rich history of long-term business, Schlage products are also among the highest quality on the market.
Here's what we love about their hardware:
Their keypad locks have both a keypad and keyhole to utilize for unlocking in case the user forgets their code.
Their keypad locks have up to 100 code options, are battery powered, and are easy to install.
Their keypad door locks use Grade 3 ANSI rating security technology.
Their smart lock technology allows users to unlock their doors remotely from a smartphone.
With their smart lock technology, the user is able to connect their locks to Alexa and use voice control.
They offer a variety of finishes and styles, so the customer can coordinate accordingly to fit the aesthetic of their home
They fit all standard doors.
They offer a 3-year warranty.
Compatible with both homes and businesses.
 Some of their products offer a built-in lock alarm system.
Schlage Cons
As per every product on the market, not every Schlage product is perfect.
Although they are constantly developing and renovating their manufacturing, they still experience normal setbacks in their products.
Here are a few Schlage product cons:
Some of their keypads tend to freeze in the cold.
Their batteries may die fast.
They are on the expensive side of the price spectrum.
Some of their products have had issues with their turn lock feature.
Some of their products have trouble connecting to WiFi.
It has a limited Bluetooth range.
The remote access only works with WiFi adapter add-on, or an Apple Homekit.
Inconsistency with hole sizing on their different products.
Troubleshoot problems with their app.
 Defective keyboards.
Weiser Pros
There is a reason why Weiser has continued to be in business for over one hundred years. Customers love their products, and we know why.
Here are some of the top pros of Weiser products:
Their products are easy to install. 
They offer a lifetime warranty that covers all defective products.
Some of their top-quality locks offer voice control. 
Smart lock models have remote access using a Weiser app and Apple TV.
They are BHMA grade 2 certified for security.
Their smart keypads operate on AA batteries.
They have stainless steel locking technology.
The user has the option to rekey the lock themselves.
Antimicrobial protection is available on the products to prevent the growth of bacteria.
They are durable in any weather.
Weiser Cons
Weiser, too, has its own faults. As thousands of products are being manufactured, a few are bound to malfunction.
Here are what some buyers, including ourselves, don't like:
Some products have trouble connecting to Bluetooth.
The keypad input could be confusing to figure out.
The batteries die easily.
Older lock keyholes do not fit with newer ones.
The app lags when connecting to the home WiFi, therefore it takes a while to unlock the door.
The remote Bluetooth only works within a certain distance.
There are some connectivity and troubleshooting issues.
There are not many different color options available.
Individual parts are expensive to replace.
 The alarm is not as loud as some users would like it to be.
Schlage vs Weiser Top Product Comparisons
We will display a side-by-side comparison of each company's top 3 selling products. Here we will look at the price, quality, and top features of the products. 
Schlage
1. SCHLAGE Satin Nickel Camelot Keypad Entry with Flex-Lock and Accent Levers
With a modest price tag, this keyless door lock is one of Schlage's top-selling products on the market right now.
It has thousands of positive testimonials, and is popular for both home and business establishments. 
It's 3 x 1 x 2 inches, and fits with most door finishes. It also comes already set with two user codes and is ready to use as soon as it's delivered. 
The lock is easy to install, battery operated, has a backup key, a backlit keypad, can hold up to 19 access codes, and indicates the user when the battery is low.
BOTTOM LINE: For its popularity, price, and features, we give this product 5/5 stars.
---
2. Schlage Sense Smart Deadbolt in Satin Nickel Handleset with Camelot Trim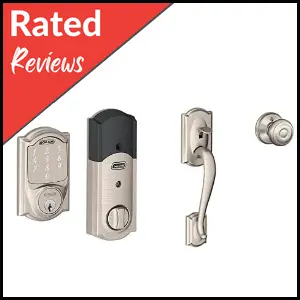 This popular Schlage Deadbolt lock is on the higher-end of keypad locks and costs a pretty penny.
While it's one of the more expensive locks on the market, its features justify the price tag. 
It's battery-operated, has a low battery indication, works with the Schlage app to unlock remotely, has a three-year warranty, is easy to install, and connects to WiFi.
BOTTOM LINE: For its price, quality, and features, we give this lock 4/5stars.
---
3. Schlage Encode Smart Wi-Fi Deadbolt in Satin Nickel with Camelot Trim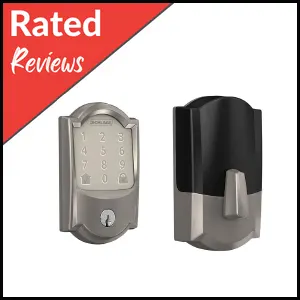 This is one of Schlage's most advanced deadbolt locks that they offer. It has over 11,000 reviews on Amazon, but it also has a hefty price.
At a handful of 100s, this smart keypad lock is definitely an investment. 
Buyers love it, however, and here's why. This 0.89 x 3 x 5-inch lock has built-in WiFi and allows the user to access it from anywhere.
It works with a Schlage app, and has the ability to hold up to 100 access codes. 
It's a smart door lock that connects with Alexa so that you can check the status of your locked, or unlocked door, and is fingerprint-resistant.
Lastly, it has a built-in alarm, and is reportedly easy to set up. 
With many of its features listed here and more, this is one of the top keypad locks today.
BOTTOM LINE: Its price may be high, but the quality makes it well worth it. We give it 4.5/5 stars. 
---
Weiser
1. Weiser Lock Powerbolt Electronic Deadbolt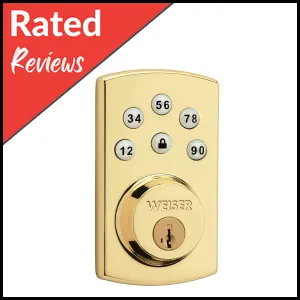 This is one of the most popular Weiser smart keypad door locks. It's not exactly budget-friendly, but for a reason.
It offers a six-button keypad, a keyhole, the user is able to rekey the lock themselves, and it is compatible with most door finishes. 
It also comes in bronze and nickel colors.
BOTTOM LINE: It doesn't offer as many features as similar Schlage products, therefore, we rate this lock 3/5 stars.
---
2. Weiser Lock Beverly Entry Knob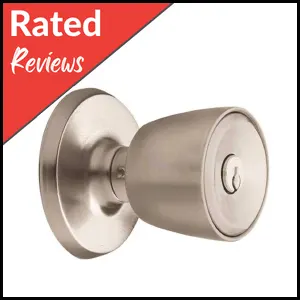 This Weiser product has one of the most competitive prices of most of the quality doorknobs on the market.
Albeit, it's not a smart knob, but it still has a nice smooth finish, and goes well with many door finishes. 
This doorknob is budget-friendly, and features a keyhole on both the interior and exterior handles.
This is mostly a secured option for interior doors, and we recommend a secure keypad lock for external or front doors. 
BOTTOM LINE: This knob is simple yet functional and widely popular. We rate this product 5/5 stars.
---
3. Weiser Premis Electronic Touchscreen Deadbolt Lock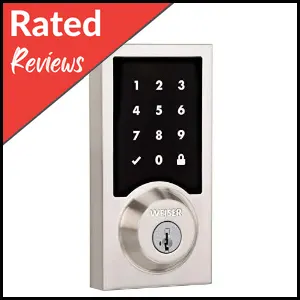 At a relatively hefty price tag, this product is on the high-end of keypad locks. It features touchscreen technology, which is unusual in most other similar products.
The touchscreen is backlit, has a turn piece on the interior, and has a keyhole feature. 
It's also compatible with an Apple Homekit, Siri, and Apple TV. This lock also has the option for you to use it remotely, and fits on most doors.
Its stainless steel and matte black touchscreen finish give it a very classy and modern look.
BOTTOM LINE: We like the modern look and the quality. Overall, we give this system 4/5 stars. 
---
Top Product Comparison
Out of the 3 products reviewed for each company, we gave Schlage a total of 13.5 stars out of 15 and Weiser 12 stars out of 15 possible stars (up to 5 for each product). 
As you can see, both companies produce top-quality products, and when they're compared side-by-side, they almost measure up to the exact same level according to our, and other users', experience.
The main difference, however, is that Schlage products tend to offer more features on their products.
While they may be more expensive overall, their advanced technology products are definitely worth the price.
Choosing the Right Brand for You
Both Schlage and Weiser are great, durable, and reputable companies. So how do you know which company to choose over the other? That depends entirely on what you are looking for. 
Based on the amount of user reviews, it seems that Schlage may be a more popular company than Weiser. Weiser, however, has very competitive prices. 
Both companies have also been in business for over one hundred years, and therefore have had the time and experience to develop cutting edge products. 
We recommend using Schlage for business purposes, as they offer more smart key features, and allow the user more access to code options than many of Weiser's products. 
Both companies have secure locking hardware for households, and you really cannot go wrong with either one. 
As previously mentioned, if you want the option of more high-tech features such as remote and voice control, Schlage may be the right option for you. 
Keep in mind, however, that with more technical functionalities, more malfunctions may be possible. 
There were plenty of problems with both company's more technical products such as problems connecting to either Bluetooth or WiFi, problems with troubleshooting, and problems with each company's app. 
Lastly, it always helps to do your own extensive research before purchasing a high-end product.
If you're still having problems deciding which company is right for you, perhaps try both out, and return the product that least satisfies your needs. 
Final Thoughts
After our comparison of Schlage vs Weiser, you should have enough information to help you find the right brand or product for your home or business.
Both companies are highly trusted and have been respected by the public for over 100 years – that's generations of business with customers all over the world!
No matter which brand you choose, you can rest assured that both produce reliable products.