As you probably know, the Schlage Encode Smart Deadbolt comes equipped with a built-in Wi-Fi, meaning you can connect it to your smartphone without needing any third-party hub or Wi-Fi Bridge.
But can this lock work without Wi-Fi? Let's find out!
The quick answer as to whether Schlage Encode works without Wi-Fi is yes and no. Yes, if you mainly want to operate your lock via the touchpad (using access codes) and No if you want to enable remote access.
That is, to control your Schlage Encode lock remotely via the Schlage Home app on your smartphone, you need to enable remote access, which requires Wi-Fi.
That said, if you're looking to learn more about how Schlage Encode works—connecting to Wi-Fi and enabling remote access on your smartphone, you want to keep reading.
How to Connect Schlage Encode to Wi-Fi
Step 1: Ensure your home Wi-Fi is up and running.
Step 2: Open the Schlage Home app on your phone and then click the Settings Icon.
Step 3: Select Wi-Fi Settings and follow the on-screen instructions to connect your lock to a Wi-Fi network.
Note that Schlage Encode only works with 2.4GHz Wi-Fi networks, so be sure you set your home Wi-Fi to 2.4GHz.
Why Won't My Schlage Encode Connect to Wi-Fi?
As mentioned, Schlage Encode only supports a 2.4GHz Wi-Fi network, so check to see if your home Wi-Fi is actually 2.4GHz. If not, switch it to the supported Wi-Fi network (2.4GHz).
The Schlage Home app only lists password-protected and 2.4GHz Wi-Fi networks. So if your network isn't password-protected, you may not find it in the Schlage app.
If your network is hidden, manually enter your Wi-Fi information in the app.
Try to connect your lock to your home Wi-Fi network again. If it still fails to connect, go here to learn more about troubleshooting Schlage Encode Wi-Fi connection problems.
What's More About the Schlage Encode Smart Lock?
You probably know that the big thing with Schlage Encode Smart Deadbolt is its built-in Wi-Fi. Yes, the built-in Wi-Fi is a unique feature in Schlage Encode—allows users to connect directly to smart home systems without a third-party hub. But this smart lock offers more! Let's take a closer look: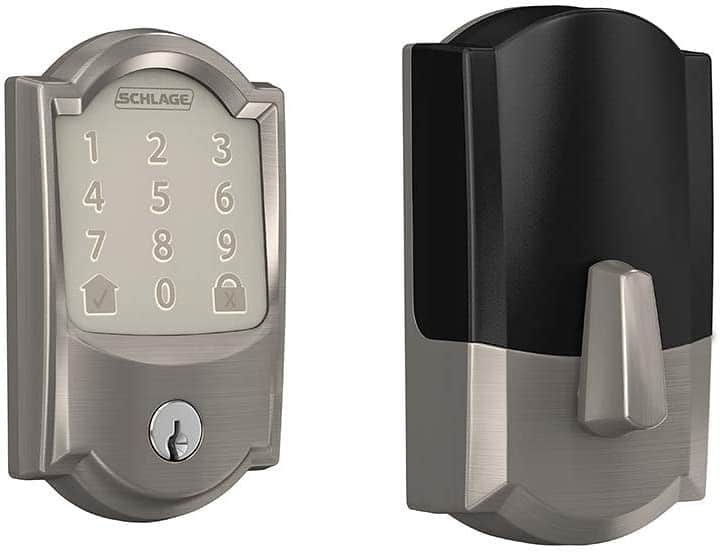 1. Compatible with Voice Assistant Devices
If you're looking for a smart lock that lets you lock and unlock it through voice commands, Schlage Encode is one of those that tick all the boxes.
There's even more, connecting your Schlage Connect to voice assistant devices such as Alexa and Google Assistant lets you view your lock's activity, set user codes, and receive notification alerts via the app installed on your phone.
Yes, Schlage Encode is compatible with Alexa and Google Assistant and you can conveniently control your lock from miles away via the apps on your smartphone.
2. Works with Key by Amazon
Key by Amazon is another third-party app compatible with Schlage Encode Smart Wi-Fi Lock.
Once successfully paired, you can monitor and control your door via the Key app, assign temporary or permanent access to friends, family, and anyone else.
3. Works with Ring Alarm Home Security System 
Integrating your front door lock with the Ring Alarm Home Security system is a great way to beef up security. But you need a smart lock compatible with Ring, and Schlage Encode is one of those.
However, Schlage Encode Wi-Fi Deadbolt doesn't connect directly to Ring but via Key by Amazon. Through the Key by Amazon app, you can integrate your Schlage Encode lock with the Ring Alarm system for:
Real-time monitoring
Security alerts
Lock and unlock your door via the Ring app
Verify a guest identity via the Ring video doorbell before granting access and more.
Note: Schlage Encode works with Ring Alarm through Key by Amazon.
4. Advanced Security
At the core, security is the major reason you want to get a lock, so you need a secure smart lock.
Schlage Encode Smart Wi-Fi Deadbolt comes equipped with excellent security features, including a built-in alarm that senses security threats at the lock and a capacitive touchscreen that prevents fingerprints retention.
It also has anti-pick and Bump-proof features, making it the ideal candidate for front doors.
5. Key and Keyless Entry
Schlage Encode offers you various ways of unlocking your door without a physical key. These include access codes, Schlage Home app, and third-party apps like Key by Amazon and Google Assistant.
And if you decide to switch to a key entry, the lock features a keyhole that lets you lock and unlock it via a physical key.
Related Question
Why is My Schlage Encode Battery Draining Quickly?
If you had previously used Bluetooth and Z-Wave-based smart locks, you may well notice the difference in battery usage—compared to Wi-Fi-based smart locks.
Normally, Wi-Fi-based smart locks consume more batteries.
However, if your Schlage Encode batteries drain really quickly, these might be the cause:
Weak Wi-Fi Signals
Since Schlage Encode has built-in Wi-Fi, it works to stay connected to your network always. So a weak or obstructed Wi-Fi signal may trigger your lock to regularly search and reconnect to your network, which puts pressure on the battery and hence reducing its performance.
Not Disconnecting Your Lock from Your Network
Your lock may continue searching for a signal if you don't disconnect it from your network after turning off your home Wi-Fi. This may put pressure on the battery and reduce its life.
If your lock's battery life is affected by weak Wi-Fi signals, here's how you can improve it:
Strengthen Wi-Fi signals by locating your router close to your lock.
Always disconnect your lock from your network after turning off your home Wi-Fi.
Get a Wi-Fi extender to improve your signal's strength.
Read more about troubleshooting battery issues in Schlage Encode.
Final Words
Schlage Encode Smart Wi-Fi lock is one of Schlage's best models and comes equipped with several exciting features.
As you can see, the lock has a built-in Wi-Fi, meaning it doesn't need a smart hub to pair with your smartphone and other Wi-Fi-based systems—for remote access.
It can function with and without Wi-Fi as it's designed to work with access codes and a physical key too.