You probably have heard or seen some front doors having more than one lock and you're wondering how many locks an entry lock is supposed to have, right? You're not alone, we all want to keep our homes secure and it's okay to inquire about new trends to help you adopt the best method to secure your home. That said, let's try to approach the question directly:
How many locks should a front door have?
Having a single sturdy lock on your door is perfect. However, two locks could add extra protection to your door/home or place of business. So one or two sturdy locks are okay for a front door lock.
While solid locks can help secure your front door, you need to supplement that with other security measures—for reliability. If you're looking to learn more about securing your front door, here are some effective tips for you.
Read our related article on the Best Kaba Door Locks for an in-depth review of the top locks for commercial use!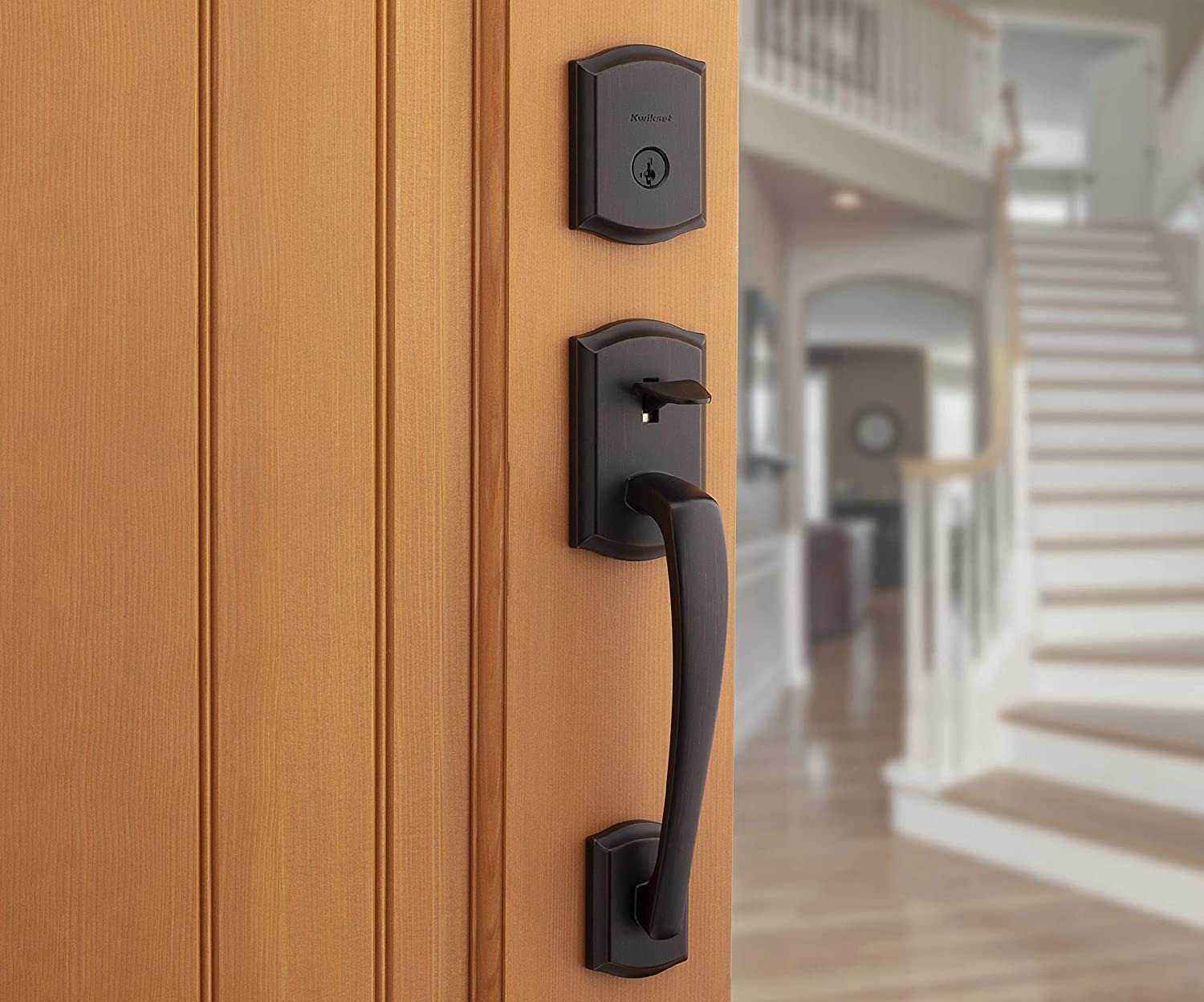 How to Secure Your Front Door
1. Get a Solid Door
Before you think of changing locks or putting up other security measures to secure your front door, you should first examine the door to see if it's solid enough to withstand kick-ins. You may have excellent locks, but they become worthless if your door can't withstand a kick in.
Note that the more solid the door is, the harder to break or kick in. So examine your doors and replace them if necessary. You should replace all entry doors with metals, solid wood core, composite, or solid wood doors.
2. Install Sturdy Locks
You probably know that not all locks are suitable for front doors. You need solid anti-kick, anti-pick, and bump proof door locks that can withstand any form of break-ins.
We recommend that you get rated deadbolts for your front door. By rated we mean doors that are tested and confirmed by ANSI/BHMA to withstand certain burglars' tricks such as picking, break-in, and kick ins. See our recommendations for ANSI/BHMA certified front door locks here.
3. Secure Other Entry Locks
You want to secure your front door to ensure the safety of your home, correct? Burglars may take advantage of other entry doors and that defeats all efforts in securing your front door. So while you protect your front door, ensure you lock all other entry doors with sturdy locks as well.
4. Replace Strike Plate
You probably don't know what a strike plate is, and that's okay since you're no locksmith. The strike plate in a door lock ensures your door is tightly shut. It's the metal piece where the deadbolt latch bolts the door frame.
During a forced entry attempt, the regular strike plate could easily give in, so you need a box strike model that is equipped with a metal enclosure and longer screws to protect against forced entry.
You may replace the strike plate yourself if you have a fair knowledge about locks installation/repair. Otherwise, it's best to call a locksmith to do it properly.
5. Install Security Camera/Peephole
So that you don't open your door to strangers that might be intruders, you want to install a peephole that helps you screen visitors before opening the door.
The peephole is easy to install, and it's compatible with most standard doors—up to two inches thick.
More so, ensure you install a front door camera to monitor activities at your door. If you have a smart home, you can even monitor activities at your door from anywhere.
6. Change Your Door Locks
The best time to change your locks is not only when they wear out. If you have shared your keys with someone that no longer lives with you, it's best to change the locks to prevent unauthorized access.
More so, if you have once given contractors your key and they misplaced it, you need to change the locks too. This also implies to you. If you misplace any of your keys or move into a new apartment, make sure to change the locks.
You want to ensure you're not sharing your access keys directly or indirectly with third parties you don't want to give access to your home at the time.
7. Use Keyless Door Locks
Although keyless door locks have a few downsides, they're considered safe as they can't be picked. Also, you won't carry physical keys around, which means you won't have to worry about misplacing keys and putting your home at risk.
Keyless locks also have other features like auto-lock, alarm, remote control, etc. You can monitor activities at your door from anywhere, which is an added security to your front door.
However, this depends on the type of keyless doors you have. You can check our selection of touchpad locks, Google Assistant locks, and Alexa enabled locks; they're all keyless door locks with great features.
8. Keep Your Outdoor Lights On at Night
You probably know that outdoor lights can deter burglars, and that's a fact. Of course, thieves don't want to be seen, so they won't come near your front door when the area and surroundings are well lit.
If you think keeping your lights on throughout the night may increase your electricity bills, go for outdoor motion sensor lights that automatically turn on when motion is detected from a distance. In fact, this is another effective way to secure your front door and entire home from intruders.
Front Door Security Related Questions
What door lock brand has the most secure front door locks?
Kwikset, Schlage, Baldwin, Yale, and a few others all have reliable front doors. However, we do not guarantee that all locks produced by these brands are great for front doors, so you have to take your time to find the best ones.
Can I use electronic locks on a front door?
Yes. However, some smart locks can be easily defeated, so you need to ensure you get smart locks that are rated to withstand forced entry attacks.
Are deadbolts the most secure locks for front doors?
Deadbolts are often regarded as the most secured locks and are somewhat better suited for front doors. However, you still have to ensure you get the best ones out there for optimal functionality.
Final Thoughts
While one sturdy lock is enough to secure your front door, you may install another lock—if you really need to add an extra layer of protection to your door. This practice is even recommended by building codes (based on your country of residence) and insurance companies to strengthen your entry doors security.
However, note that the security of your front door is not only dependent on how many locks you have. As you have read, you need to ensure that other security measures are put in place. This includes changing compromised locks, upgrading strike plates, using smart locks, installing security cameras, peepholes, and more.
More so, be sure to use the appropriate locks for commercial or residential settings. If you're looking for the best locks to secure your place of business, see our commercial keyless locks top picks.