The 8 Best Outdoor Step Lights
In this post, we want to help you find the best outdoor step lights, which is probably the reason you found this page. So on here, we have researched and highlighted the best of these lights suitable for illuminating and decorating steps/stairways.
But before we head over to our selections, a few tips about step lights:
Step lights can be mounted indoors or outdoors. So make sure to get the appropriate ones.
Only use weatherproof lights on outdoor stairs
If you're replacing your old lights, be sure to check the dimensions before you buy.
Go for solar-powered lights or lights with dusk to dawn features if you care about energy consumption.
That said, it may interest you to know that we considered all the necessary outdoor lighting features in our selection process. What's more, you may not need any further research to find your preferred step lights.
If you're ready to look through our top picks, here you go:
Our Top Picks:
| | | |
| --- | --- | --- |
| | | |
| | LEONLITE 120V Dimmable LED Step Light | |
| | Mr. Beams MB522 Battery-Operated LED Step/Stairs Light | |
| | iThird LED Solar Powered Step Lights | |
| | Low Voltage LED Landscape Deck/Step Light | |
| | GKOLED Low Voltage LED Step/Deck Light | |
| | DBF 30 LED Outdoor Waterproof Solar Stair Lights | |
| | Solpex Outdoor Solar Step Lights | |
| | DenicMic Outdoor LED Solar Step Lights | |
Best Outdoor Step Lights — Reviews
1. LEONLITE 120V Dimmable LED Step Light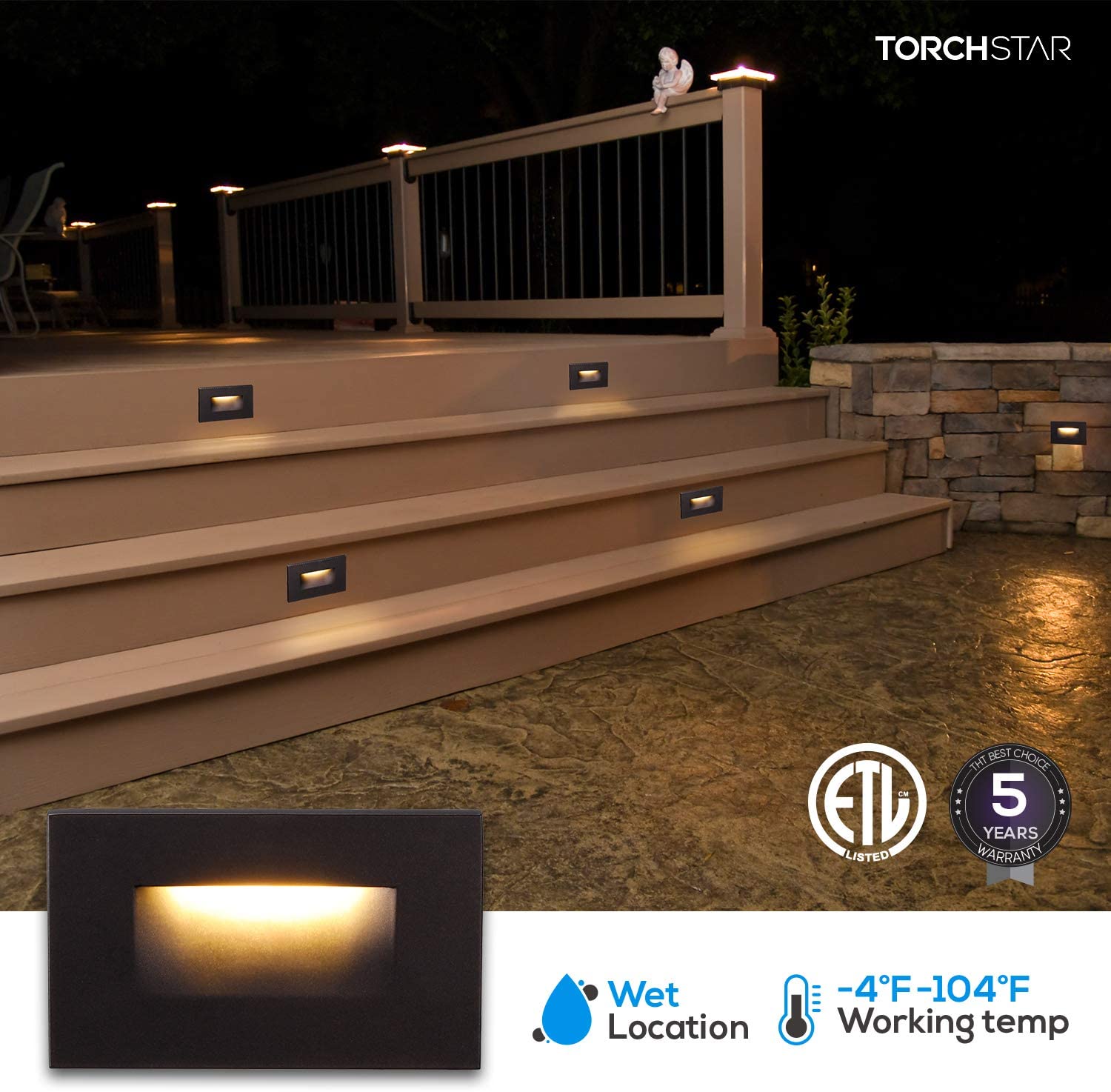 Why do we recommend this step light? Step or stair lights are primarily used for illumination and decorations. For either purpose, this light has all the features you need to decorate and illuminate your stairways, steps, basement, etc.
The light is durable, and it's waterproof and dustproof. This means rain or dust won't damage it quickly. It has a stable dimming feature that lets you control the light's brightness to suit the weather condition or your mood. It's compatible with most dimmers, so you can easily get one.
The light comes with all installation accessories and this makes the installation process quite easy. If your old step lights are anywhere between 4.33 inches (L) x 2.2 inches (W) x 2.8 inches (H), you can replace them directly with this light.
Overall, this step light provides cozy and warm lighting that brings more elegance to your home. It's ETL certified and that marks it safe for use. Needless to mention that you can also use this light indoors but note that it's 120V, which might heat up interior spaces. You may use the dimming feature to reduce the voltage.
2. Mr. Beams MB522 Battery-Operated LED Step/Stairs Light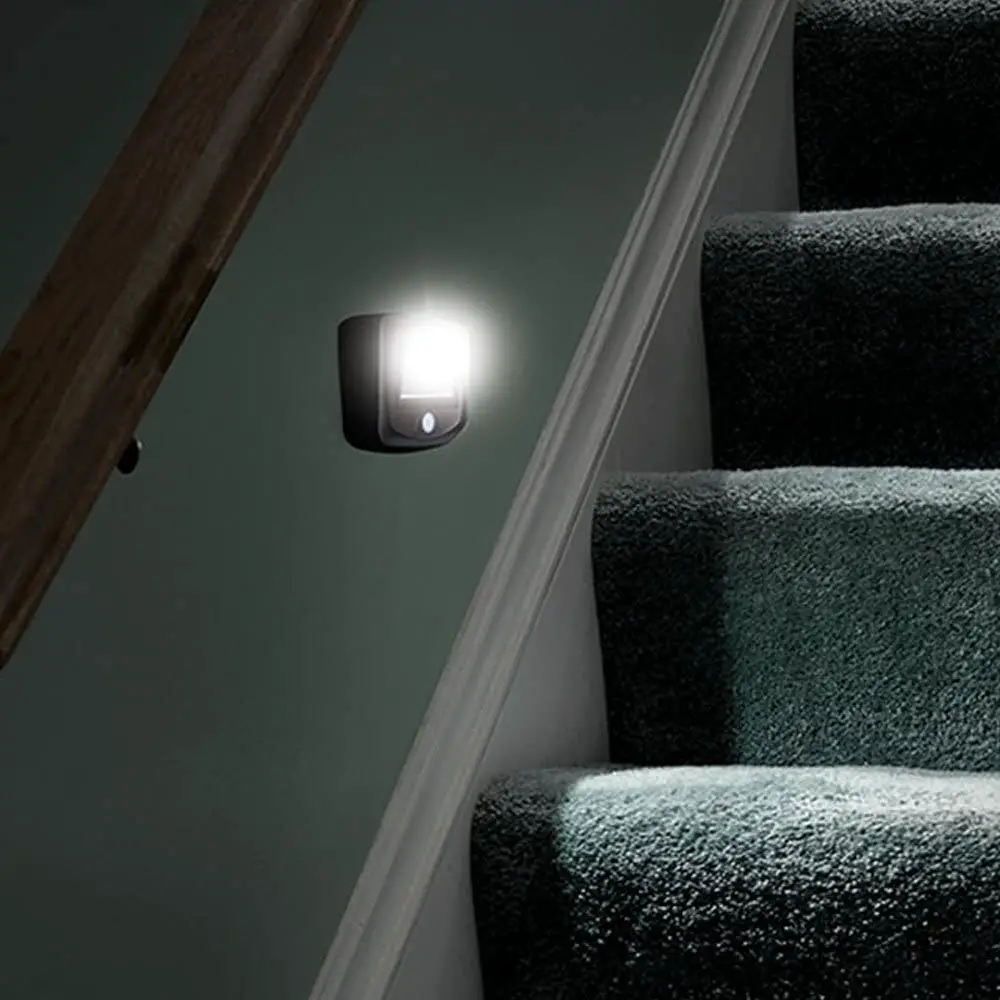 This light features a wireless installation that only takes minutes to get the lights on. It's battery-operated and has built-in light sensors with auto shut off feature. This feature automatically shuts the lights off for 20 or 60 seconds to save battery.
While it's ideal for steps, you can also use it on hallways, bathrooms, and more. It is equipped with motion sensors that detect movement from 12 feet away.
This outdoor LED step light gives off 35 lumens of bright white light. Each fixture light covers over 120 square feet. Moreover, the light is weatherproof and UV resistant, so you won't have to mind whether it's exposed to rain or sun.
The dimension for each light is 1.81×3.5×3.15 inches. It might replace your old step lights easily.
3. iThird LED Solar Powered Step Lights
If you want to control your energy bills while using step lights, you want to opt for solar-powered ones. And that's not all these lights offer you. They are equipped with the dusk to dawn feature that automatically turns on the lights at night and off at dawn. Each of these lights has 6 LED ultra-bright chips and last for 30000 hours.
The lights are perfect for illuminating your steps and thus making them safe to walk on at night. You can also use them to decorate your stairways.
More so, these lights come with an upgraded solar panel that quickly charges the battery when placed under direct sunlight for 4 – 6 hours. When fully charged, the battery can last for up to 8 – 12 hours with constant lighting.
These lights require no wiring, which makes installation easy. You only need a screwdriver to drive in the screws onto the mountain surface. Ideal for illuminating stairs, deck, fence, and more. It also works as accent lights for garage, lawns, gardens, etc.
4. Low Voltage LED Landscape Deck/Step Light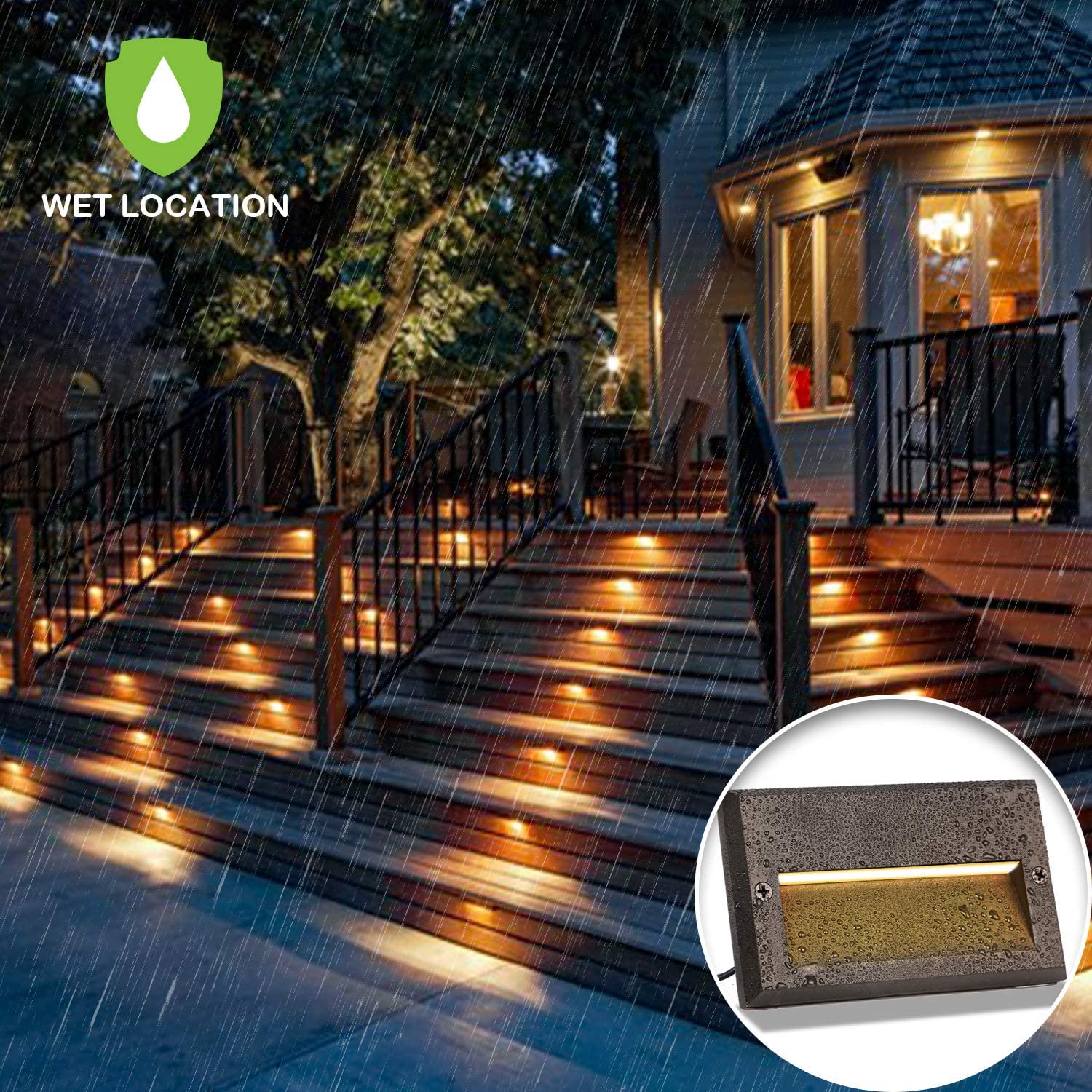 As the title says, this is absolutely a low voltage light suitable for steps, decks, gardens, and more. It's best used in accenting and illuminating pathways, stairways, etc. Besides, this light is durable and weather resistant. It operates well in hot weather — up to 110 Degree Fahrenheit and up to 13 Degree Fahrenheit in cold weather.
Installation is not difficult if you have all the accessories in place. However, this light doesn't come with all the mounting accessories, which means you have to purchase them separately. You may want to consider this a drawback as most of the other lights come with installation accessories.
Aside from that, the light performs optimally and the design may add more colors to your home décor. It comes with a 20-year warranty, according to the manufacturer.
5. GKOLED Low Voltage LED Step/Deck Light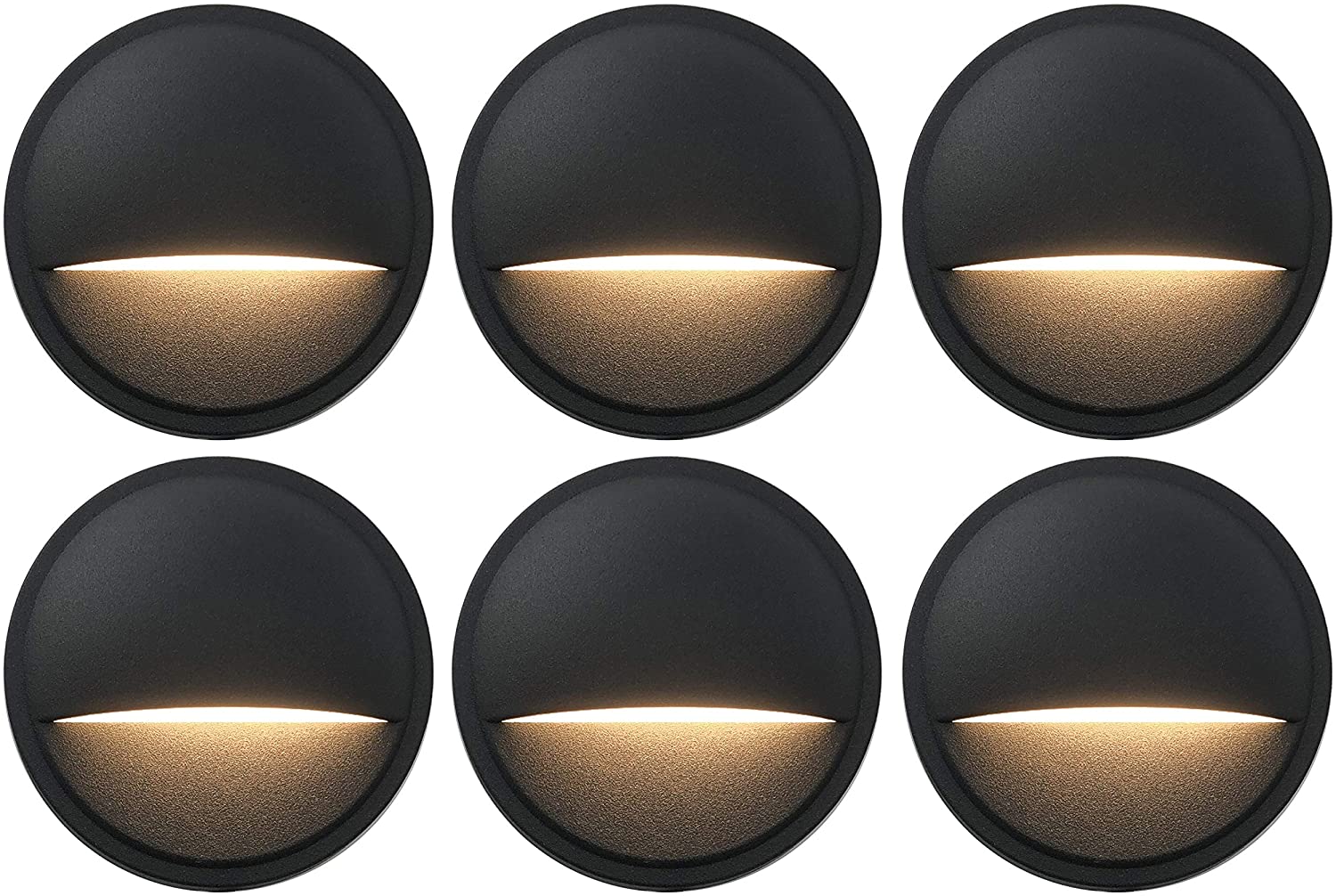 This light has a solid and elegant finish that would probably complement your stairway design. It's suitable for illuminating steps, especially at night for safe walks.
It's a low voltage light, which reduces energy consumption. Besides, this light features very easy installation. It requires no screws, and it comes pre-wired. So the installation can be done yourself without spending extra bucks to hire an electrician.
You may also like this light for its weatherproof features. It functions well in wet places and won't wear off even when exposed to direct sunlight. More so, the light fixture is UL listed, which marks it safe for use.
This light also comes with a 2-year warranty, if that makes sense to you.
6. DBF 30 LED Outdoor Waterproof Solar Stair Lights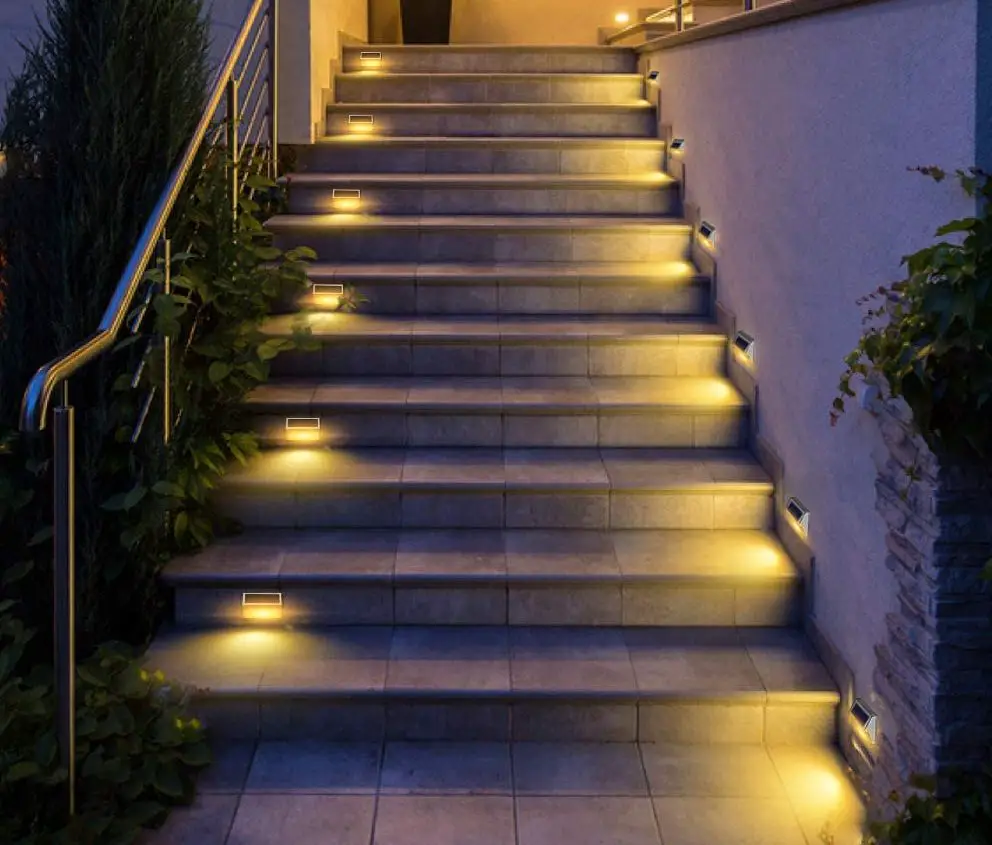 If you prefer to use solar-powered step lights, this might be the ideal option. One feature you may like about the lights is the upgraded solar panel that traps in the required energy to power the battery. The built-in rechargeable battery can power the lights for 8+ hours when fully charged.
More so, the lights are equipped with a built-in intelligent light sensor that automatically turns on the light when it's getting dark. Aside from steps, you can use the lights on patios, decks, fences, pathways, and more similar places.
Also, the lights are waterproof (IP65 waterproof rated), which gives you peace of mind when it's raining. Your lights won't go off, neither will the fixture rust when exposed to rain or snow. Of course, they're also rust and oxidation resistance. However, the lights are sensitive to weather, and lighting time may be reduced during rainy or cold weather. Make sure the lights get adequate sunlight to restore lighting time.
Installing these lights takes only a few minutes as it requires no hardwiring. You only need to drive in the screws on the mounting surface. For the best lighting, install anywhere they can get sufficient direct sunlight.
7. Solpex Outdoor Solar Step Lights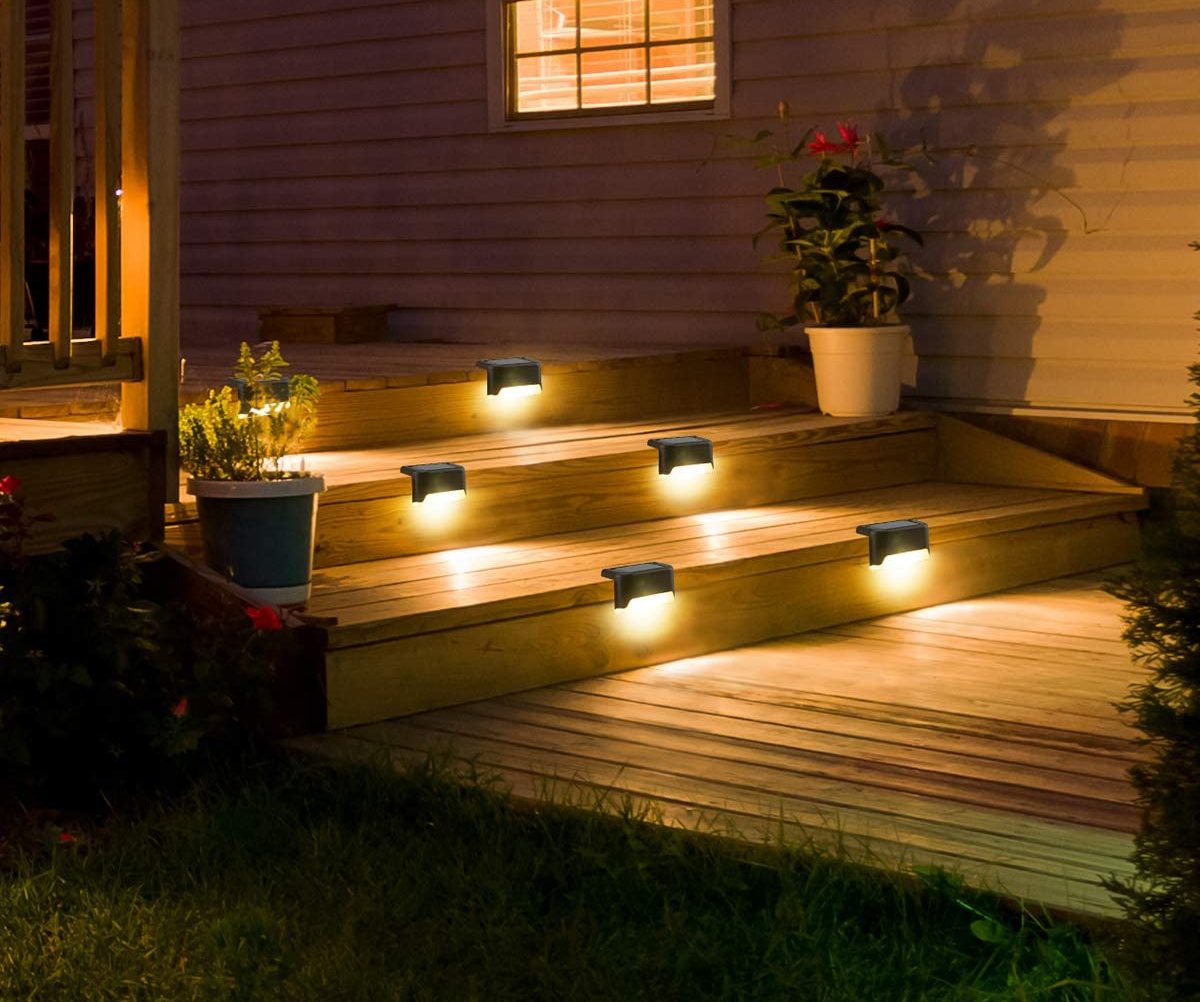 If you want stairs/step lights that automatically turn on and off, you probably know you want lights with dusk to dawn features. That's what you get from these lights. They're equipped with the dusk to dawn feature that turns the light off at dawn and puts them on at dusk. The light charges quite fast—it gets fully charged between 4 – 5 hours.
Besides that, these lights are solar-powered, which means no increase in energy bills even when your stair lights are on throughout the nights. The lights are also suitable for use on front doors, backyard, garage, driveways, etc.
More so, the lights are waterproof and are constructed with a hard ABS shell and high-quality solar panel. Each of the lights can withstand rain, snow, or wind.
You only need screws to fit them where appropriate.
8. DenicMic Outdoor LED Solar Step Lights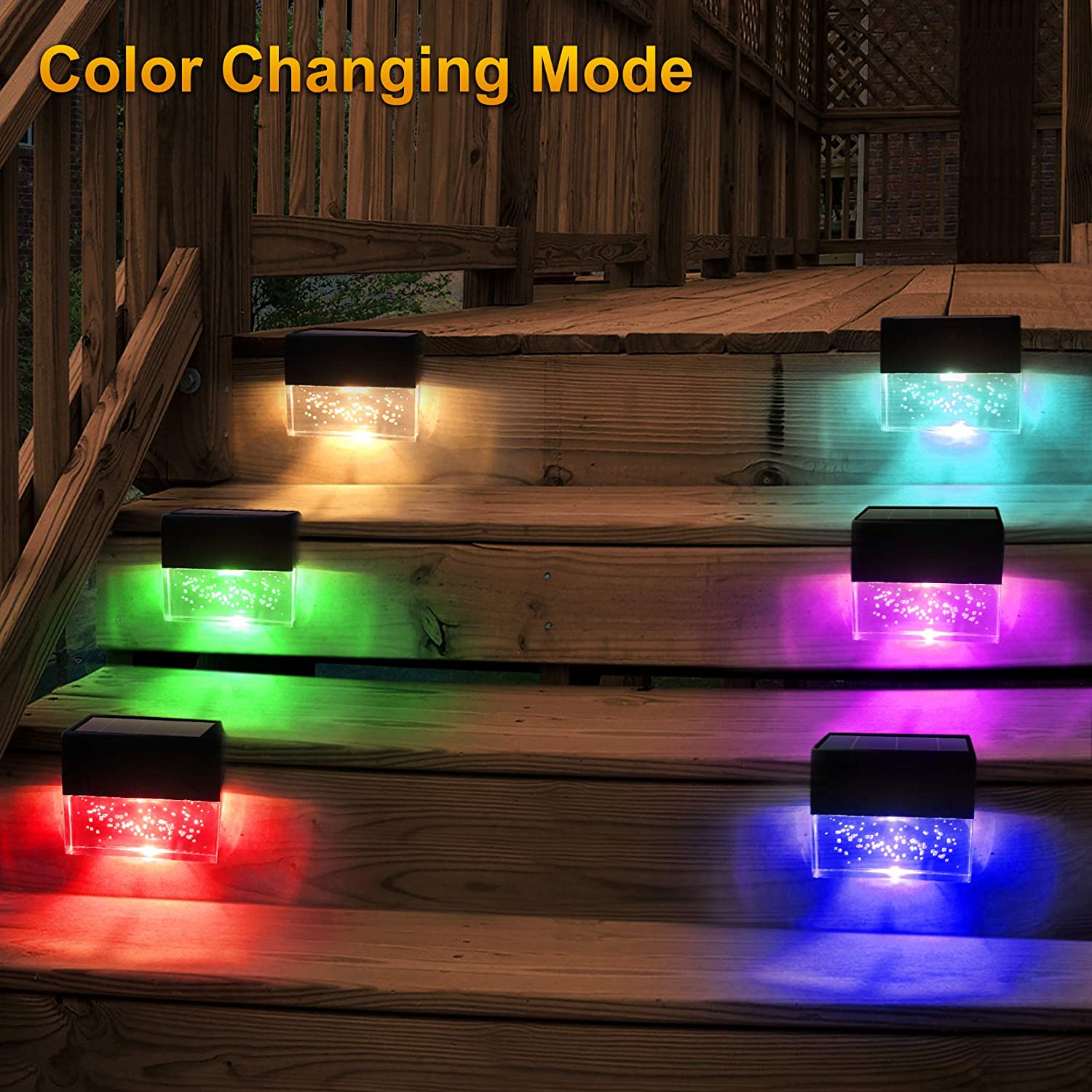 This is another suitable light to use on your stairways, porch, garden, etc. It's a perfectly designed outdoor security night light and can illuminate your steps and also decorate them.
What's more; the light is durable, and it's weatherproof. So you won't have to worry about rain, snow, frost, and other harsh weather conditions.
The light features two lighting modes—warm white lighting and color changing. For illumination at night, you want to switch to the white light and at the same time switch to the color changing mode to add style to your stairways and other areas.
You don't need hardwiring to get this light on. The overall installation process is straightforward; you only need screws to fit the light on any flat mounting surface.
Also, the light comes with a large solar panel that charges the battery fully within 4 – 5 hours on sunny days. It works for 10+ hours when fully charged.
Outdoor Step Lighting Related Questions
What are Step Lights?
Step lights are light fixtures designed to fit a certain position on the stairs. They are meant to illuminate the steps at night for safe walking. You can also use them to decorate the stairways as they are available in different designs; styles, and colors.
What's the difference between step lights and stair lights?
Step and stair lights are often used interchangeably. As you probably know, steps and stairs refer to what offers the foot of a person support to ascend or descend to the desired place. So step and stair lights are no different, except that some people refer to the outdoor ones as step lights while indoors are mostly called stair lights.
Are they specific lights for outdoor stairs?
Yes, as you can see in this post, we mainly featured outdoor step lights. Though step lights are designed for steps—whether indoor or outdoor, the difference lies in the voltage and weatherproof features when using them indoors or outdoors.
As a rule of thumb, you need to use the right voltage for outdoor and indoor lighting. And you also need lights that can withstand weather conditions like rain, snow, and wind outside. You can learn more about the best voltage for outdoor lighting here.
Can I use outdoor step lights indoors?
Except for low voltage lights that can be used indoors, only use the appropriate lights for indoor lighting. Outdoor lights may have a high voltage that is not suitable for indoor lighting.
Final Words
As you already know, outdoor step lights can decorate your stairways, which is a significant addition to your home décor. But illuminating the stairs to guide you safely up and down is another essential reason for needing step lights.
So you can see the importance and that's why you need the best of them, which you can find in our selection. However, you don't want your energy bills to increase as you may have to keep your lights on throughout the nights, right? If that sounds like you, you can simply turn to solar-powered stair lights. Of course, you can find them on our selections too.
What's more; we'd like to know your experience with any of these lights, especially if you purchased them based on our recommendations. We need this feedback to provide you and other readers with more decisive information.
RELATED: