Smart locks come with great benefits. The convenience of controlling your doors remotely, ditching physical keys, and more. However, security is the major concern, and we need door locks that can withstand break-ins, including lock picking.
So in this article, we want to find out if smart locks can resist lock picking or not. Let's head right into it!
Can smart locks be picked?
Smart locks with keyholes can be picked, but this is not the case with those that are completely keyless. Lock picking is done through the keyhole, meaning keyless smart locks can't be picked.
Smart locks vs. Traditional Locks: Which is Best for Resisting Lock-picking?
Locks, whether smart or traditional, are designed to protect your home from intruders. Every manufacturer out there makes locks to withstand break-ins. However, they're different methods that can bypass locks security and this applies to both smart locks and traditional locks.
As mentioned, smart locks without keyholes can't be picked, while those with keyholes are vulnerable to picking. On the other hand, traditional locks are keyhole based locks, meaning they're exposed to lock picking.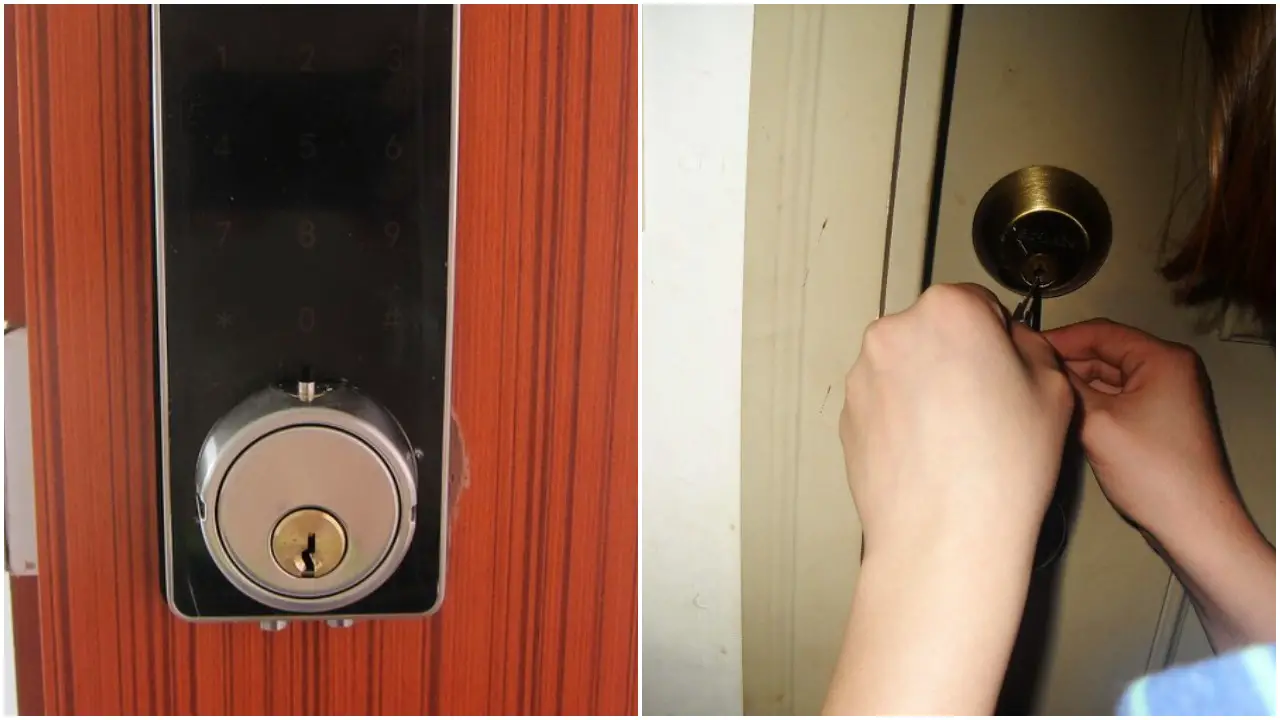 In recent times, lock manufacturers have made locks with features that could resist picking—both smart and traditional locks. So it's safe to say a lock's brand is one factor to consider in determining which lock can't be easily picked.
That said, some traditional locks can be easily picked with basic lock picking tools, while most smart locks may not give in to the basic tools. For the most part, picking a smart lock requires advanced lock picking tools and skills, meaning only locksmiths can pick them.
You may want to get a completely keyless smart lock to wave goodbye to lock picking. However, lock picking can also help you when you're locked out and have no other means to access your home. Read more about lock picking.
Smart Locks that Can't Be Picked
As per our research, here are the best keyless smart locks to consider if you want to avoid lock picking.
1. Yale Assure Lock SL
The Yale Assure SL is a completely keyless lock, which means it has no relationship with lock picking. Locking and unlocking this smart lock is with access codes on the keypad.
The lock is Z-Wave compatible, meaning you can connect to your smartphone via a hub for remote control. It also works with Samsung SmartThings, Ring Alarm, Wink, etc.
Since the lock has no keyhole, it comes with a reliable 9V battery that lasts longer before needing a replacement. It also sends notifications when the battery is getting low to help you prepare for a replacement. So you won't have to worry about being locked out due to battery failure.
2. August Smart Lock
August has about 3 smart locks models, all keyless. As you already know, a keyless smart lock can't be picked and August is one of those.
One of the latest models of August lock is the Wi-Fi Smart Lock. It's equipped with a built-in Wi-Fi that lets users connect directly to their phones and control the lock remotely. The lock has a phone app compatible with both iOS and Android devices.
Other August locks are the Z-Wave and Bluetooth smart locks. They all offer remote control functions via a compatible smart hub. August also has its own smart hub that helps users to connect locks to smartphones and other smart devices.
3. Lockly Keyless Entry Smart Lock
Lockly is also keyless and provides users with fingerprint and keypad access. The built-in 3D fingerprint sensor is quite sensitive and only recognizes fingers.
Users can store up to 99 different fingerprints, which can be removed anytime. As mentioned, the lock features a keypad for locking and unlocking as well. So you can decide to open it via a fingerprint or keypad.
More so, the lock features built-in Bluetooth. You can connect to your smartphone directly for remote control. Connecting to your smartphone requires installing the app, which is compatible with iOS and Android phones.
The bottom line is this lock is completely keyless and can't be picked. It also has other exciting features like remote control, keeping track of usage, and it's sturdy enough to resist forced entry.
4. Schlage Touch Camelot Deadbolt
As you expect, this Schlage lock is designed with security in mind. It's keyless, which gives it an edge over lock pickers for nefarious acts. The lock also has the Grade 2 security rating, meaning it's well placed to withstand break-ins.
You won't also worry about being locked out due to a dead battery as it's equipped with a 9V battery that lasts for 2 years. Yes, the lock comes with the same battery as the backup, if that makes sense to you.
So you can enjoy the convenience of locking and unlocking your doors without physical keys. Of course, no more losing of keys or worrying about lock pickers.
5. Kwikset Touchscreen Keyless Deadbolt
Fingerprints left on a lock's touchpad could give way for code detection, which is as bad as lock picking by intruders. But you won't have to worry about that. This lock features a touchscreen secured with patented technology, which helps prevent code detection from fingerprints on the touchscreen.
Yes, the lock is keyless and thus leaves no room for lock picking. Users can save up to 16 codes for locking and unlocking. The lock also comes with a 9V battery and backup battery that last long, depending on usage.
However, the downside to this lock is that it doesn't offer wireless connectivity. You can only operate it via the touchscreen.
Related Questions
Are smart locks more secure?
Yes, smart locks are secure depending on the brand. Some of the best smart locks brands include Schlage, August, Kwikset, and Yale.
Can smart locks be hacked?
Yes, smart locks that connect via Wi-Fi can be hacked if the user compromises. So you want to ensure you apply cybersecurity measures when connecting your smart lock to your phone via a wireless network.
Conclusion
So there you have it! Smart locks are not completely immune to lock picking. If you have a smart lock that features a keyhole, it might give in to lock picking, while the keyless smart locks can't be picked as they don't have a keyhole.
However, some smart locks with keyholes are more secure than traditional cylinder locks, as they have more cylinder pins that could be tough to pick.
If you want to avoid lock picking completely, then go for smart locks without keyholes. You may check our top picks above for the best keyless smart locks.