Keypad locks are basically made to work with access codes, which you can simply enter via the keypad to lock and unlock your door.
As you know, most of these locks allow users to create multiple access codes—and we want to find out if these codes can be changed/removed afterward. So here we go!
The quick answer is yes. Virtually all keypad door locks—notably Schlage, Kwikset, and Yale locks are configured to allow users to create and change access codes via the keypad and/or the mobile app.
To perform this action, however, you'll need to first enter the lock's programming code to gain administrative access. The programming code is the default 4 to 6-digit code that comes with most smart locks, which you're advised to change after installation.
Note: For some keypad locks, the programming code is usually on the back of the lock, so be sure to write it down before installation.
That said, if you'd like to learn more about changing your keypad door lock access codes and how to keep them invulnerable to burglars, you want to keep reading.
How to Change Access Codes on Keypad Door Locks
In this section, we'll walk you through the process of changing entry codes on your keypad/electronic door locks—using Schlage, Kwikset, and Yale locks. Let's begin.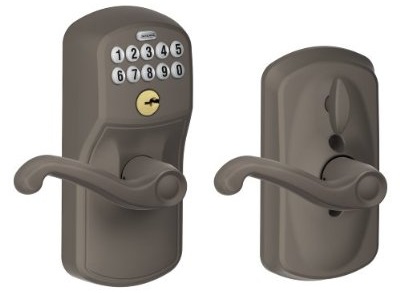 Changing/Deleting User Codes on a Schlage Keypad Lock
Step 1: Enter your 6-digit programming code via the keypad.
Step 2: Press and hold the Schlage button and press the number 2 button on your lock's keypad—simultaneously. The Schlage button can be found at the top of the keypad—a little above the number pads.
Step 3: Step two action will trigger the Schlage button to beep and flash three times. Now enter the code you want to change/remove. The Schlage button will beep and flash three times again, showing the command has been received.
Step 4: Confirm the code you want to remove by re-entering. This time the Schlage button will beep once for an extended period, followed by a green flash, indicating successful removal of the code.
You can create another code to replace the deleted ones.
And if you want to temporarily disable all user codes, here's how:
Enter your 6-digits programming code and press the Schlage button and key 4. All user codes will be temporarily disabled. You can reactivate the codes by repeating the same process—Schlage button + key 4.
Also, all user codes can be deleted at the same time by pressing the Schlage button and key 6 on the lock's keypad.
Read More: The BEST Commercial Keypad Door Locks. We tried the top keypad door locks for commercial locations and here's what we found!
Changing Schlage Keypad Lock Programming Code
Note that the programming code differs from user codes. This code gives you access to all other settings, including changing and creating new codes. It's simply your lock's master code.
Your lock comes with a default programming code, which you'll need to change for security reasons. So here's how to do that:
Enter your 6-digit default programming code.
Press the Schlage button and key 3. This will trigger three beeps and flashes.
Now enter your new 6-digit programming code after the flashes and beeps.
Wait to see if the light turns green. If it does, then your new code is successfully entered.
Changing Access Codes on Kwikset Smart Lock
Step 1: Press the program button on your lock's keypad. This will trigger five flashes and beeps from the check mark.
Step 2: Press the check mark.
Step 3: Press the lock button and enter your master code.
Step 4: Press the lock button again and enter the code you want to delete.
Step 5: Press the lock button again and re-enter the code you want to remove.
Step 6: Press the lock button for the last time and wait to see if the programming is successful.
If successful, the check mark will illuminate with a beep. Otherwise, you'll see three flashes and beeps from the X pattern. Begin the process again and ensure you enter your correct master code.
Also, if successful, test the deleted code to be sure it doesn't unlock the door.
Changing Access Codes on Yale Smart Lock
Step 1: Ensure the keyboard is active—you can wake it up by touching it with the palm of your hand.
Step 2: Enter your master code and press the hash button.
Step 3: Press the number 2 button along with the hash button.
Step 4: Now press the number 3 button and hash.
Step 5: Select the user code slot—1 to 20. That's the user code to be removed.
Step 6: Press the hash button to complete the process.
Note: The procedure for adding and removing user codes may well differ slightly depending on your lock's model. So be sure to refer to your user manual for a more detailed guide.
How Often Should I Change Codes on My Keypad Locks?
You should change your codes regularly, say every month to beef up security. However, immediately change your codes if any of these happens:
1. Shared Codes with Contractors
Perhaps you had some contractors work on your home and gave them access, which is normal. But you want to quickly change the codes once the contract is over.
It might not be a direct threat to your home's security, but who knows? Ensure you block all loopholes by changing your codes after the contract is completed.
2. Moved into a New Home
As you probably, one thing to do when you move into a new home is to inspect the doors and locks.
You want to ensure the doors, windows, and locks are in good condition for security reasons. Plus, if your new home has smart locks installed, changing the existing user codes is a great way to strengthen security.
If your smart lock also comes with a keyhole, check to see if the keys are complete. Otherwise, it probably means someone else has the spares and you should change them to prevent unauthorized entry.
3. Security Alerts
Home security systems such as Ring Alarm and SimpliSafe will alert you when someone tries to unlock your doors, and you may well see the codes the thief used.
Also, some smart locks with built-in alarms will notify you when there's a forced/unauthorized entry—such as using the wrong codes.
If you noticed the thief tried to guess your user codes, change them immediately.
4. Relationship Breakup
Regardless of how you ended your relationship, you want to ensure you leave no room for unauthorized entry. So if you initially assign user codes to your ex-girlfriend or boyfriend, change or delete them completely.
The same applies to any friend you fell out with—who previously had access to your home via locks user codes.
All in all, always change codes for those that are leaving and reassign when they're back.
Final Words
Based on your smart lock's configuration (if it comes with a mobile app), you can create and change user codes via the app. As mentioned, changing user codes may differ depending on your lock's brand and model, ensure you refer to the guidelines on your manual for further help.