Integrating your door locks with the SimpliSafe home security system is a great way to beef up home security. The system monitors your doors and immediately notifies you when there's a security breach attempt. Users also get real-time alerts about their lock's status, lock and unlock the door via SimpliSafe mobile app, and more.
But first, you'll need to get SimpliSafe compatible locks, which we've featured in this article. Let's head right into it!
What smart locks work with SimpliSafe?
SimpliSafe has its own smart lock that works with its security system. Other than that, only August smart locks are currently compatible with the SimpliSafe system. They are; August Smart Lock Pro, August Wi-Fi Smart Lock, and August Smart Lock 3rd generation.
In the next paragraphs, we'll consider the details of each lock, how SimpliSafe works, and how to connect your compatible lock with SimpliSafe. Let's dive in!
Read More: The BEST Commercial Keypad Door Locks. Protect your business or commerical location with these tested commercial locks!
Best Smart Locks that Work with SimpliSafe: Features
1. SimpliSafe Smart Lock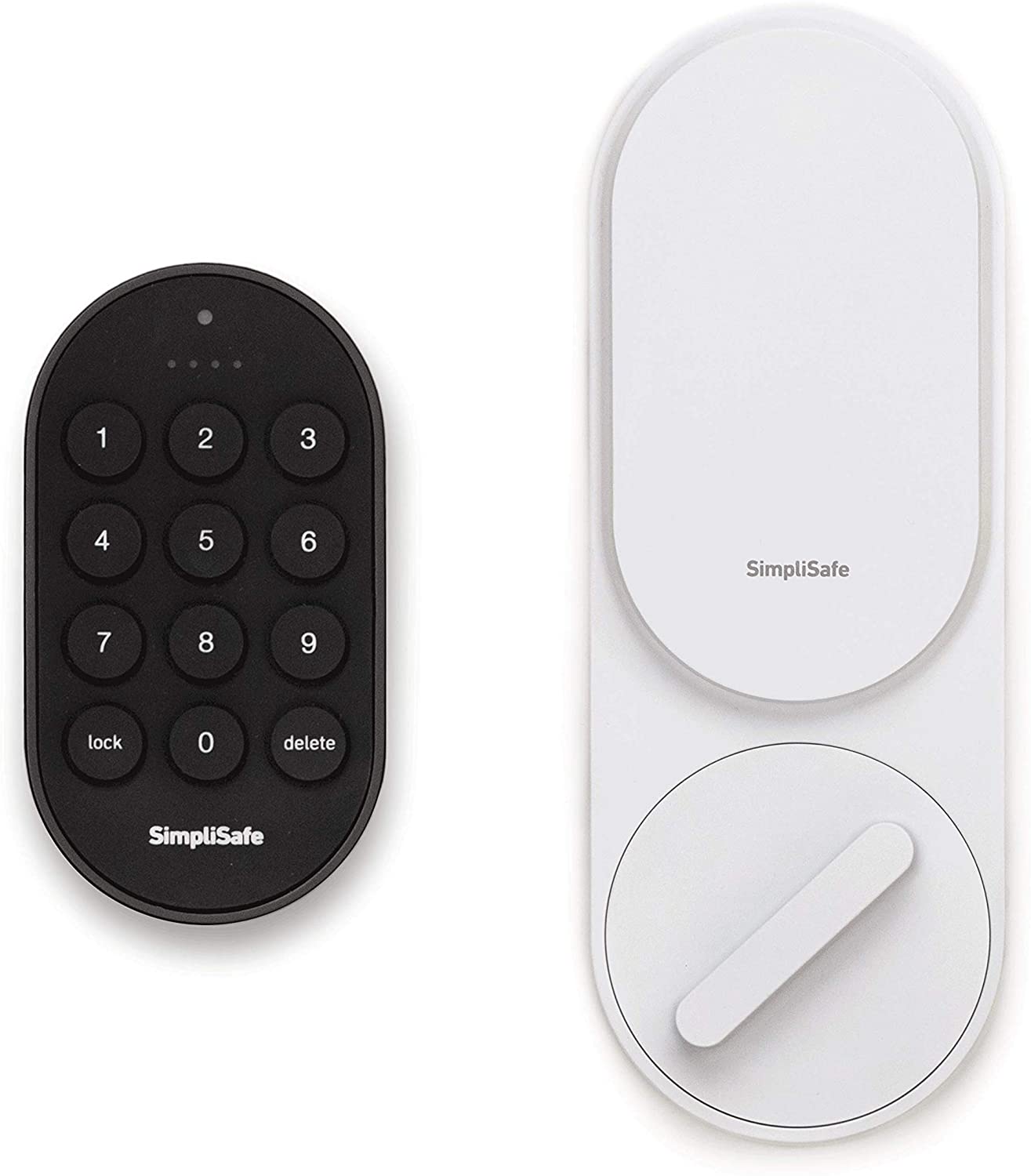 The SimpliSafe Smart lock is packed with exciting features such as compatibility with Alexa and Google Home. That means you can pair the lock with Google Assistant or Alexa for hands-free control.
Of course, the lock is compatible with the SimpliSafe Security System. Users can seamlessly integrate it with the Simplisafe system and get real-time monitoring, receive security alerts, lock and unlock the door remotely, etc.
The lock ensures your door is always locked, regardless of whether you forgot to lock your door. This works by setting the timer to automatically lock your door after being open for some time. You can also auto-lock it when you arm your SimpliSafe system.
Apart from controlling the lock via the SimpliSafe mobile app, you can lock and unlock via PIN and Key Fob.
2. August Wi-Fi (4th Generation) Smart Lock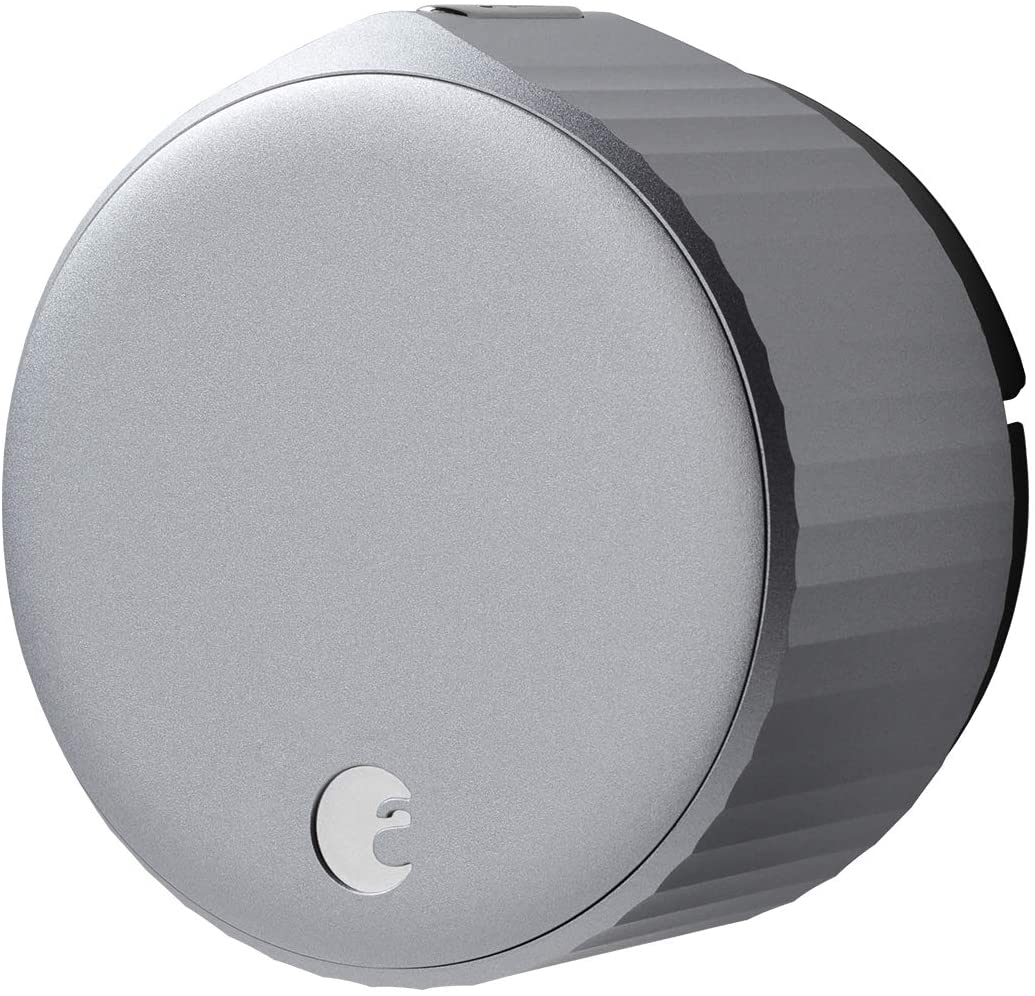 August Wi-Fi Smart Lock is the latest addition to August smart locks, and it comes with built-in Wi-Fi, unlike the other two models. What this means is, users don't need a smart hub to connect to their smartphones and other smart home systems.
The lock is compatible with SimpliSafe and you don't need a hub to integrate with SimpliSafe as it has built-in Wi-Fi.
This smart lock is equipped with other excellent features such as auto-lock/unlock and voice control. The auto-lock feature detects your arrival and automatically opens the door.
As mentioned, the lock can be controlled via voice command; it works with Alexa, Siri, and Google Home.
You can also control this lock remotely via your smartphone. It comes with a mobile app that works on Android and iOS devices.
3. August Smart Lock Pro (3rd Generation)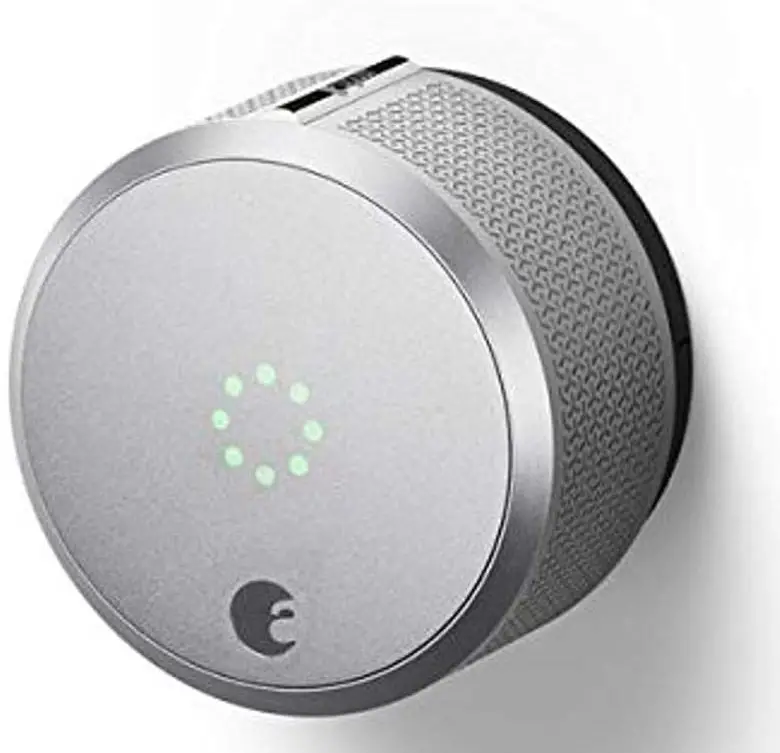 This is another August smart lock that works with the SimpliSafe system. However, it requires a hub to integrate with SimpliSafe, unlike the Wi-Fi lock. The reason is this lock uses Z-Wave for connectivity, so it requires a hub to connect to Wi-Fi-based systems.
Users can get a third party hub, such as the Samsung SmartThings or August's Wi-Fi Bridge.
The lock also features auto-lock and works with Alexa and Google Assistant for voice control.
Overall, the lock is compatible with SimpliSafe and offers seamless remote control via the app installed on your smartphone. Of course, you can also control it remotely via the SimpliSafe system.
4. August Smart Lock with Connect Wi-Fi Bridge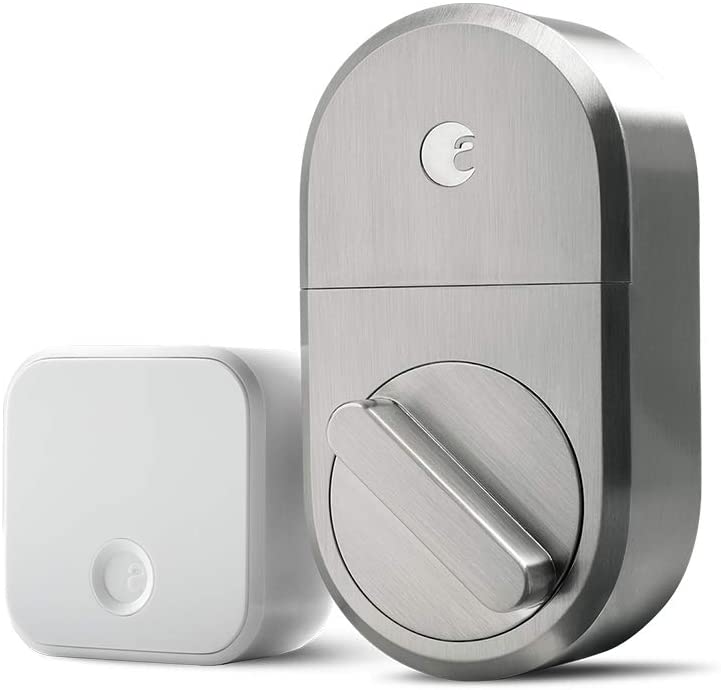 This lock has no built-in Wi-Fi, but it comes with a Wi-Fi Bridge that makes integration to SimpliSafe and other Wi-Fi-based systems seamless.
The Connect Wi-Fi Bridge also makes pairing with smartphones a breeze. So this lock can be controlled remotely via SimpliSafe and your smartphone via the mobile app.
The lock is compatible with August Smart Keypad, if you're looking to unlock it via a keypad. The Keypad doesn't come with the lock, so you may have to purchase it separately.
What is SimpliSafe and How Does It Work with Door Locks?
SimpliSafe is a home security alarm system. The system consists of a security camera, video doorbell, sensor, and smart lock. Upon installing it in your home, the system provides real-time monitoring and alerts you or the security center when there's a security breach and other dangers in your home.
For door locks, the system has its own smart lock, as mentioned. However, the system also works with other smart locks, mainly August smart locks. When integrated with a smart lock, users can get notifications about their lock's status, lock and unlock their doors via the SimpliSafe app, and more.
The SimpliSafe system can be likened to the Ring Alarm Security system, though with some distinct features.
Note: You need the Simplisafe professional monitoring plan to enjoy real-time monitoring and other premium features.
How to Connect Your Smart Lock with SimpliSafe
Recall that SimpliSafe only works with its own smart lock—SimpliSafe Smart Lock and August smart locks. So in this section, we'll take you through the process of integrating your lock with the security system, starting with August smart locks. Let's begin!
Integrating your August Lock with SimpliSafe
This guide will cover the three August smart locks models; two other locks require a hub to connect with SimpliSafe apart from the August Wi-Fi smart lock. So if you have August Smart Lock Pro or Smart Lock 3rd Generation, you need a smart hub. Yes, you can use August's hub—the Wi-Fi Connect Bridge. It works fine.
Now, here are the steps to integrate your August smart lock with SimpliSafe:
Step 1: Ensure your August smart lock is connected with the SimpliSafe system via a Wi-Fi network.
Step 2: Through your SS2 or SS3 system, log into your account and navigate to the System Settings of SimpliSafe Web App. Next, head over to Integrations, still within the System Settings.
Step 3: Click on the Authorize button to log in to your August account. You can find the Authorize button within the Integrations
Step 4: If you're logged in to your August account, it means the authorization is successful. Now the system will prompt you to choose a location where your August smart lock is installed.
Step 5: Upon choosing the location of your August lock, the system will reveal a list of locks on your account within the SimpliSafe Web App. You'll also see the alarm mode of each lock—Away, Home, and Off.
Step 6: You can now choose an action for each lock and mode. For instance, you may decide to set the front door to lock in Home and Away mode and unlock in Off mode.
Step 7: If you got all the above steps right, you're now set to control your August smart lock via SimpliSafe system—through the keypad, key fob, or mobile app.
You can as well enjoy all other features of SimpliSafe Security System—such as when you arm or disarm your SimpliSafe system, your August lock automatically locks or unlock based on your configurations.
Integrating SimpliSafe Smart Lock with the SimpliSafe System
Pairing SimpliSafe Smart Lock with its security system only takes a few minutes. Here is how it works:
Step 1: Ensure the lock is installed correctly on your door.
Step 2: Via the lock's keypad, enter the menu and navigate to Devices. Next, select Add Device and scroll down to locks and select your SimpliSafe lock.
Step 3: The system will prompt you to answer the question—have you installed the lock on your door? You should click Yes. Of course, you need to ensure your lock is installed before integration. See installation guide here.
Step 4: Click the button behind the lock's battery plate. Then wait for the Base Station to confirm that a lock has been added.
Step 5: Follow other prompts on your lock's keypad to complete the process.
So that's all about integrating your SimpliSafe smart lock with its security system.
FAQs About SimpliSafe and Smart Locks
Does Schlage Connect work with SimpliSafe?
As of now, no Schlage smart lock model works with the SimpliSafe system. More so, other smart locks brands like Kwikset and Yale doesn't work with SimpliSafe.
Can I use SimpliSafe with my door locks without the professional monitoring plan?
Yes. But you'll have to do all the monitoring work yourself. You need the professional monitoring plan to get live monitoring; receive security alerts and control your door locks via its mobile app.
Will SimpliSafe call the police if there's a forced entry attempt on my door?
Yes. If your home is in danger, SimpliSafe will call you first and if there's no response, they'll alert the police. But this only works with the professional monitoring plan.
Can you monitor SimpliSafe from your phone?
Yes. With SimpliSafe interactive plan, you'll have access to its mobile app—where you can remotely control your door locks, view live video, and receive security alerts.
Conclusion
So that's it!
SimpliSafe Smart Lock and the three August smart locks are the best and only smart locks that work with SimpliSafe, as of now. Perhaps, in the future, other smart locks may be compatible with the SimpliSafe system, we'll see!
You should ensure your smart lock is correctly integrated with the SimpliSafe system to enjoy all the security features.