According to statistics, most burglary attacks occur through unlocked doors. Perhaps victims of such burglary attacks would have prevented it from happening if they had auto-lock keypad locks installed.
That is, the keypad lock would automatically lock the door and hence prevent the burglar from entering the building easily.
But are there keypad locks that lock automatically?
Short answer: yes. However, not all keypad locks lock automatically. So if you're looking to get one with an auto-lock feature, ensure you check to see if it has the feature before you get it.
That said, you want to keep reading if you're looking to learn more about keypad locks, how the auto-lock feature works, and the best keypad locks with an auto-lock feature.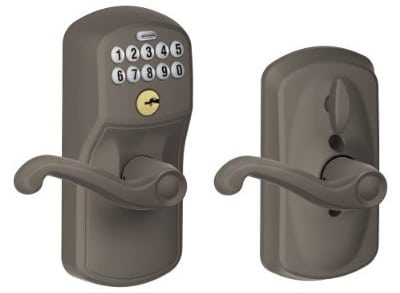 What is a Keypad Lock?
A keypad lock is no different from the regular electronic/smart locks you may know. However, while other smart locks may come with a fingerprint scanner or touchscreen, a keypad lock majorly features numerical buttons (keypad) that let you enter a unique code to unlock your door.
So a Keypad lock is what it is—a smart lock that features keypads—where you can input your user code to unlock the door.
Besides inputting user codes to unlock the door, you can also program the lock via the keypad. Programming a lock involves adding and deleting user codes, changing master codes, enabling the auto-lock function, and more.
If you're looking for keyless locks for your home and office, stop by our Best Keyless Cabinet Locks guide!
How Do Keypad Locks Work?
As typical of smart locks, keypad locks allow you to unlock your door without a physical key.
How possible? As mentioned, these types of locks are designed to work with access codes as an entry mode. That is, instead of using a physical key to insert in a keyway and then turn it to unlock your door, you can simply enter your unique user codes on the keypad to unlock the door.
Not only that, keypad locks are equipped with other numerous features such as the auto-lock, remote access, and built-in alarm.
Let's look at these features in detail:
1. Auto-lock Function
Though not all, some keypad locks are equipped with an auto-lock function that automatically locks the door when it's left unlocked for some time—say 30 seconds or depending on how it's programmed.
Depending on the lock brand/model, this feature may work by default or require the user to enable it before it becomes active.
So this is one feature in keypad locks and it helps ensure your entry doors are always locked, even when you forget to lock them.
2. Remote Access
Keypad locks are equipped with communication protocols such as Wi-Fi, Bluetooth, and Z-Wave. With either of these communication protocols, you can connect your lock to your smartphone for remote access. That is, you can lock and unlock your door via your smartphone, program user codes, and more.
However, Bluetooth and Z-Wave-based keypad locks may require a smart hub to support the connection to your smartphone, while Wi-Fi-based locks can connect directly without a hub. And you can control your lock from miles away via a dedicated app on your phone.
But keep in mind, some keypad locks do not come with remote access functions, so if you want a keypad lock with this function, check to ensure it has the feature before you get it.
3. Built-in Alarm
This is a security feature in some top keypad locks. A keypad lock with a built-in alarm will notify you when it senses any security breach around the lock.
Like other features, you may have to enable it before it becomes active.
4. Compatibility with Security Systems
Connecting your front door lock to a security system like Ring Alarm or ADT is a great way to reinforce home security. The security system monitors your lock and alerts you when there's a forced entry attempt or other security threats.
Of course, some keypad locks are compatible with some of these home security systems, so they work with them to protect your home.
5. Compatibility with Home Automation System
If you have a smart home and are looking to automate your door locks with the rest of your smart home devices, you can get a keypad lock that works with notable home automation systems. Smart lock brands like Schlage, Yale, and Kwikset have keypad locks that work with leading home automation systems.
Recommended Keypad Locks with an Auto-Lock Feature
Benefits of Using Keypad Locks
1. Keyless Convenience
One major benefit of a keypad lock is keyless convenience. As you probably know, keypad locks allow you to program user codes that work as physical keys.
So you won't have to carry a bulk set of keys around, as you can easily unlock your door via unique codes. On top of that, you can share unique codes with anyone you want to give access to your home/office when you're away—no need to duplicate keys.
2. No Worries About Losing Keys
Since you don't need a physical key to unlock the door, then you won't have to worry about losing keys and probably rekeying or getting a replacement.
3. Improved Security
As mentioned, some keypad locks come equipped with an auto-lock function, built-in alarm, and compatibility with home security systems.
The auto-lock automatically locks the door which prevents unauthorized entry when you forget to lock it, while a built-in alarm and security systems help notify you when there's a forced entry attempt.
More so, some of these locks with keyholes are protected from lock picking and bumping via SmartKey Security. A typical example is the Kwikset SmartCode 914 keypad lock.
Are There Any Disadvantages of Using Keypad Locks?
Yes. Keypad locks run on battery and you may have to change the batteries regularly—if you have one with short battery life.
More so, access codes guessing somewhat looks like a threat. However, you can prevent this by ensuring you don't disclose your codes to anyone else and always change your codes from time to time.
Another downside may be connected to remote access. As with any device that works over the internet, your lock might be open to cyber-attacks. So if your keypad lock works remotely (using a wireless network like Wi-Fi) you want to ensure you adhere to cybersecurity safety measures to protect your information from cybercriminals.
Are Keypad Locks More Secure?
It depends. All keypad locks do not offer the same level of security—that means a sturdy traditional cylinder lock could be more secure than a substandard keypad lock.
While keypad locks can offer great security, the level of security you enjoy with your lock depends on the type of lock you get and how careful you are with your doors.
Even though good quality locks can be an important security measure, some major flaws in a property's security system is not the lock but the user—who may compromise. An example is forgetting to lock the door, disclosing user codes to untrusted persons, etc.
But if you get a good keypad lock, particularly one with an auto-lock and other security features, then you can be sure that you have a secure lock and hence better home security.
You may also reinforce your keypad door locks security by integrating them with home security systems such as Vivint and Xfinity.
How Much Does a Keypad Lock Cost?
The prices of keypad door locks vary—depending on the locks brand and the features. But on average, a standard keypad door lock costs anywhere between $100 to $500.
Final Words
So that's it! Keypad locks do lock automatically, but not all of them come with this feature. So if you want a keypad lock that locks automatically, you should check if the feature is available before you buy.