If your Kwikset SmartCode lock doesn't unlock after entering a User Code, and you're locked out, here is a quick way to fix the problem:
Ensure the User Code is valid/correct. Double-check and try again.
Use a physical key to unlock it—if it still won't unlock with a User Code.
Call Kwikset technical support or a locksmith for help—if it doesn't unlock with a physical key.
So that's a quick way to unlock the lock/door—if you're locked out.
Now let's look at possible causes of this issue and how to fix/prevent it from happening going forward.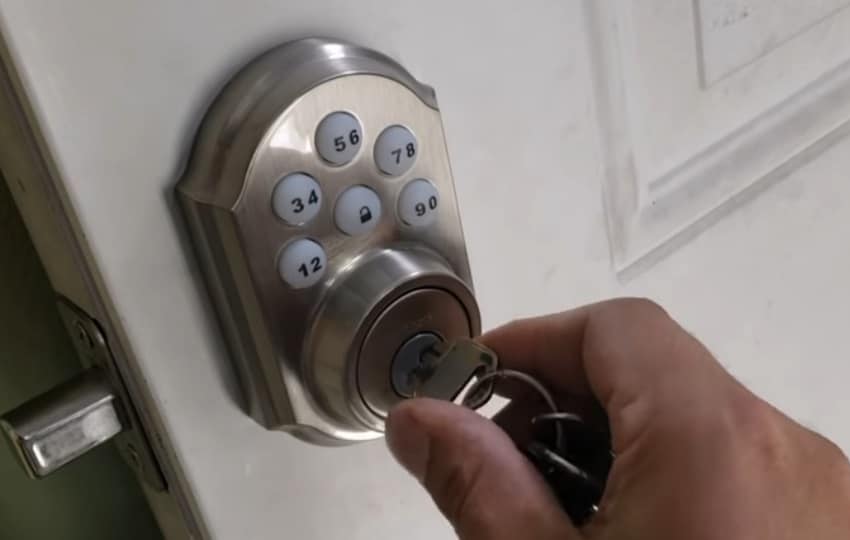 Kwikset SmartCode Lock Won't Unlock: Possible Causes and How to Fix
1. Low Batteries
Low batteries can cause your lock to stop working electronically. So if the batteries on your Kwikset SmartCode lock are low, chances are your lock won't function correctly and this might be the reason your lock isn't unlocking after entering a valid User Code.
So you want to check that the batteries are active and ensure you replace them with the right batteries—if they are low.
Kwikset SmartCode locks use AA non-rechargeable alkaline batteries. Make sure to use the right batteries as the wrong batteries may cause the lock not to function properly.
Wrong batteries could be lithium batteries and rechargeable batteries of any sort. Kwikset does not recommend using lithium or any type of rechargeable battery.
More so, you want to avoid mixing old batteries with new ones as that may cause battery leakage, leading to undesirable operation and other issues.
2. Incorrect User Code
To unlock your Kwikset SmartCode lock via the keypad, you need to enter a valid User Code and then probably press the Kwikset button—depending on your SmartCode lock model.
The lock won't unlock if the User Code isn't correct. So check that you're entering a valid User Code.
3. A Glitch
Still unable to unlock your lock with User Code after getting the above steps right? Then it's safe to assume that it's a bug and you may fix that by factory resetting the lock.
If you're not sure how to factory reset your Kwikset SmartCode, see how to do that below:
Factory Resetting a Kwikset SmartCode Lock
Step 1: Remove the battery pack.
Step 2: Press and hold the Program button. Next, replace the battery pack while still holding the Program button.
Step 3: Continue holding the Program button (for about 30 seconds) until the lock flashes red and beeps
Step 4: Press the Program button to complete the process.
The lock will flash green and beep twice, indicating that it has been reset.
Ensure you perform the door handing process again as the lock won't function without doing that. (Read more about the door handing process in step 4 below).
More so, keep in mind that restoring factory settings will delete all previous programming, so you'll have to start all over again to program your lock.
And if you previously paired your Kwikset SmartCode lock with a smart hub or smart home/security systems—such as Vivint and Ring Alarm, you have to reconnect them again after factory reset.
4. Door Handing Process Not Performed
Kwikset SmartCode and other models require users to perform the 'door handing process' on the first installation or after restoring factory settings.
The door handing process allows the SmartCode lock to determine if the deadbolt faces right or left and your lock won't function electronically if this is not done yet.
So, if you just installed the lock for the first time or restored factory settings, make sure to perform the door handing process, otherwise, the lock won't work electronically.
Here is how to perform door a manual door handing process:
Step 1: Remove the battery pack. Next press and hold the Program button and then put the battery pack back (while still holding the Program button).
Step 2: Release the Program button once the battery pack is successfully replaced.
Step 3: Press and hold the Program button again. Now the latch bolt will learn the orientation of the door by extending and retracting.
If the status LED flashes green afterward, then the process was successful. But if it flashes red, it means it wasn't successfully completed—start the process again and ensure you're doing it correctly.
Read our related article on the Best Lubricants for Door Locks. If you have a stubborn lock, these tried and true lubricants can help!
Wrapping Up
While you can fix a Kwikset lock that refuses to unlock (after entering a valid User Code) by merely changing the batteries and/or restoring factory settings, it may not happen all the time. That is, the problem might be much more complex.
So if you could fix your Kwikset SmartCode lock with the troubleshooting steps highlighted above, congratulations! But if not, get in touch with Kwikset Technical Support for further help.