Wall sconces are still widely in use, with even more modern designs to decorate your outdoor spaces. If you're looking to get any of the recent outdoor sconce lights, you want to take a look at our top picks.
Yes, we have spent quality time researching the best sconces that are not only elegant but weatherproof, durable, and safe. Of course, these are the primary factors you need to consider when looking to get outdoor lighting fixtures. You may also want to add the wattage and dimension of the bulbs to your metrics; this ensures you get the best light fixtures that give off excellent lighting.
We have considered all these factors in our selection process, including consumer ratings. What's more? You can comfortably scan through our selections and the accompanying reviews to see the ones that meet your needs.
If you're ready to do so, we will start by presenting you with a quick list of our choices.
Our Top Picks:
| | | |
| --- | --- | --- |
| | | |
| | Beionxii Transitional Outdoor Wall Sconce Lights | |
| | Bowery 1-Light Outdoor Indoor Wall Sconce | |
| | Hykolity Outdoor Wall Lantern with ST19 LED Bulb | |
| | Globe Electric 44165 Sebastien 1-Light Outdoor Wall Sconce | |
| | Outdoor Wall Light Fixture with Matte Black Wall Sconce  | |
| | Osimir Outdoor Wall Sconce Lights | |
| | AZAVA Outdoor Wall Mount Light Fixtures | |
| | Architectural Outdoor Wall Light—Exterior Sconce Lantern  | |
Best Outdoor Sconce Lights — Reviews
1. Beionxii Transitional Outdoor Wall Sconce Lights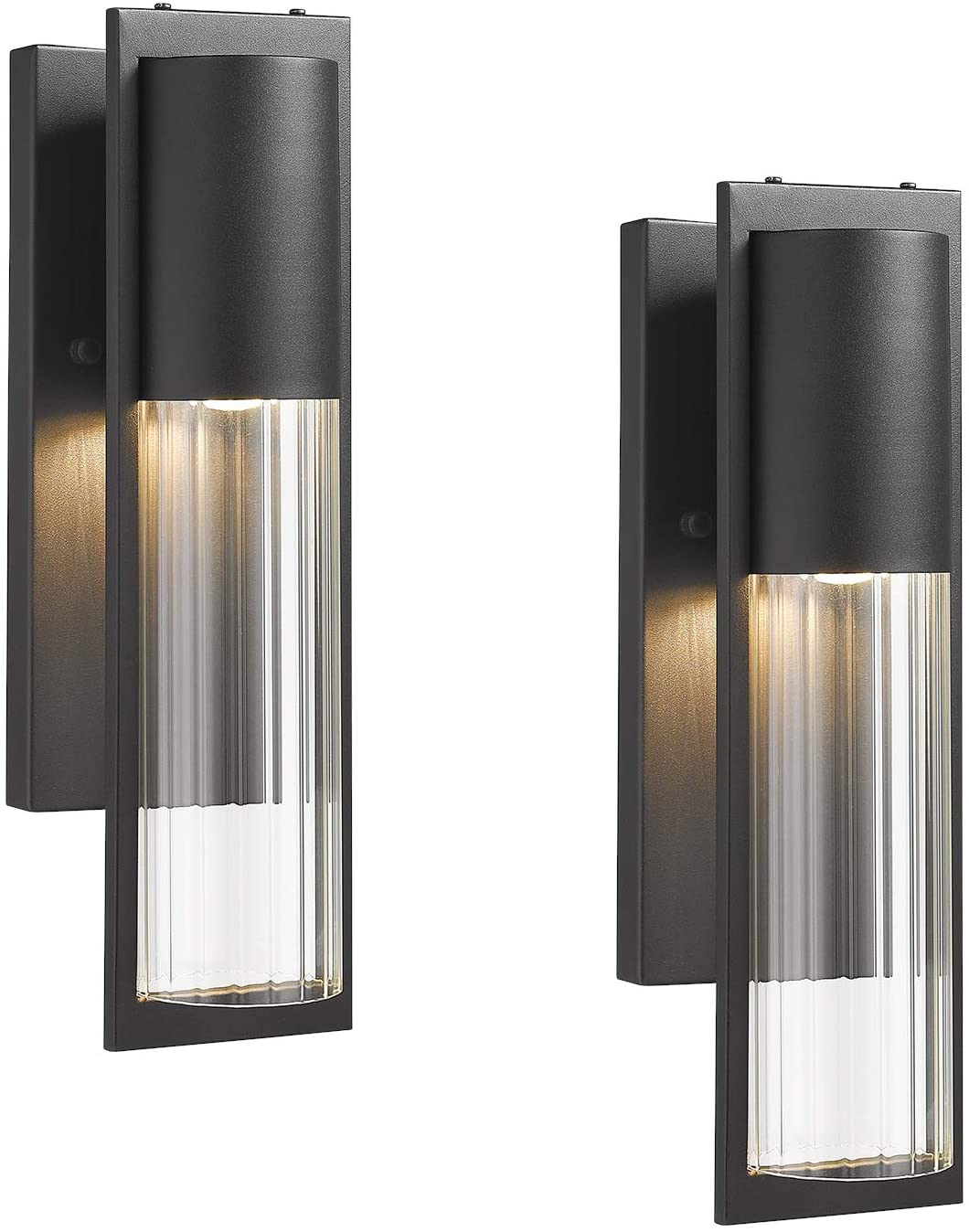 Elegance, optimal functionality, and durability are the three factors that describe these outdoor wall sconce lights. If you want to have sconce lights that can blend with your outdoor design, this light comes in a cylindrical glass, sleek texture, and black frame. This combination fits when many designs, and it should work for you.
On functionality, this modern outdoor sconce lights use an E26 medium base bulb that gives off excellent lighting. It's compatible with LED, CFL bulbs, and incandescent. Moreover, the light is dimmable, though you should have purchased a dimmable bulb and dimmer switch to enjoy this function. The bulbs or dimmer accessories don't come with the light fixture, so you have to buy them separately.
The light also features easy installation, and it comes with all the mountain accessories for a seamless hardwiring installation. You can use this light outdoors and indoors. Hallways, front doors, and staircases are some good areas to mount this light fixture.
2. Bowery 1-Light Outdoor Indoor Wall Sconce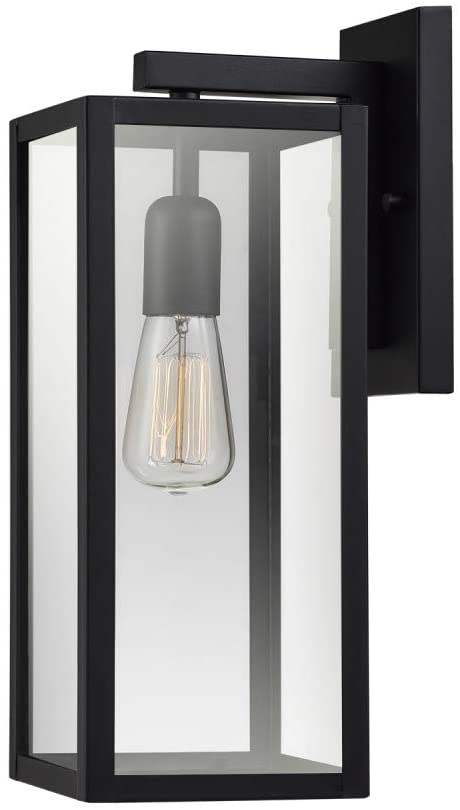 This light fixture features a classic black finish that complements any outdoor decor. It has clear glass panes that showcase your bulbs a bit to create style.
That's not all; this light is weatherproof and constructed with sturdy metals, which means you can use it in wet and sunny locations. It won't wear off even when exposed to direct sunlight and rain. The pack contains all the installation hardware and a guide to help you mount it easily.
Note that not all bulbs are compatible with this fixture. The recommended bulb is an E26 medium base bulb of 60 watts (line voltage).
The light requires hardwiring, so be sure you can handle the installation properly before you do it yourself. Otherwise, call an electrician to help you.
3. Hykolity Outdoor Wall Lantern with ST19 LED Bulb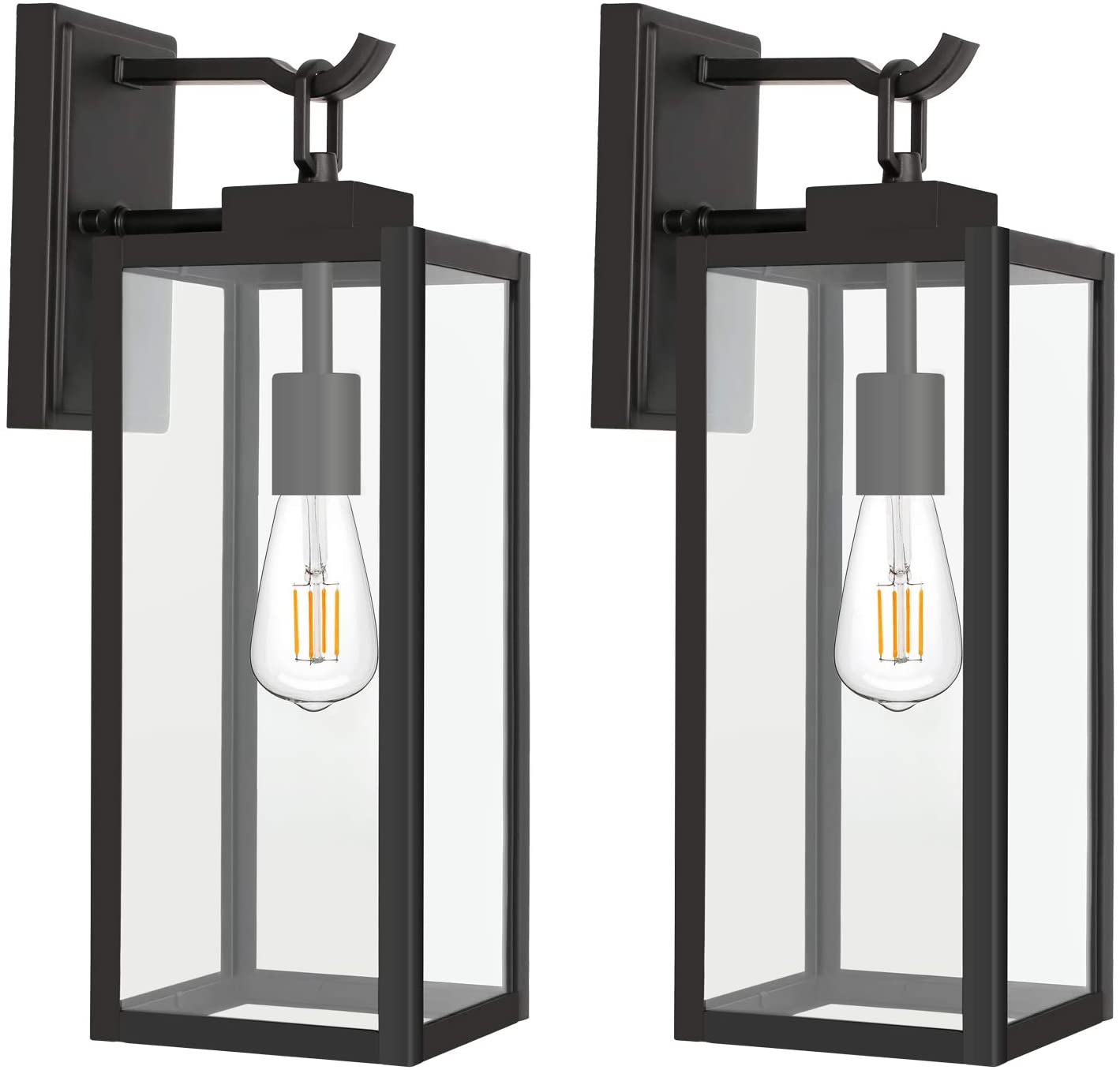 This sconce light features a perfect design that gives off excellent ambient lighting. It's quite elegant, and you can use it to decorate your entryway, doorway, patio, foyer, balcony, corridor, porch, and more.
It's weather-resistant, so you can install it anywhere fit even though it's open to rain and sun. The materials are also sturdy enough to resist damage that might be caused by stray objects.
Installation is another thing you want to consider when getting outdoor wall lights; this has been considered in its design. The light requires only three steps to get it mounted on your desired position. They are;
Put the crossbar to the junction box
Connect the wires
Tighten the light to the crossbar with the available screws.
That's all you need to get the light up and running. You would need an E26 medium base bulb of 60W on this fixture, and it's sold separately.
Yes, the light is safe for use, and it's ETL listed for safety.
4. Globe Electric 44165 Sebastien 1-Light Outdoor Wall Sconce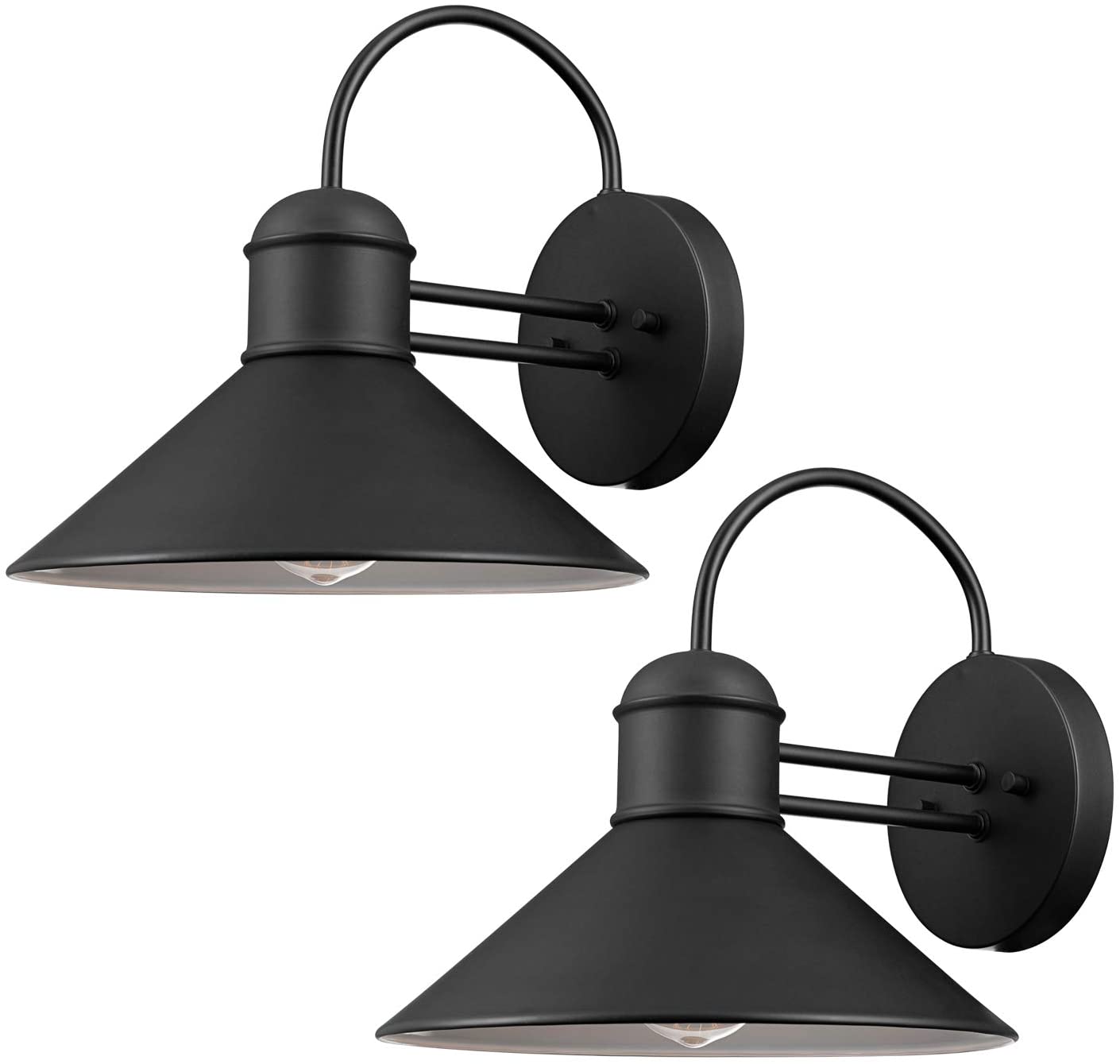 Exterior sconce lights should add style to your outdoor decor, and that's what this Gobe light represents. But style without efficiency is as good as nothing, so this light doesn't only offer style but functionality inclusive. The light fixture comes in modern industrial design; black finish, stylish curve, and clean lines. This should match with many outdoor designs; it could extend to commercial settings.
More so, the light is dimmable with a dimmer switch. This feature can reduce energy consumption as you can reduce its brightness. It requires two bulbs—E26 base bulbs of 60 watts.
Note that the dimmer and bulbs are to be purchased separately.
This outdoor sconce lighting fixture is also relatively easy to install. The pack contains all the mounting hardware to help you mount it effortlessly.
5. Outdoor Wall Light Fixture with Matte Black Wall Sconce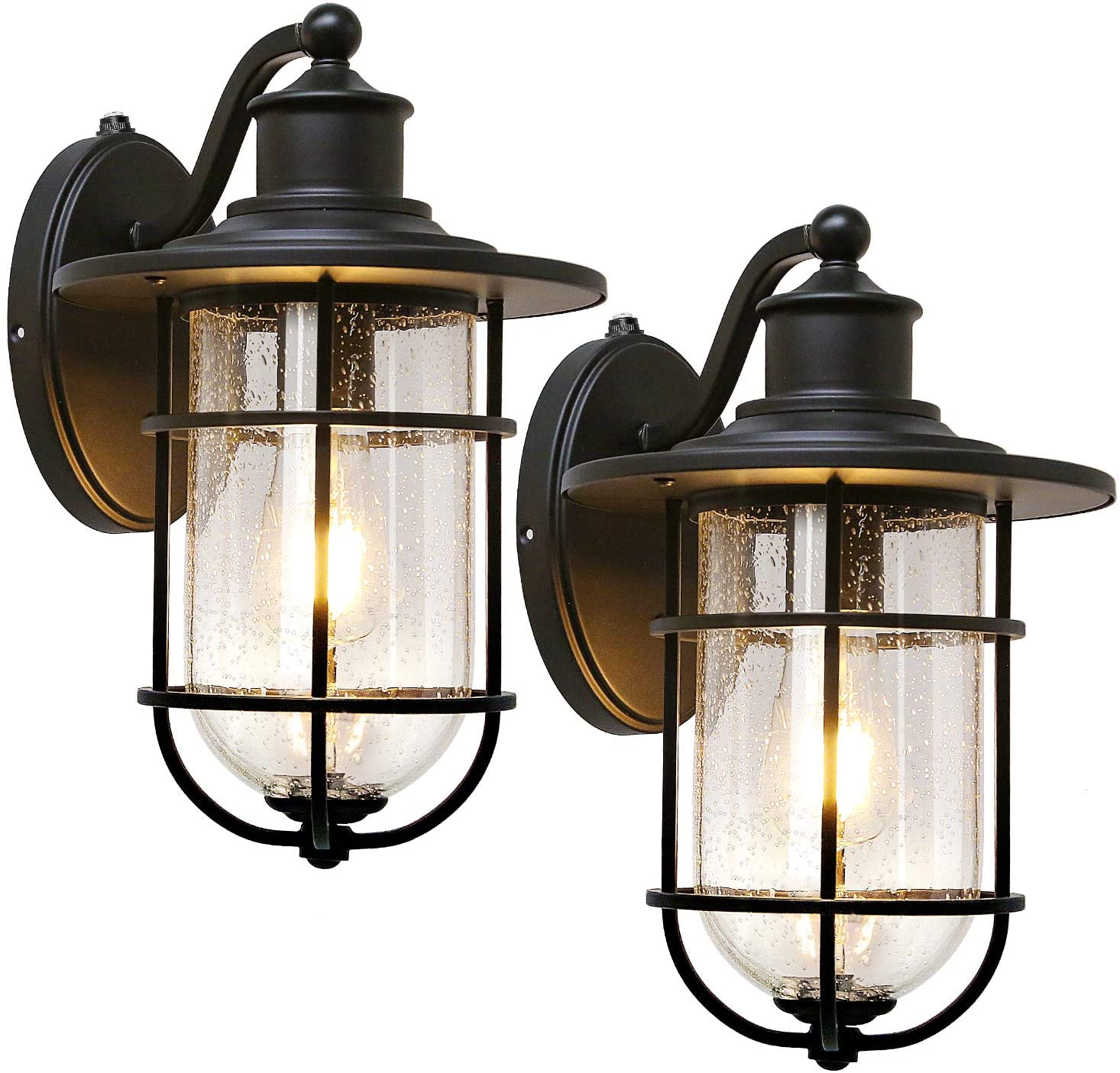 This is a perfect outdoor LED sconce light for entryways, doorways, corridors, and the like. It comes in a seeded glass shape, making it the ideal option for adding more colors to your outdoor setting using lighting.
You can use the light anywhere fit without minding the impact of harsh weather conditions. Yes, it's weatherproof and constructed with sturdy metal.
You would need 2 E26 medium base bulbs (60W) in this fixture to have the best lighting experience. Of course, the LED bulb is included, so no need to purchase a separate one unless you want to get a replacement.
Installation is also easy and requires only three steps—attaching, connecting the wires, and fastening it to the crossbar. Moreover, all installation hardware are included to make the process easy. The light is also ETL listed for safety.
RELATED: Best Outdoor Solar Lantern Lights
6. Osimir Outdoor Wall Sconce Lights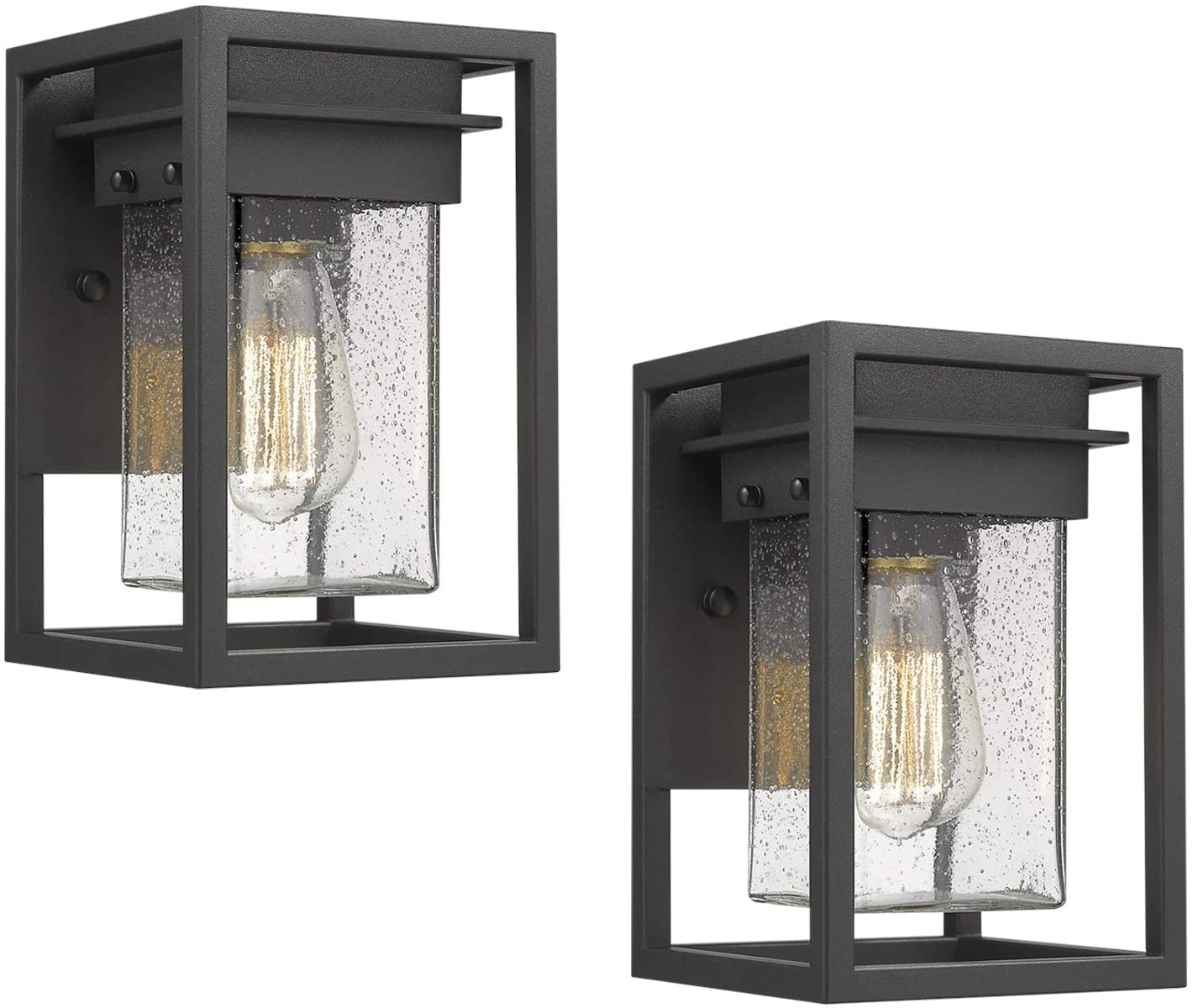 Like other wall sconce lights in our selection, this fixture is designed with sturdy metal for durability. It also features a bubble glass lamp shade and black finish that fits many outdoor decors. It's suitable for use in corridors, balconies, garage doors, patios, and more.
While you mount it outdoors, you'd also have the peace of mind that the light fixture is weatherproof. This makes it resistant to water and rust. It can still retain its color and finish even when it's exposed to direct sunlight, rain, or snow. It fits both residential and commercial settings.
On installation, the process requires hardwiring but won't get you sweating. You can follow the instructions on the guide to install it effortlessly. Moreover, all mounting accessories are included in the pack.
Required bulbs are E26 base bulb and A60/ST58/G45 standard bulbs—60W maximum. Bulbs are to be purchased separately.
7. JAZAVA Outdoor Wall Mount Light Fixtures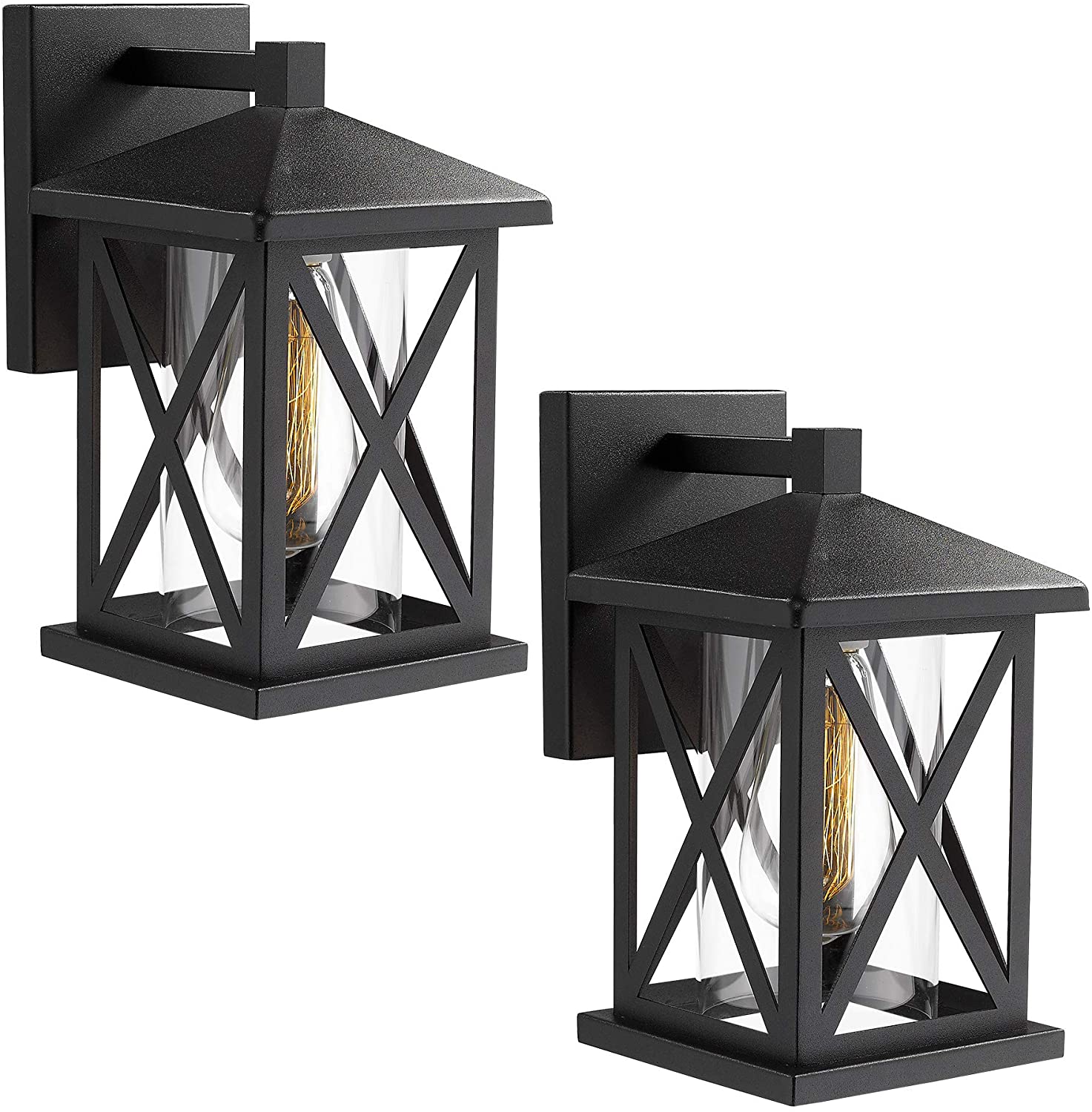 JAZAVA wall sconce light has received a lot of positive ratings from existing users. Of course, that's one of our metrics for determining how best the light fixtures work.
The lamp is suitable for front doors, hallways, porches, entryways, and indoors too. The light comes with an outer metal cage and a cylinder glass lampshade on the inside. This makes the light stylish enough to complement your home decor.
Of course, it's durable and equipped with waterproof technology. It can be used in wet locations and won't wear off quickly.
The light requires one E26 base bulb of 60 watts (max). The installation requires hardwiring and could be a bit tricky but easy to install for those with little experience in light wiring. Moreover, the pack contains all installation hardware for a seamless installation.
It's UL listed for indoor and outdoor use.
8. Architectural Outdoor Wall Light—Exterior Sconce Lantern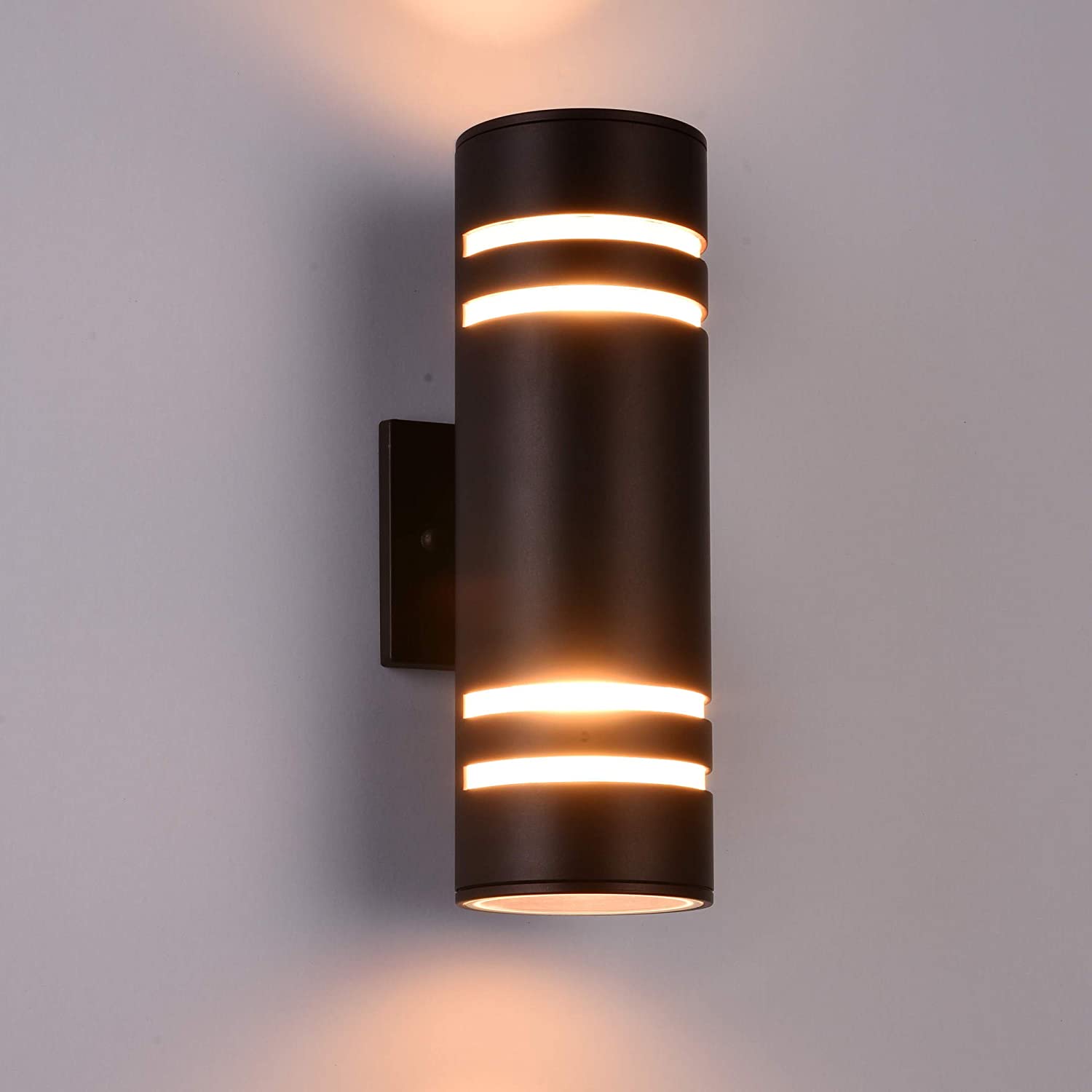 This outdoor wall sconce light is ETL listed for safety and also meets the American Electric Standard. By this, you're assured of its safety and functionality.
The light is rated IP54, making it the perfect weatherproof outdoor light—that can withstand weather conditions like rain, sun, and snow. It's made of aluminum and tempered glass, which makes it more durable.
The required light is an E26 base bulb of 60 watts. That's the maximum recommended wattage for this light fixture, and you only use recommended bulbs for the best lighting experience.
This light installation is easy, and you may be able to handle it yourself. It's ideal for use on outdoor pillars, garden, corridor, patio, balcony, etc.
Quick and Easy Way to Install Outdoor Sconce Lights
You may have noticed we frequently mentioned that the installation process is easy. So here's how to actually get your sconces installed in no time.
First off, you need to get the required tools. For our selections, they come with all installation hardware. So you might only need the basic tools like a screwdriver, pliers, electrician's tape, etc. However, here's what you need if there are no accessories/tools included in your pack.
Required Tools for Installation
Screwdriver—standard and flathead: You need this to drive in the screws into the mounting surface.
Electric tape: Used to insulate the wires where necessary.
Light bulb: The fixture requires a bulb to give off light.
Utility knife: This is used to cut wires and similar items.
Pliers: To hold wires and other materials firmly during installation.
Tester: To check the presence/flow of electric current to the light fixture.
Drill: You need this in case you need to drill holes.
Wire: To connect your light to a power source.
How to Install Outdoor Sconce Lights
Now that you have all the tools/accessories handy, let's get to work:
1. Put the power source off
As a rule of thumb, you need to first turn off the power source during electrical installation for safety. So make sure to completely turn off the power source before you begin the installation.
2. Get the mounting plate on
Now you need to separate the mounting plate from your wall light fixture. You can do this by unscrewing the screws and detaching safely. Get it to the wall (on the outlet box) and tighten the screws to hold it firm.
Ensure the outlet box wires are not left behind the mounting plate. You should guide them through the middle of the mounting plate.
3. Connect the wires
After mounting the plate successfully, you need to connect the outlet wires to the fixture wires, both hot and neutral wires. You may need little electrical knowledge to know how to put the right wires together. You can check the installation guide from your manufacturer on this.
After connecting the wires, wrap them securely with electric tape. Ensure all metal parts of the wire are entirely covered.
Note: this step is quite essential. Your light may not work or even result in an electric spark if not correctly done.
4. Get the sconce onto the mounting plate
Now you're done with the hardwiring and ready to cover the outlet box with your wall fixture. First, get your wall sconce base and fit it to the mounting base. You should tighten the screws with a screwdriver. Next, insert the shade cup and tighten the thumbscrews. Ensure they're tight enough to secure the shade but don't over tight.
5 Insert the bulb
This is the final step to get your wall sconce to illuminate and beautify your home. So get your compatible bulb and insert safely. Now go back to your power source and turn it on. Also, turn the light switch on.
If your light comes up faultlessly, congratulations! You've successfully installed your wall sconce from scratch.
You can repeat the process if you have more to install around your home.
Final Thoughts
Outdoor sconce lights can add more colors to your outdoor areas. So you want to get the ones that come with beautiful finishes to complement your outdoor design. But should you trade functionality for style? Of course, no! Therefore, you have to consider aesthetics and optimal functionality.
Since you're going to use the lights outside, which may leave them open to rain, sun, or snow, the weatherproof feature becomes quite imperative. Check to see whether the wall light fixture is weather resistant before you buy. Luckily for you, all the sconces in our selection are weatherproof, which saves you the stress of any further research.
Another vital thing you should consider is the installation. Most of these lights require hardwiring, and you need to have your lights correctly installed for optimum performance. So be sure to install your lights correctly. You may do it yourself if you can or call an electrician.