The introduction of smart locks has eased off the worries of misplacing physical keys, the cost of rekeying, and the fear of your locks being picked.
With a smart lock, you can go keyless and mainly lock and unlock your door via access codes. It's just got even better, as some smart locks come equipped with built-in Wi-Fi, Z-Wave, and the like—that lets you control them remotely.
Perhaps you're accustomed to controlling your locks remotely, and you want a reliable Schlage Z-Wave smart lock—we have featured the best ones in this article. Schlage has some of the best smart locks on the market, and you may find a great Schlage smart lock that works with Z-Wave. 
That said, if you're ready to have a look, here you go!
Our Top Picks at a Glance:
Best Schlage Z-Wave Locks: Reviews
1. Schlage BE469ZP CAM 625 Smart Deadbolt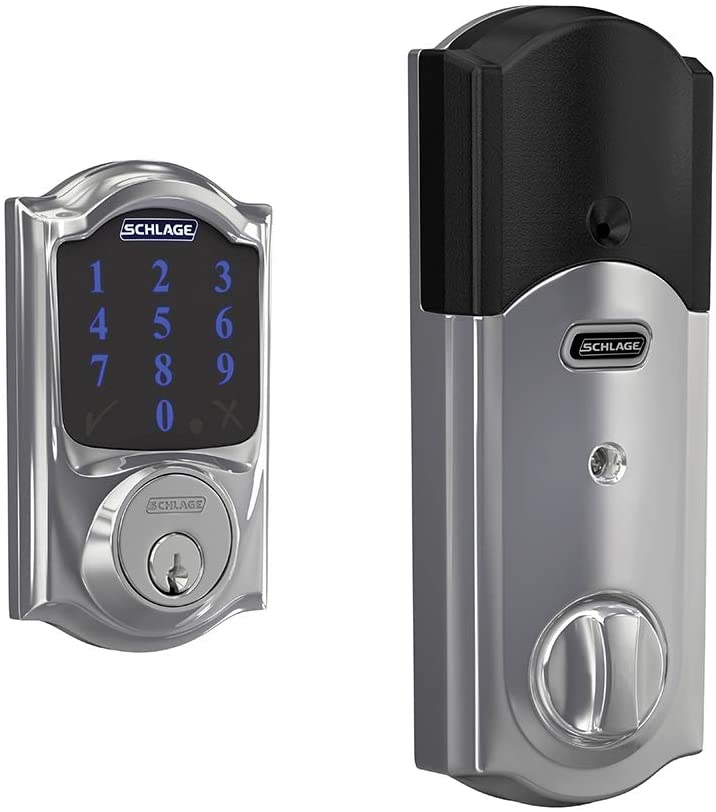 This is one of Schlage's Connect models that uses Z-Wave for connectivity. It's compatible with Z-Wave smart home systems, and you can also pair it with security systems like Ring Alarm.
Pairing it with any of these smart home systems allows you to lock and unlock the door lock from miles away.
This door lock also has a keyed entry and passcode access. Users can create up to 30 passcodes to share among household members.
You can also utilize its built-in alarm in securing your home. The alarm notifies you on the fly if someone tries to gain illegal entry.
This lock also works with Amazon Alexa for voice control. Though you may need to purchase a compatible smart hub to pair with Alexa devices and others.
2. Schlage Home Keypad Lever with Z-Wave Technology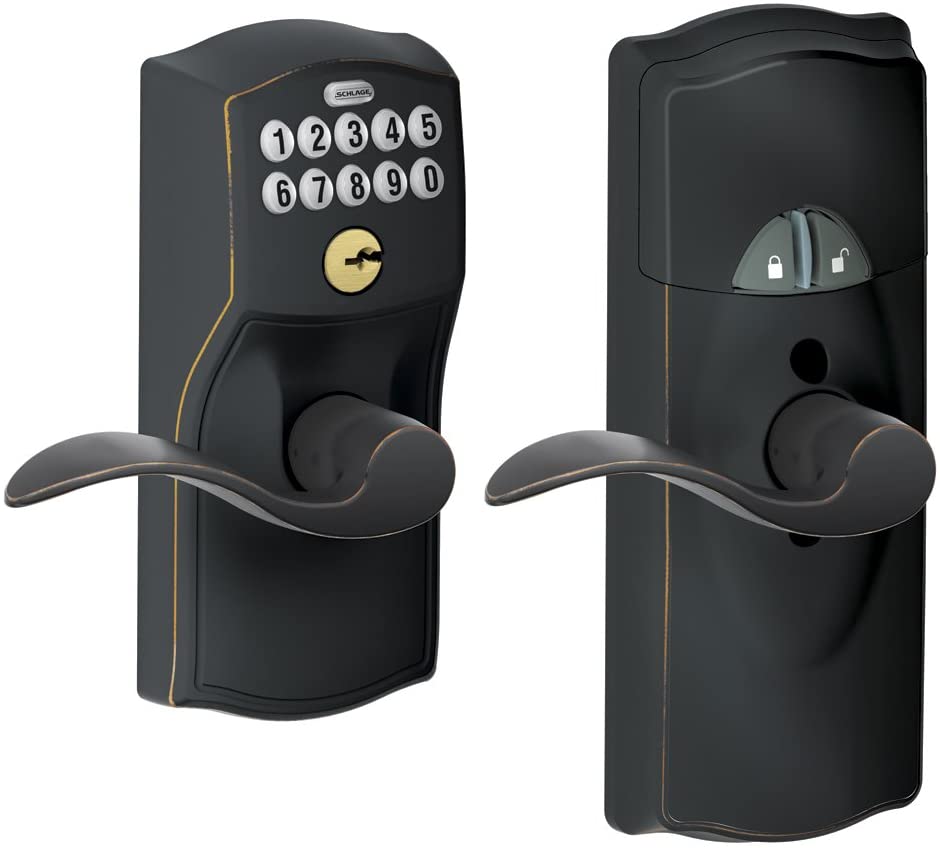 This is another Z-Wave-based Schlage smart lock with exciting features.
Users can configure the lock to alert them when anyone opens the door via a dedicated code. That is, you can share access codes with family members and receive text messages for any code used.
This enables you to know who enters your home anytime—based on the code used. Additionally, you can remotely add access codes, change or delete existing codes. If you notice any shady activity from a particular code, you can immediately revoke the access.
This lock is also easy to install, and it fits perfectly on pre-drilled standard doors—a good option for replacing your existing deadbolts.
Of course, the lock is Z–Wave enabled. You can connect it to several Z-Wave devices in your home. It also works with the Nexia Home Intelligence system, which aids remote access.
The lock is durable and designed to resist break-in attempts.
3. Schlage Z-Wave Lock (BE469ZP CAM 716 Smart Deadbolt)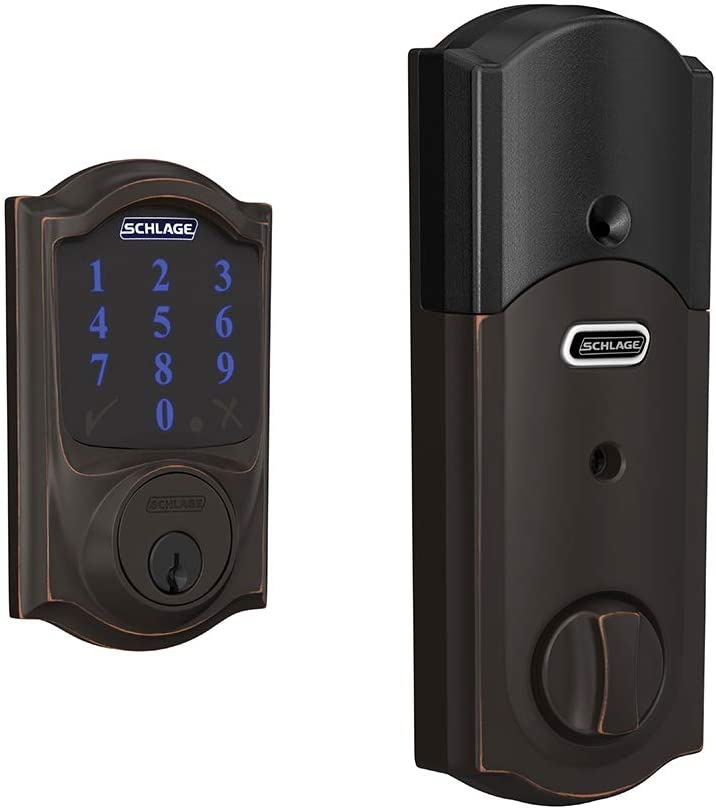 As you expect, this Schlage lock also uses Z-Wave as its communication protocol. So you can pair it with Z-Wave-based smart home systems and the like—via a compatible hub.
You can also connect this lock to your smartphone for remote access.
Apart from its Z-Wave features, the lock has other exciting features you may like. These include a keyway and access codes entry access, meaning you can switch between key and keyless entry.
The access codes can be easily created via the touchpad. You can create up to 30 codes—and share them with anyone you want to allow access to your home when you're away.
More so, the lock has a built-in alarm that works based on your preference. It can notify you when someone is at your door or in case of a forced entry attempt.
The lock is compatible with SmartThings, Ring Alarm Home Security System, and Alexa Voice Assistant.
As a Z-Wave-based lock, the battery usage is quite minimal, and it comes with a low battery indicator that alerts you when your battery is running low. It could start sending notifications in a few weeks before your battery goes flat.
4. Schlage BE469ZPVCAM716 Connect Touchscreen Smart Lock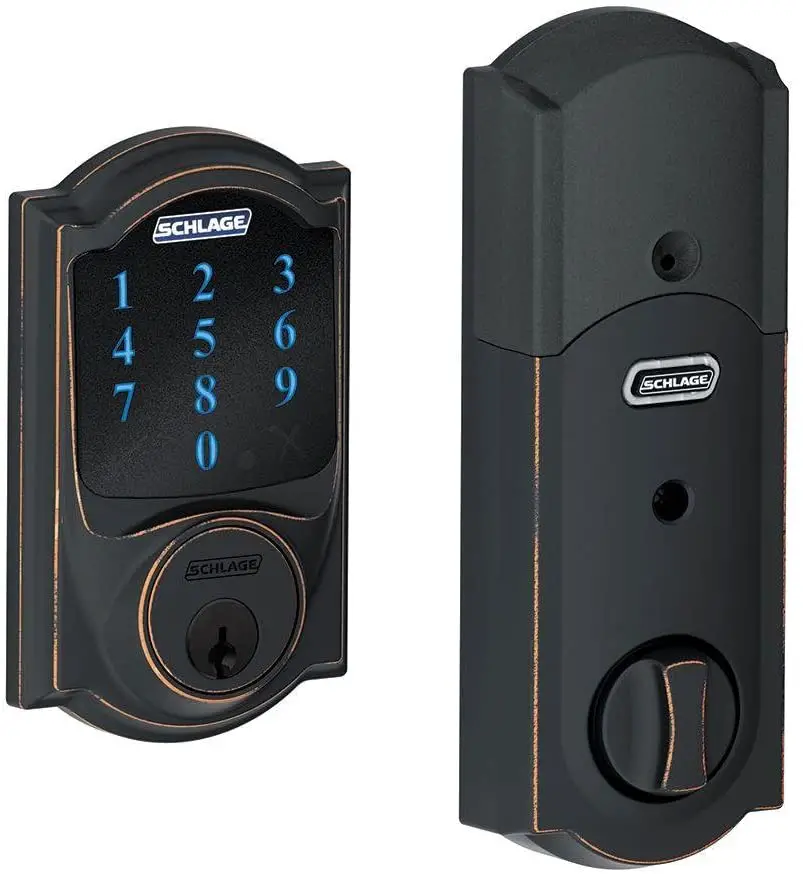 Like other Z-Wave locks above, this lock supports remote access via a compatible hub—such as Samsung SmartThings and Wink. That is, you can connect it to your smartphone, lock and unlock your door via the Schlage Home app—from miles away.
And if you'd like to control the lock hands-free, you can connect it to Alexa or Google Assistant for voice control. You can also create and change access codes via the Alexa app.
Access codes can also be created via the touchscreen; the lock stores up to 30 access codes.
More so, the lock has a built-in alarm that notifies you of low battery and when someone locks or unlocks it.
5. Schlage BE469ZP CAM 619 Connect Smart Deadbolt—Z-Wave Plus Enabled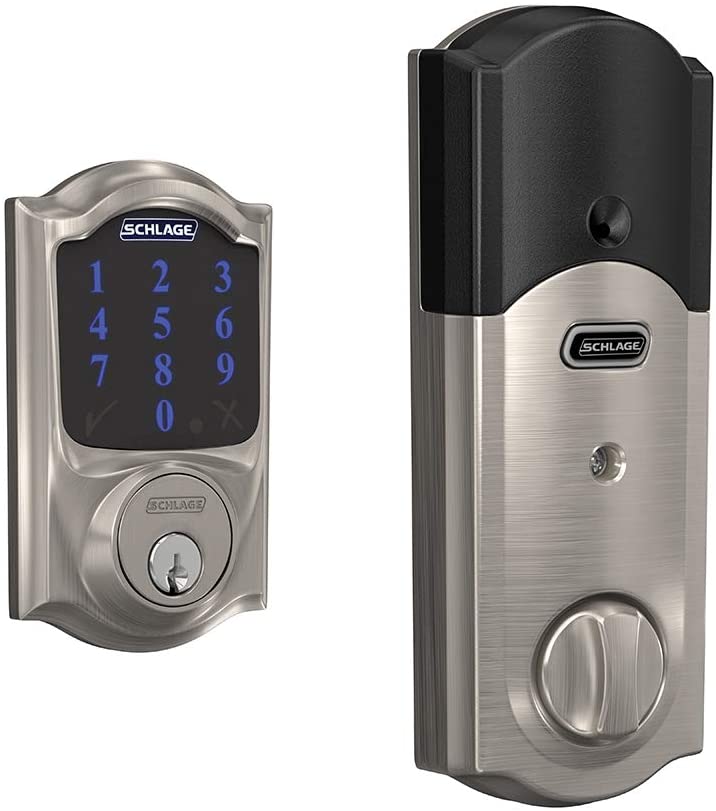 Looking for a Z-Wave lock compatible with Ring Alarm Home Security System? Then you want to choose this Schlage Connect Smart Deadbolt.
Yes, the lock is compatible with Ring and you can easily connect it to Ring via a compatible hub. While it works remotely through the Schlage Home app, you can also lock and unlock your door remotely via the Ring app.
That's not all. The lock is compatible with Alexa, meaning you can as well operate it via voice commands.
You can also program 30 access codes for keyless entry, using the touchscreen.
FAQs About Schlage Z-Wave Locks
Do I need a hub for Z-Wave smart locks?
Yes. Most Z-Wave smart locks require a hub to connect with smartphones and other non-Z-Wave based smart devices. This is because smartphones are not native to Z-Wave but Wi-Fi, so a hub is required to interpret data between the different communication protocols—Wi-Fi and Z-Wave.
What hubs work with Schlage Z-Wave locks?
Most Schlage locks compatible with Z-Wave works with Amazon Echo, Samsung SmartThings, Wink, etc.
Are Z-Wave locks better than Wi-Fi locks?
It depends on your needs. In terms of remote control, Wi-Fi locks connect directly with your smartphones and other smart devices without needing a hub, but the reverse is the case for Z-Wave locks. They require a smart hub to connect with smartphones and other smart devices for remote control.
Both Z-Wave and Wi-Fi-based locks have ups and downs, and the best can only be determined by your needs.
What Smart Home Systems are compatible with Schlage Z-Wave Locks?
The following Smart Home Systems are compatible with Schlage Z-Wave locks, (especially Schlage Connect Deadbolts):
Samsung SmartThings
Wink
Nexia
Alexa
Conclusion
Remotely controlling your door locks doesn't only provide convenience but extra security to your home. As you have read, connecting your smart locks to Z-Wave devices enables you to monitor activities at your door. Of course, you do take immediate action in case of any suspicious activities.
These Schlage Z-Wave locks do not only work with Z-Wave devices. You can connect to Wi-Fi-based devices such as your smartphone via a compatible hub.
However, you have to ensure that your locks are correctly installed and connected to the appropriate device to enjoy the full functions. While the locks are easy to install, you want to get a locksmith to handle the installation if you're not sure of doing it correctly.
You may also run into trouble when connecting to your smart home devices, be sure to follow the instructions carefully for a proper connection.