Wi-Fi smart locks are notable for connecting directly to Wi-Fi networks for remote access. And as with all smart devices that function wirelessly, susceptibility to cybercriminals is almost inevitable.
If this is the basis of your worry about Wi-Fi Deadbolts, then you want to keep reading as this post contains valuable information for you.
In the next few paragraphs, we'll attempt to answer the question about the safety of Wi-Fi deadbolts, and as well recommend reliable Wi-Fi locks. Let's begin!
The quick answer as to whether Wi-Fi Deadbolts are safe is yes. However, a Wi-Fi smart lock may yield to attacks if the user compromises or purchased a substandard brand.
That is, your lock may be hacked if your security details are open to cybercriminals, or your deadbolt may be picked or bumped via the keyhole—if the lock isn't pick-proof or so.
The way out? You should get the best (secure) Wi-Fi deadbolts and ensure your locks are protected from internet thieves and burglars.
How to Protect Your Wi-Fi Deadbolt Smart Lock from Being Hacked
As mentioned, Wi-Fi smart locks (with built-in Wi-Fi) can connect directly to your home Wi-Fi network for remote access.
That means you can control them from anywhere through the internet. At the same time, your lock can be hacked since it works over the internet. Here are some proven ways to protect your Wi-Fi smart lock from hackers;
Avoid Using Public Wi-Fi: Connecting to a public/open WI-FI is risky, as hackers can easily access your private information and hack your devices.
Update Your Apps Regularly: Hackers can penetrate your device through outdated apps, so ensure you keep your lock's app and other apps on your phone up to date.
Set Strong Password: Hackers may also attempt to guess your password, so ensure you have strong passwords set. You should avoid using your name, mobile number, and the like as passwords.
Enable Two-Factor Authentication: If your device or smart lock app supports two-factor authentication, ensure you enable it as it adds an extra layer of security to your device/systems.
As you can see, these are more or less general cybersecurity safety measures and they also work for smart locks that function wirelessly over the internet.
But that's not all you need to secure your Wi-Fi deadbolt, as the lock may be picked or bumped via the keyway. So what to do? Only go for secure Wi-Fi locks from reputable brands. See our recommendation below.
Top Wi-Fi Deadbolts to Consider
1. Kwikset 99380-002 Halo Wi-Fi Smart Lock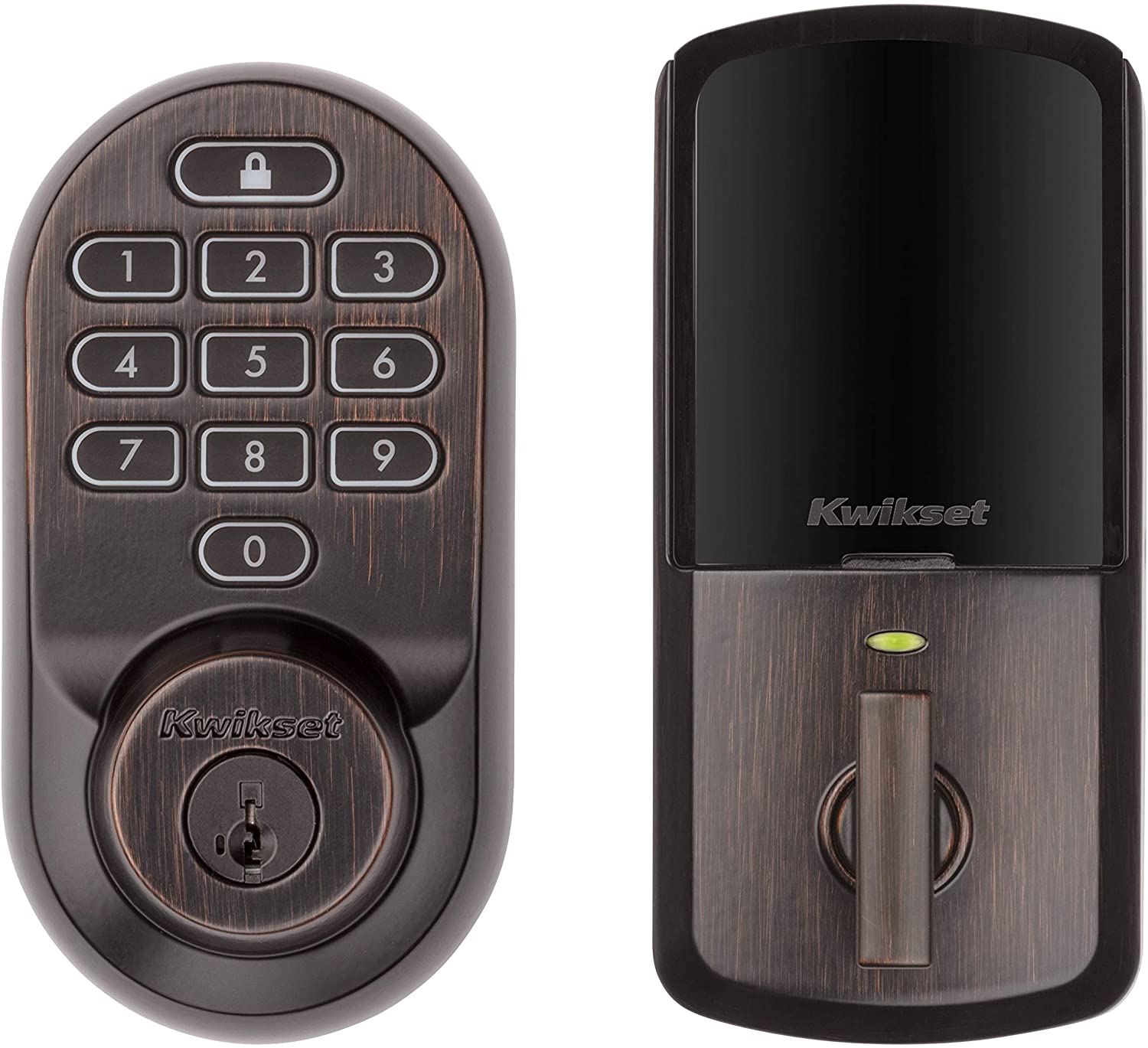 While there are several smart locks branded as Wi-Fi locks, most of them usually require a dedicated Wi-Fi Bridge or a third-party hub to connect to your home Wi-Fi network. That is, such locks can't connect directly to Wi-Fi but need a hub to aid the connection.
But that's not the case with this Kwikset lock. The lock comes equipped with a built-in Wi-Fi, so you don't need any Wi-Fi bridge or third-party hub to connect it to your home Wi-Fi network for remote access. That way, the connection appears more secure as it doesn't have to pass through some sort of third-party hubs that may well not be safe.
More so, while it's notable for remote access, the lock allows users to program up to 250 access codes. So you can either unlock it remotely via the Kwikset app on your phone or use access codes.
You can also share codes among those you want to allow access to your home—and as well delete the codes any time.
That's not all. The lock features SmartKey Security, meaning it's well placed to resist forced entry attacks such as lock picking, bumping, and drilling. Besides, it's BHMA AAA certified, which substantiates its security status.
Other features of this lock include compatibility with Alexa, Google Assistant, and other smart home systems.
Note: Kwikset App only works in Canada and the United States.
2. Schlage Encode Smart Wi-Fi Deadbolt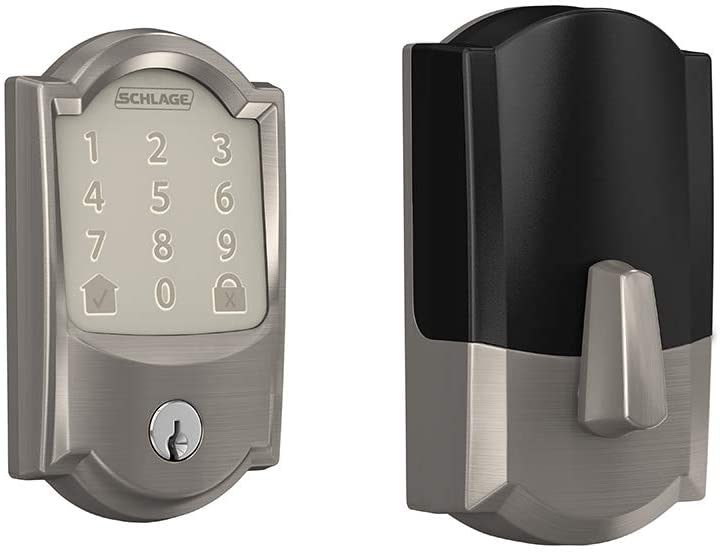 Our second pick is the Schlage Encode Wi-Fi Deadbolt. Like the Kwikset lock above, it comes equipped with built-in Wi-Fi, so you really don't need any third-party hub to connect it to your phone/Wi-Fi network for remote access.
Upon successful connection to your smartphone via Wi-Fi, you can program access codes, lock and unlock your door remotely via the Schlage Home app on your phone. The lock is also compatible with 'Key by Amazon' app—enables you to control the lock remotely.
Schlage Encode also supports voice control—specifically works with Amazon Alexa. You can also check your lock's status via the Alexa app and receive low battery notification alerts.
On security, the lock features a capacitive touchscreen that doesn't retain fingerprints on the screen, thus preventing passcode guessing. Plus, it comes with a built-in alarm that notifies you once it senses any forced entry attempt around the lock.
3. Kwikset 99390-001 Touchscreen Deadbolt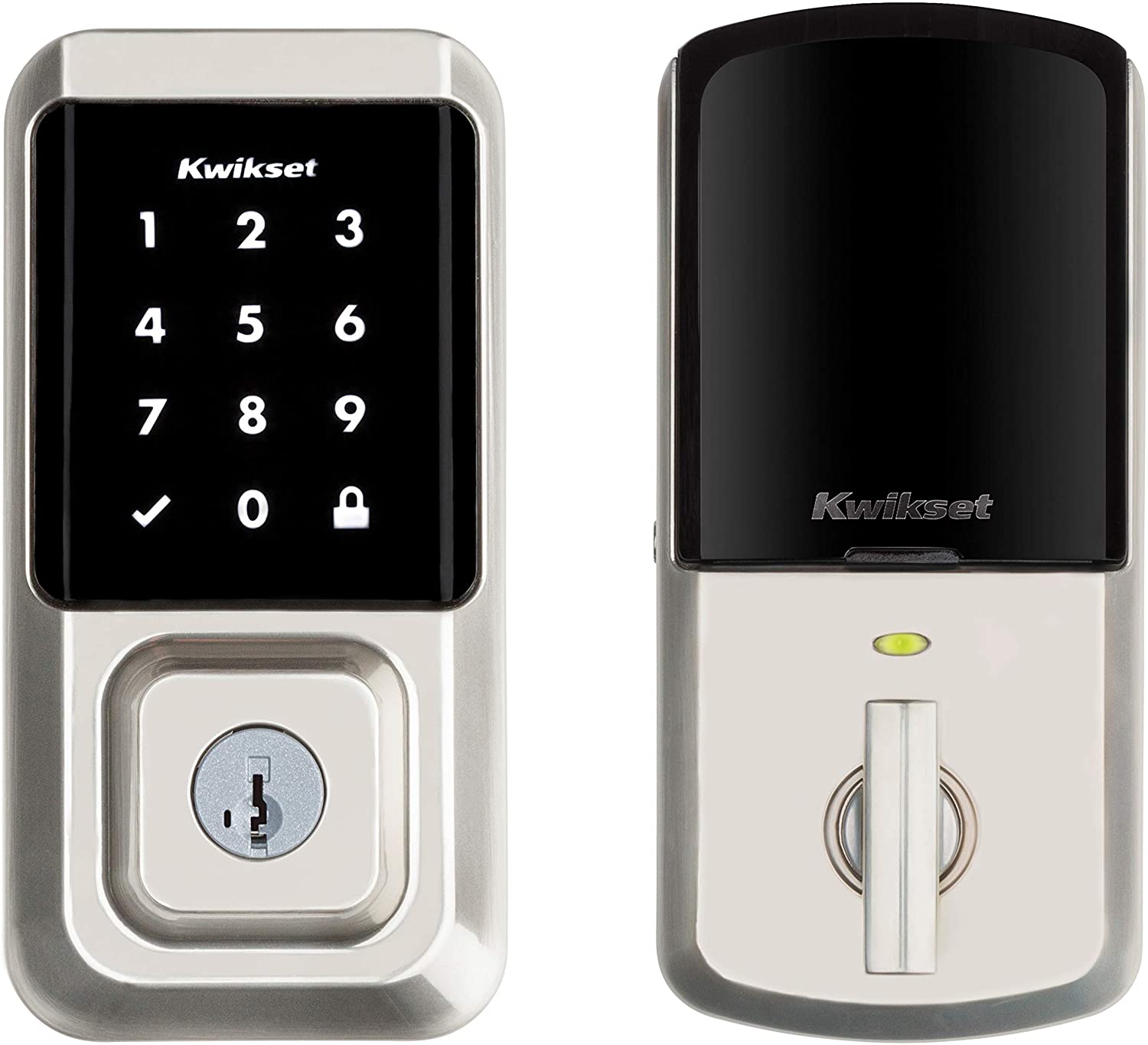 Kwikset 99390-001 has similar features to the other Kwikset lock above (our first pick). It features a built-in Wi-Fi, so it connects to your home Wi-Fi network and smartphone without a hub.
The lock can be operated remotely and via passcodes. For remote access, you need to install the Kwikset app on your smartphone and then establish the connection through Wi-Fi.
And for passcodes, the lock allows users to create up to 250 user codes. You can share them with anyone else you want to give access to your home when you're away.
More so, the lock features a secure screen that prevents fingerprint detection on the screen. Its security status also includes SmartKey Security. As you may know, SmartKey makes rekeying a breeze and as well protects against forced entry attacks such as lock picking and bumping.
What's more, the lock works with Alexa for voice control and you can receive notifications of your lock's activity via the Kwikset app on your phone.
Note: All recommended locks come with a keyway and physical key, so you can also lock and unlock your door with mechanical keys.
Final Thoughts
To further reinforce the security of your front doors/Wi-Fi locks, you want to get a smart home security system like SimpliSafe, Ring Alarm, Vivint, ADT, etc.
But keep in mind, smart home security systems may not work with all smart locks, so check to see if the system is compatible with your Wi-Fi deadbolt before you go for it.