Keypad door locks offer you a convenient way of locking and unlocking your doors without a physical key.
More so, most keypad locks are equipped with remote control features, meaning you can conveniently control your doors anywhere, which is great. But can the locks secure your home? Let's find out!
In short, keypad door locks are safe, depending on the lock's brand, grade, and other security features such as a built-in alarm that notifies you of potential security threats.
As hinted above, not all keypad door locks are safe as they're of different brands, grades, etc. If you're looking to get a reliable keypad lock for your home or place of business, here's what you need to consider:
Lock Grading
Door locks are graded by the BHMA/ANSI after testing their sturdiness, ability to withstand break-ins, weather conditions, etc. Let's take a closer look:
Grade 1 Locks: Door locks rated Grade 1 are considered heavy duty locks, meaning they're suitable for commercial and industrial applications. They can also be used in residential areas—where superior security is needed.
Grade 2 Locks: Grade 2 is a high rating for residential security. So locks rated Grade 2 are perfect for your home and could be used in commercial places as low-grade locks.
Grade 3 Locks: Grade 3 locks are meant for residential use and are considered the lowest quality standards accepted by BHMA/ANSI. They're not the best candidates for entry doors, as they may not withstand advanced break-in tricks.
Note: BHMA recently switched to an alphabetic grading system. So door locks rated Grade A to C are the same as Grade 1 to 3.
As you can see, the grading tells you where to use any lock, depending on its strength. That is, Grade 1 locks offer the highest security, making them a good fit for commercial properties and exterior residential doors.
Grade 2 and 3 locks are ideal for residential use, though not as tough as Grade 1 locks.
You may also consider the lock's brand when choosing a keypad door lock to ensure you get the right one.
That said, we've handpicked the best keypad door locks that offer excellent protection to your home and business place.
Read our related article on the Best Kaba Door Locks for an in-depth review of commercial door lock options!
See below:
Top Security Keypad Door Locks for Home and Commercial Application
1. Trilogy Commercial Keypad Door Lock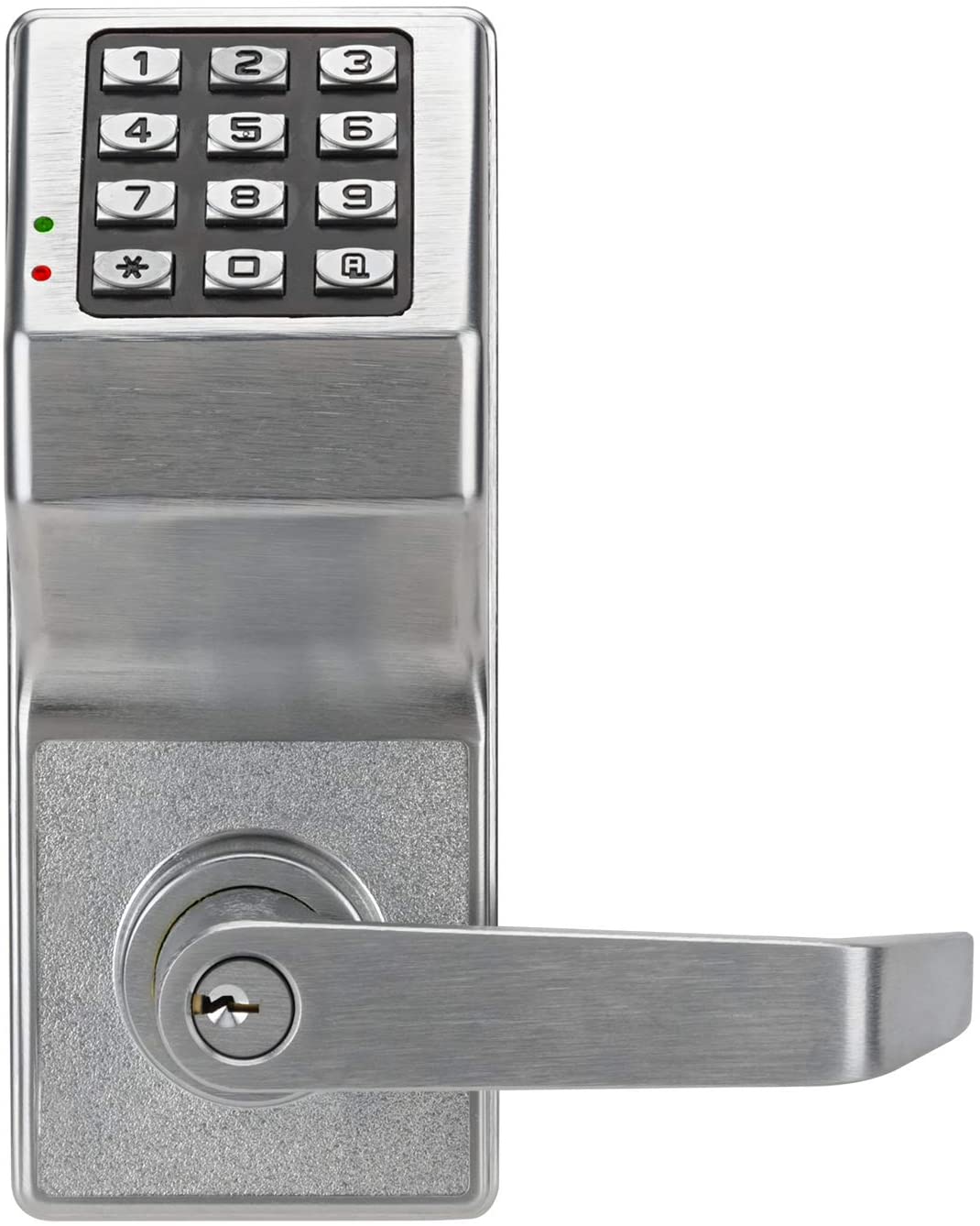 If you're looking for a sturdy keypad/keyless entry lock to secure your place of business, here's one of those that tick all the boxes.
Trilogy by Alarm Lock is a commercial-grade lock with excellent security features. These include a fixed 6-pin cylinder mechanism that could resist lock picking and bump. It's also constructed with a rugged clutch, metal keypad, and overall durable materials.
The lock is BHMA Grade 1 certified, proving its excellent security status.
It's powered by 5AA long-lasting batteries; they come with the lock and are replaceable. The batteries are non-rechargeable, so be sure to replace them with the same batteries.
Users can create up to 100 access codes for secure keyless entry. The lock also has a keyway, meaning you can switch to key entry if you want.
This lock has a slightly different installation and programming process from other keypad locks, so be sure to refer to the installation manual.
The lock is ideal for doors with 1 5/8 inches to 1 7/8 inches' thickness.
Read our related article on the BEST Commercial Keypad Locks for an in-depth review and guide for commercial-grade locks!
2. Schlage Connect Camelot Touchscreen/Keypad Door Lock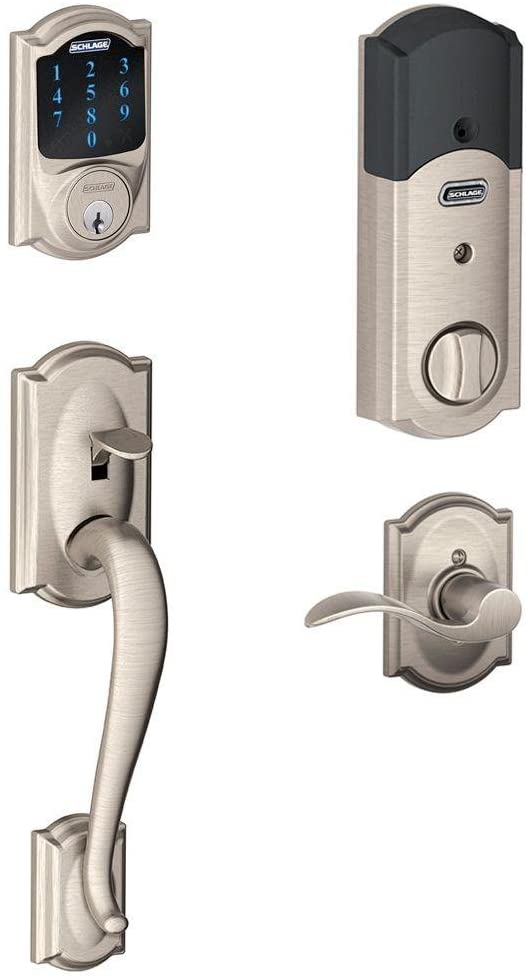 This Schlage Connect is a secured keypad lock for your home. It's a Grade 1 (ANSI rated) lock, which is the highest security for residential properties. The lock also features a durable and resistive touchpad that prevents fingerprints and smudges.
That's not all, it comes with an Anti-Pick shield for protection against lock picking and similar forced entry techniques.
Users can also enable its built-in alarm for notifications. The alarm has three modes—activity, tamper, and forced entry. That is, the lock alerts you when it's unlocked, tampered with, and when there's a forced entry attack.
Other features of this lock include compatibility with Alexa and remote control via the web or smartphone.
The lock uses Z-Wave for connectivity, so you need a smart hub to connect with your phone.
3. Kwikset Keypad Door Lock (Built-in Wi-Fi)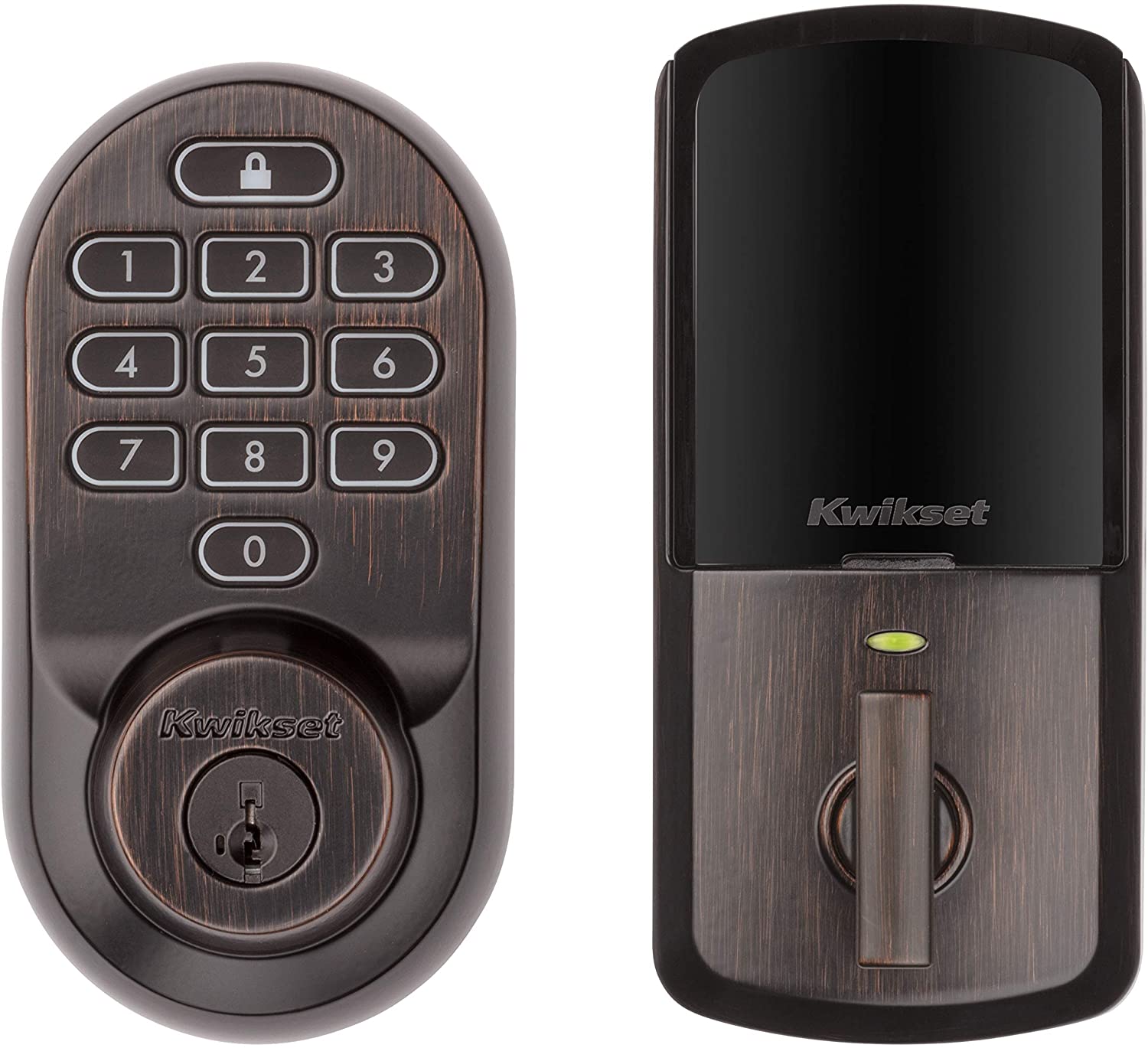 This lock features the SmartKey Security that protects against lock picking and drilling. Plus, it makes rekeying easy—you can rekey the lock yourself quickly.
The lock also has the highest residential security rating—BHMA AAA, meaning it's a safe option for your residential doors.
It allows users to create up to 250 access codes. You can share them with anyone you want to give access to your home.
Apart from passcodes, the lock features a built-in Wi-Fi that can connect directly to your smartphone for remote control. This works via the app installed on your phone.
However, Kwikset's mobile app only works in Canada and the United States.
4. Yale Assure Keypad Lever Lock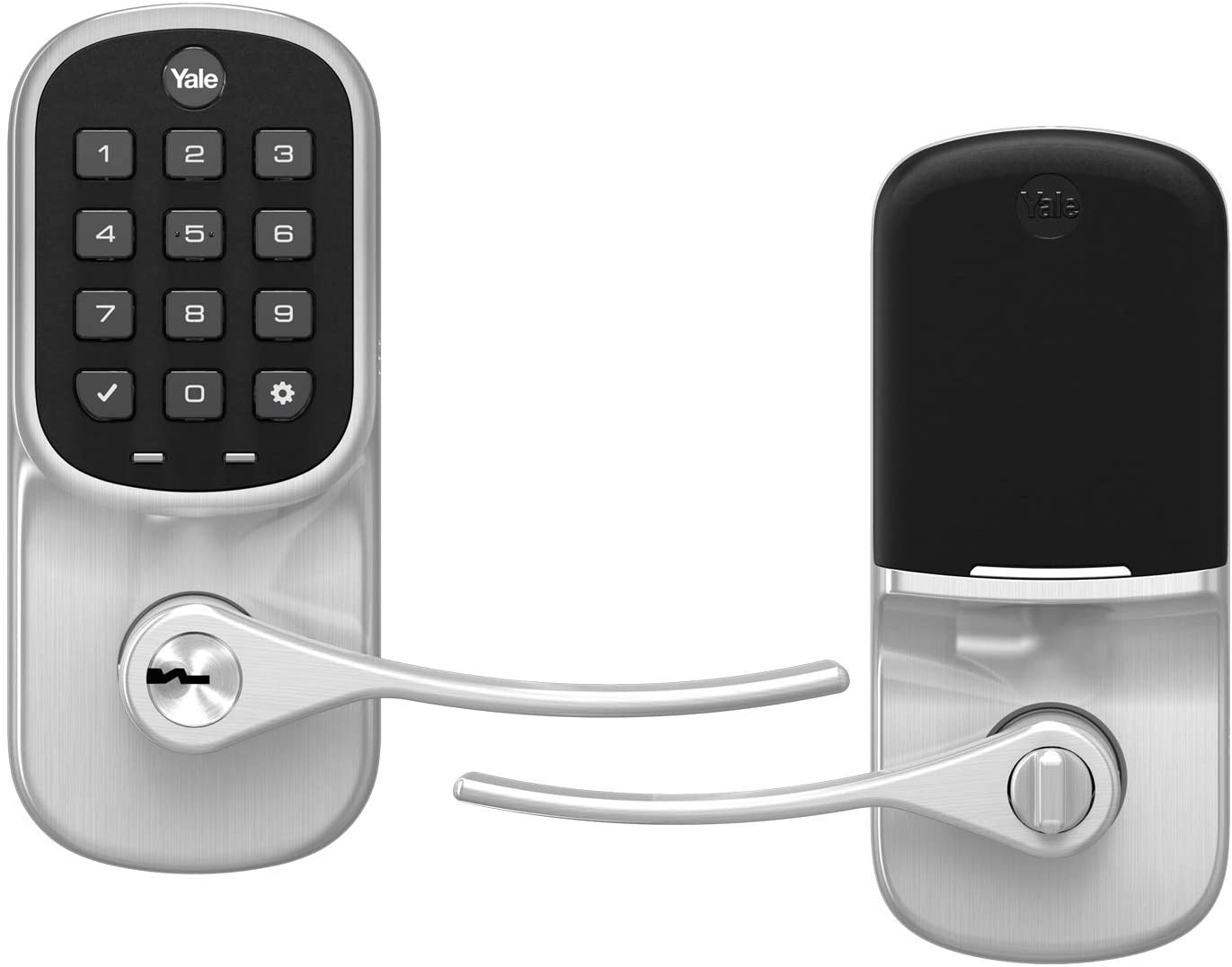 This Yale Assure keypad lock offers you the convenience of locking and unlocking your door without a physical. It features a backlit keypad—where you can enter your entry codes easily—even at night without fumbling around the keypad.
Of course, it's a sturdy lock that can withstand forced entry attempts.
The lock comes with an auto-lock feature that ensures your door is always locked behind you.
Other outstanding features of this lock include a long-lasting battery, easy installation, and compatibility with all standard doors (1-3/4 inches to 2-1/4 inches thick doors).
5. Prodigy Commercial Grade Smart Lock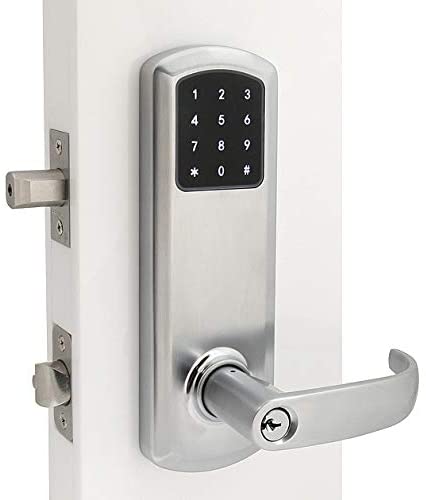 This keypad lock is ideal for high traffic doors. It's a commercial-grade lock, designed to withstand advanced break-in tricks and extreme temperature—including fire.
Users can create up to 400 passcodes, interchangeable with RFID keycards. The lock also features a keyhole—where you can lock and unlock your door via a physical key.
This lock is battery-powered, and it uses 4 AA batteries that last long. So no worries about being locked out due to dead batteries. Besides, the lock has a keyhole, meaning you can switch between passcode entry and physical keys.
Overall, this lock is super durable and a reliable option for commercial and industrial properties. You may also use it on your residential front doors.
Tips to Secure Your Keypad Locks from Intruders
Even though your keypad locks are equipped with advanced security features, they may still give in to forced entry attacks if you compromise. So here are some tips to keep them invulnerable to attacks.
1. Change Your Codes Regularly
Keypad locks allow users to create multiple access codes, which can be shared with anyone you want to give access to your home. However, some users may compromise, thus putting your home in danger.
Also, if you recently shared access codes with contractors or any third party, remove the codes once the contract is complete.
Overall, it's best to change your access codes at intervals to ensure unauthorized entry.
2. Ensure your Lock Doesn't Retain Fingerprints
If your keypad lock comes with a touchpad, check to see if the touchpad doesn't retain fingerprints. Fingerprints on a touchpad could pave the way for easy access codes guessing, which could result in a burglary attack.
In short, you should check this before getting a smart lock with a touchpad. Get one that doesn't retain fingerprints to prevent passcodes guessing.
3. Do Not Share Codes with Those You Don't Trust
You probably know this, sharing your passcodes with people you don't trust could put your home in danger. If you're going to hire anyone, you don't trust to get some work done in your home, ensure you're present.
4. Avoid Using Public Wi-Fi
Wi-Fi is one communication protocol smart locks use to connect with other smart devices like smartphones. However, you want to be careful with using public Wi-Fi as it exposes you to dangers. Internet thieves may steal your access codes and thus gain access to your home.
This only applies to keypad locks with remote control features.
5. Use Home Security System
You can integrate your smart keypad locks with Home Security Systems—such as Ring Alarm and SimpliSafe to boost security. The security systems offer real-time monitoring and alerts you when someone tampers with your door.
However, this only works if your locks are compatible with the security systems. See smart locks that work with SimpliSafe and Ring Alarm.
Final Words
People also ask whether keypad locks can be hacked. Well, keypad locks can be hacked, particularly when you're connected to the internet via a wireless network such as Wi-Fi.
However, keypad lock hacking is not common; it may happen only when the user compromises—such as using public Wi-Fi or sharing login details with untrusted third parties.
So overall, keypad locks are safe and the best ones can secure your home and business.