Controlling your door locks remotely is fun. Plus, you can monitor what's going at your door and take action if you suspect anything fishy. But how does this entire process work? Let's find out!
How do remote door locks work?
A smart door lock with remote control features can connect wirelessly to your smartphone for remote control. They do so by using Wi-Fi, Bluetooth, or Z-Wave. Even so, some electronic locks are equipped with short-range radio transmitters that let you control them within a range via a dedicated remote controller.
In the next paragraphs, we'll look at the various features of remote control door locks with more details about how they work. We'll also recommend the best smart locks with remote control functions. Let's begin.
Features of Remote Control Door Locks
Wi-Fi
As you probably know, Wi-Fi is a wireless communication network that allows smart devices to connect for different functions. A smart lock with built-in Wi-Fi can connect to your smartphone or other devices—from where you can perform functions like locking, unlocking, changing access codes, and more—remotely.
You can do this via the app installed on your phone. Different smart locks brands have their apps, so you need to install the app, connect your smart lock to your phone before you can operate remotely.
Z-Wave
Z-Wave is also a wireless network that allows smart locks to connect to your smartphones for remote control. However, connecting with Z-Wave will require a smart hub, as Z-Wave has a short-range. The hub helps to connect your smart lock to your smartphone.
So an electronic door lock with a built-in Z-Wave can function remotely by connecting to a smartphone through a hub.
Bluetooth
Like Wi-Fi, smart locks equipped with Bluetooth can connect to your phone directly. However, controlling your lock remotely via Bluetooth has a glaring downside, which is short range. Yes, Bluetooth has a very short range, meaning you can only operate your lock through your phone when you're close. Though a hub could still help you connect via Wi-Fi for better remote control.
Remote Controller
While many other locks offer remote control access using one of the wireless networks discussed above, a few others are equipped with short-range radio transmitters that let you control your lock with the dedicated remote controller.
The remote controller is usually battery-operated and locking or unlocking your door with the remote requires pushing a button. The remote immediately sends coded signals to a receiver in the lock to perform the command.
What is the Best Remote Door Lock? 
As per our research, here are the best smart door locks with excellent remote control features:
1. Touchscreen Wi-Fi Smart Lock by Yale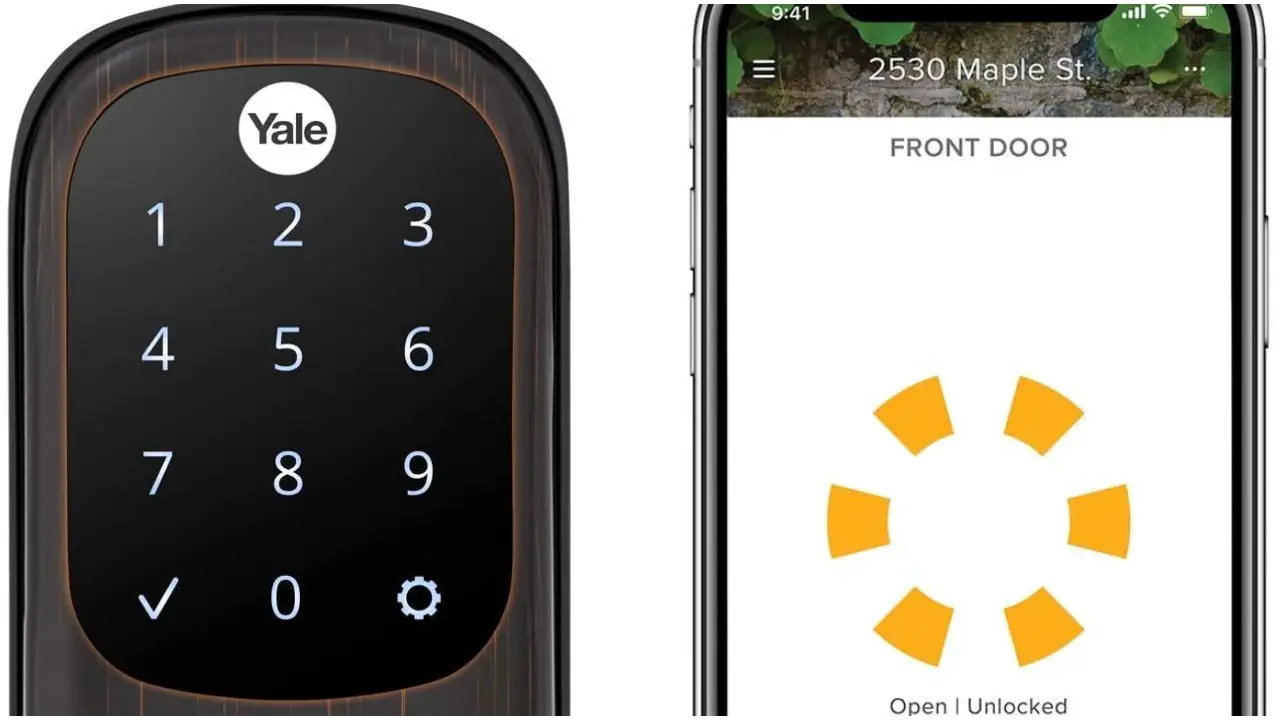 As the title says, this lock is designed with a built-in Wi-Fi that allows you to connect directly to your smartphone without a hub. The lock works with the Yale Access App—compatible with iOS and Android phones.
Yes, the lock offers exceptional remote control. Once connected via Wi-Fi, you can lock and unlock your door anywhere. You can also set access codes and remove them. The lock is also compatible with voice assistant devices such as Alexa, Google Assistant, and Siri.
Apart from the remote control functions, the lock has keypads—where you can input your access codes to unlock your door.
If you like to connect with a hub, the lock comes with its Connect Wi-Fi Bridge, so you won't have to worry about getting a separate hub.
2. Wi-Fi Smart Deadbolt by Schlage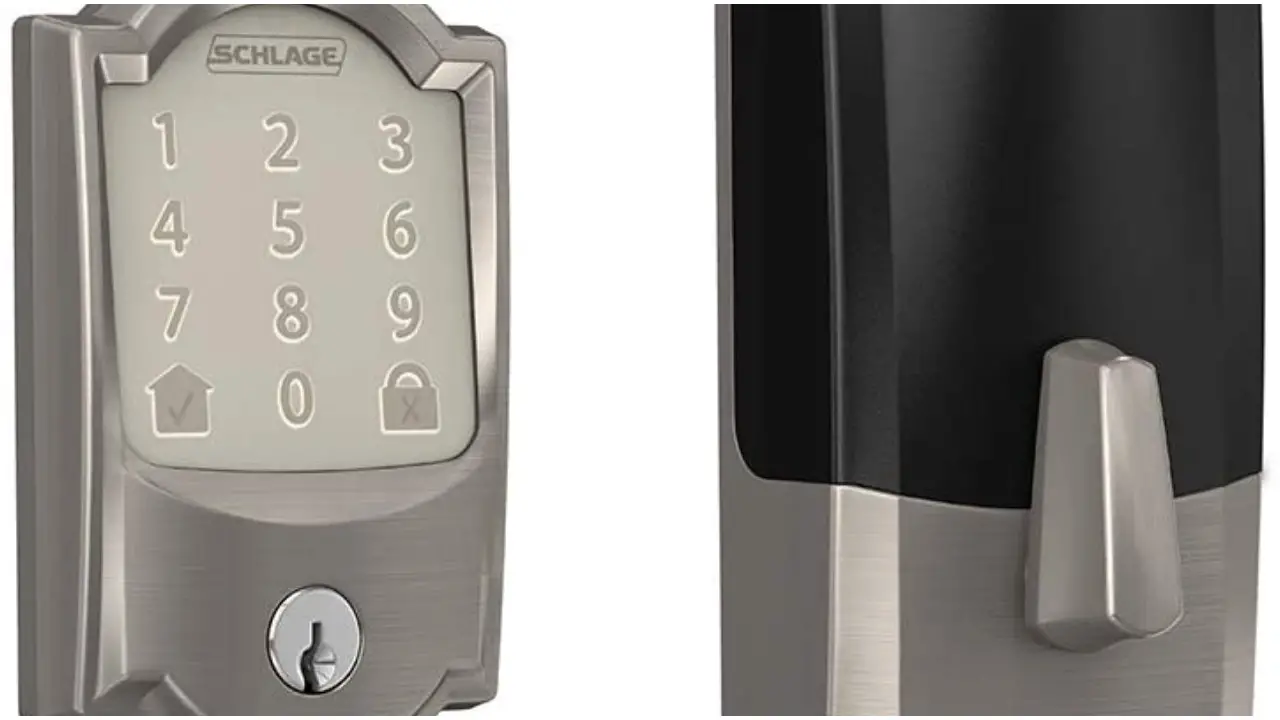 Schlage is a popular brand in the smart locks industry, known for producing good quality smart locks. Of course, this model is one of its best.
The smart deadbolt is designed with Wi-Fi that allows users to connect to their smartphones and control the locks remotely, regardless of the location. The Wi-Fi is built-in, so you don't need any third-party hub to make your connection work.
Other unique features of this lock include compatibility with Alexa, fingerprint access, built-in alarm, etc. The built-in alarm senses potential security threats on the lock and sends signals to your phone.
The alarm also warns of low batteries and keeps sending notifications until the battery completely drains off.
3. Halo Wi-Fi Smart Lock by Kwikset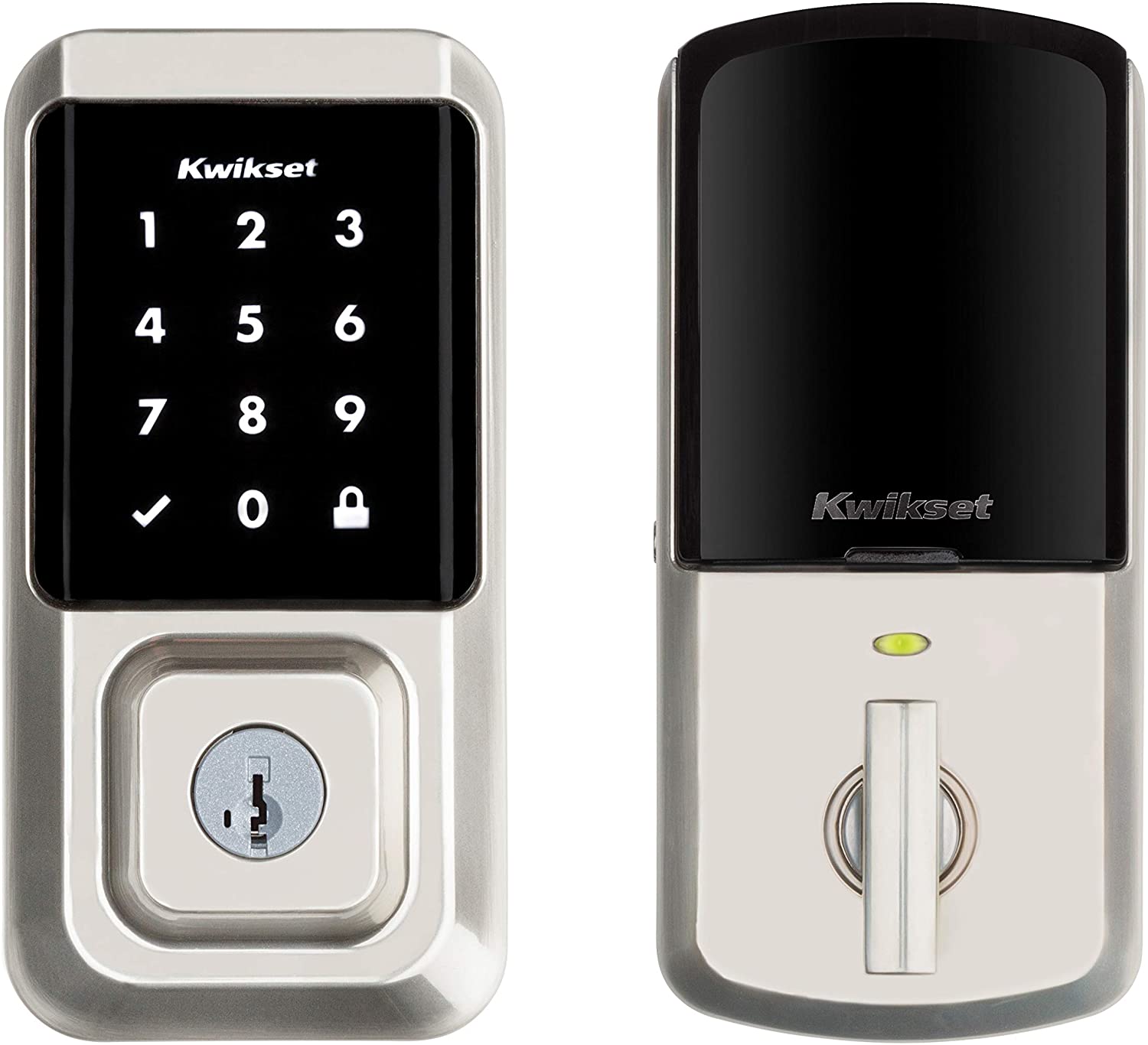 As you do expect, this lock offers excellent remote control functions, and it's via Wi-Fi. Like other locks reviewed above, it features a built-in Wi-Fi, meaning you can connect directly to your home Wi-Fi and smartphone without a hub.
For hands-free control, you can connect to Alexa and Google Assistant. Yes, the lock supports both voice assistant devices.
That's not all. The lock is designed with security in mind. One of its security features is the SmartKey Security that protects against lock bumping, lock picking, and other advanced break-in techniques deployed by burglars. The SmartKey Security also lets users re-key the lock in less time.
The Halo Wi-Fi smart lock also features a touchscreen to input access of code if you don't want to use the app on your phone. More so, the touchpad is protected from fingerprint retention, so no worries about code identification.
Note: Kwikset's smartphone app only works in the United and Canada.
4. Wi-Fi Smart Lock by August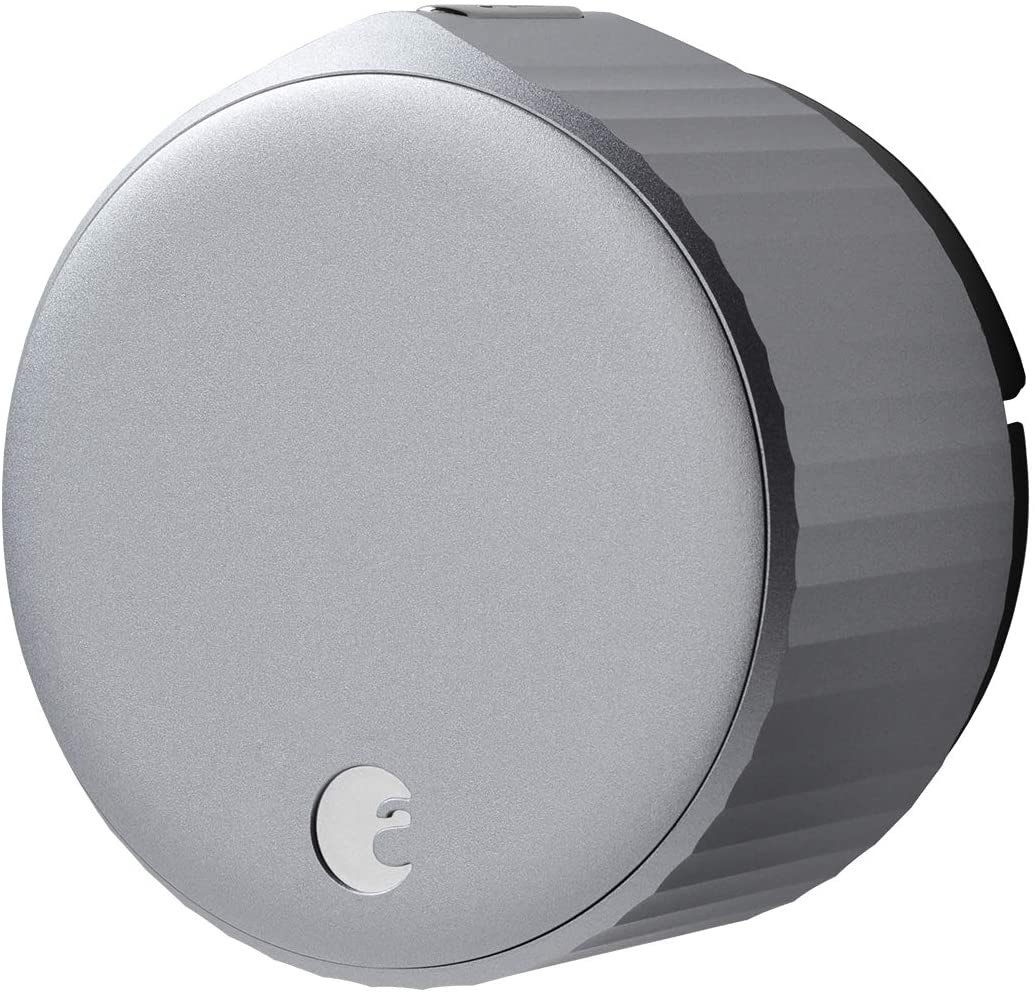 Again, here's another Wi-Fi lock that offers excellent remote control functions. It's currently the latest model of August smart locks and the first with built-in Wi-Fi. It offers you full remote control access without a hub, as long as you have a 2.4GHz Wi-Fi network.
This lock can easily fit into your existing lock. You don't need to remove your existing deadbolt, but simply attach it to the inside of your door.
The lock works with the August app. Users can create new access codes, remove old ones, and assign codes to anyone via the app.
The lock also works with voice assistant devices like Alexa, Google Assistant, and Siri. You can lock, unlock, and view your lock's status via the voice assistant devices.
5. MiLocks Keyless Entry Deadbolt Door Lock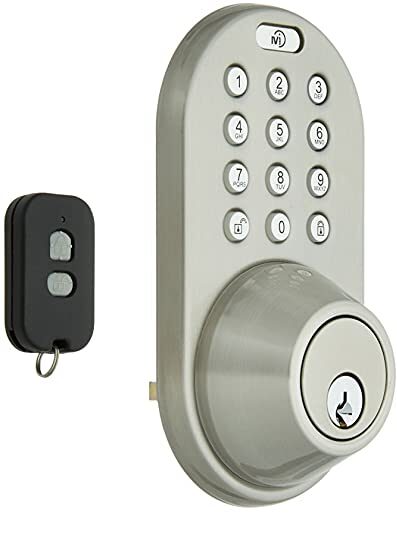 While other smart locks offer remote control via popular wireless networks like Wi-Fi, this Milock smart lock features a dedicated remote controller that lets you lock and unlock your door from range.
So if you want a smart lock with its unique remote control device, this is one option for you. However, the downside to this remote controller option is that you can't control it from a far distance, say from your place of work. The remote control range only works when you're close to the door.
However, it also offers smartphone control via the Insteon home automation system.
The lock also features a keypad for locking and unlocking.
Related Questions
How do I connect my smart lock to my phone?
First, you need to know which communication protocols it uses; Bluetooth, Z-Wave, or Wi-Fi. Next, get the app installed and follow the instructions on the user manual to connect to your phone.
Note: You need a third party hub for Bluetooth and Z-Wave locks, as they can't connect directly to your phone.
Can I control my lock remotely from my place of work?
Yes, you can control your lock from anywhere if you're connected to the internet via a Wi-Fi network.
Can my lock work remotely without an internet connection?
No, you need an internet connection to control your lock remotely, especially when you're far off the lock. However, you can control them at close range with a Bluetooth connection and it requires no internet connection.
Are remote door locks safe?
Yes, locks that offer remote control come with other features of typical smart locks to protect your home/commercial places. However, connecting via Wi-Fi can expose you to internet thieves, so be sure to avoid public Wi-Fi and do not share your sign in details.
How do Bluetooth locks work?
Bluetooth based locks work by connecting directly to your phone for remote control. However, Bluetooth has a short-range, which means they only work distantly when you're close to your door.
Apart from the remote control, a Bluetooth based smart lock may offer other operational methods such as keypad/access codes and physical key.
To Conclude
Remote door locks are smart locks equipped with wireless networks. They work by connecting to other smart devices such as a smartphone via a wireless network.
Most smart locks that accept remote control have apps that can be installed on smartphones, while others can work over the web or with a remote controller.
So controlling your lock remotely requires having a lock with built-in Wi-Fi, Z-Wave, or Bluetooth and connecting to your smartphone with the app installed. You may also connect via a hub or use the remote control device (for locks that come with remote controllers).