You are probably tired of frequently replacing batteries in your August smart lock and are wondering if you can use rechargeable batteries, right? Well, that guess might be wrong, but you sure want to know if it's right to use rechargeable batteries in your August smart lock. So here we go!
August does not recommend using rechargeable batteries as they have limited capacity. All August smart locks are powered with AA non-rechargeable batteries except the Wi-Fi smart locks that run on 3V CR123 or CR123A lithium batteries, still non-rechargeable.
Looking for tips to prolong your August smart lock battery life? We covered everything about using the right battery in your August smart lock, extending battery life, battery replacement, and more in this article. If you're ready to learn more, let's head right into it!
How to Improve Your August Smart Locks Battery Life
While you can't use rechargeable batteries to boost your August smart lock's battery life, there are other proven ways to improve its battery life. Of course, August smart locks have good battery life and you only need some little tweaks to ensure the batteries are correctly utilized.
So here's what you need to improve your lock's battery life:
1. Proper Installation
If your lock isn't correctly installed, odds are the errors may overwork the motor which could reduce its battery life. So you want to ensure your lock is correctly installed to prevent the motor from working harder than it's programmed.
You should use the tailpiece adapter and ensure you get the wing latches in the right position—properly seated. If you're not sure how to get your lock correctly installed, it's best to have a locksmith handle the installation.
2. Improve Your Wi-Fi Signals
For Wi-Fi locks, they are equipped with Wi-Fi chips that capture and maintain the connection. And when you have poor Wi-Fi signals, the chip is forced to work extra hard to maintain a connection, which could overwork the battery and hence shorten its life.
You can prevent this by bringing your router closer to your front door and other doors you have the August Wi-Fi lock installed.
3. Reduce Deadbolt Friction
Friction between your deadbolt and the strike plate in your doorframe can force the motor to exert more force to make movement possible, and this could affect the battery life negatively. Make sure your deadbolt and strike plate are properly aligned to prevent friction during deadbolt movement.
4. Get an August Connect Wi-Fi Bridge
Built-in Wi-Fi locks consume more energy than other smart locks. This is because of the communication protocol—Wi-Fi. To improve battery life, August recommends using its Wi-Fi Bridge instead of your lock's internal Wi-Fi to control your lock remotely. This helps to rest your internal Wi-Fi access point and thus reducing battery consumption. Read more about connecting your lock to a smart hub.
How to Check your August Smart Locks Battery Level
You cannot check your August lock's battery level — whether through the app or the smart lock — as August has made no provision for that. However, you will get notifications when your battery is running low and needs replacement.
You may start getting notifications when your lock's battery power is down to 25%. The notification will appear on your phone screen—perhaps your unlock screen, depending on your phone configuration. Also, your August smart lock may flash red light at intervals, which signifies low batteries. And you will get other push notifications and emails daily until the battery finally dies off.
Note: At 25% battery capacity, you can continue using your lock if you don't wish to replace the batteries immediately. But timely battery replacement can help prevent a situation where your battery dies off and locks you out. 
How to Replace Batteries in Your August Smart Locks
Replacing batteries in an August lock is simple. Though August smart locks are of different models and the process may differ slightly. In this guide, we used the August Wi-Fi Smart Lock. If you have August smart lock—1st Gen, 2nd Gen, 3rd Gen, or Smart Lock Pro, go here for all battery replacement guides.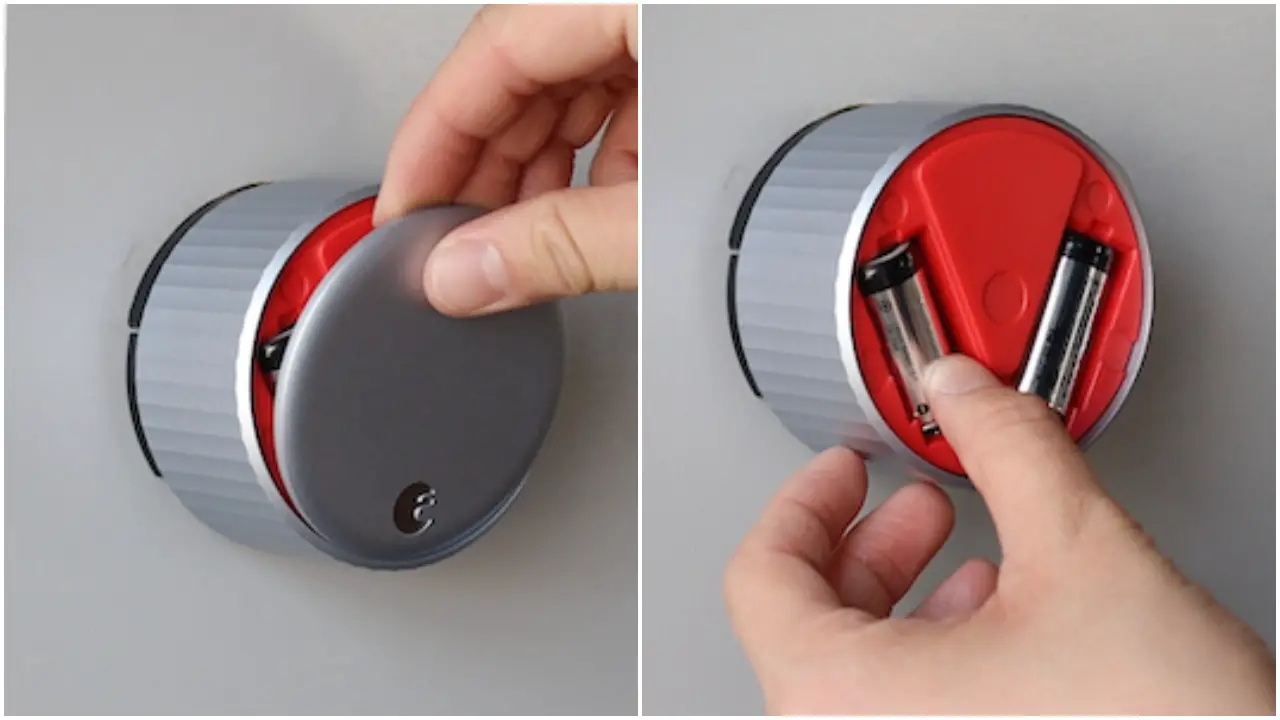 That said, here's how to replace the batteries in your August Wi-Fi smart lock:
Step 1: Get the right replacement batteries. August Wi-Fi Smart Lock uses two 3V CR123 or CR123A lithium non-rechargeable batteries.
Step 2: After getting the right battery, it's now time for a replacement. Press down the August logo at the bottom of your lock's faceplate to tilt outward. Next, hold the faceplate and get it off the lock.
Step 3: You can now see the batteries. Remove them and replace with the new ones. Ensure the positive (+) ends are pointing up. If your batteries are correctly replaced, your lock will blink green light twice—quickly, followed by another green light blink that will last longer.
Step 4: If everything works as described above, then you've successfully replaced your August Wi-Fi Smart Lock batteries. Now place the face plate back and ensure it's securely placed.
Note: Never mix new batteries with old ones as that might cause battery leakage and thus damage your lock. August smart locks use 4 batteries, and you should replace them all.
Best Batteries for August Smart Locks?
As you know, August locks are powered by alkaline and/or lithium batteries. That is—lithium batteries for the Wi-Fi-based smart locks and alkaline batteries for other models.
So if you're looking to replace your battery, here are some of the best battery brands for August smart locks:
Duracell
Energizer
AmazonBasics
Panasonic Evolta
FAQs About August Smart Locks Batteries
Can August smart locks be plugged into a power source?
If you are looking to keep your lock up and running uninterruptedly, you want to think of plugging into a power source. I get that — not a bad idea. But does it work with August lock?
The quick answer is no. All August locks are battery-powered and there's no provision to plug into a power source.
August smart locks have long-lasting batteries, and their low battery notification can help you prepare for a replacement before the batteries drain out completely.
How long do August smart locks batteries last?
August's Wi-Fi smart locks batteries can last anywhere between 2 to 3 months, while its first, second, and third-generation smart locks can last a little above 5 months.
Generally, smart locks that use Wi-Fi as their communication protocol consume more battery, which is the case with August Wi-Fi locks. Learn more about smart lock communication protocols and battery usage.
How do I test my August smart lock battery? 
If you're looking to test your August smart lock battery to know its current battery capacity, there is no way to do so, unfortunately. August will send you several notifications when your battery is low—usually from 25 percent low.
But if you received a low battery alert earlier than expected, say one or two months, and want to test to see if the batteries are still alive, you can do so by removing and reinserting the battery. Ensure the batteries are seated correctly, with the positive ends pointing up. You should see two quick green lights and another green light that will last longer if the batteries are still active. Otherwise, they may have died and you need to replace them or contact August with your lock's serial number.
How can I stop a low battery alert after replacement?
This is normal with August smart locks, and you don't need to be alarmed. If your lock continues to push low battery notification after replacement, simply operate your locks at least three times through the August App. This should stop the low battery notification until the battery is actually low to 25 percent.
Final Thoughts
Perhaps other smart locks are compatible with rechargeable batteries, but August says no to using rechargeable batteries. They do not recommend that, and you don't want to take the risk of trying to use rechargeable batteries.
Apart from their limited capacities, which is the sole reason August doesn't recommend them (rechargeable batteries) for their smart locks, you might incur other dangers as the locks aren't designed nor tested to work with rechargeable batteries.
You should use the ideal battery and apply the battery improvement tips to elongate your August Smart Lock battery life.