As you probably know, smart locks come with several essential features, but security remains at the forefront.
So if you're looking to get a Dato smart lock, you sure want to know how secure it is.
In this article, we review the various models of DatoHome smart locks—with emphasis on security and other basic features of smart locks. Let's begin.
Dato Smart Locks Review
1. Dato Smart Lock—L-B400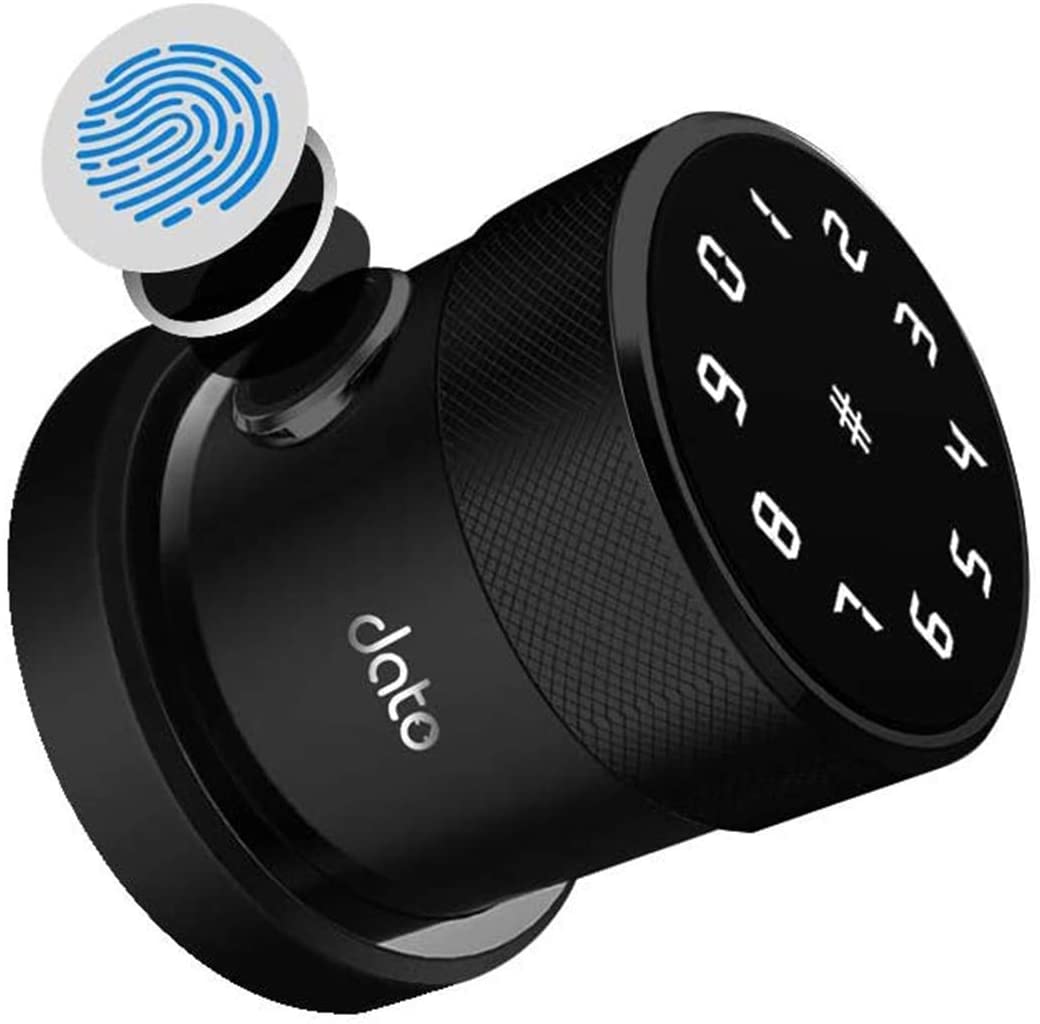 Dato Smart Lock L-B400 features a touchpad that allows fingerprint and access codes for locking and unlocking. The lock also features a mobile app for remote control via a smartphone.
Users can store up to 120 different fingerprints and remove them when they want. This feature allows users to share access to their homes with those they trust without the need for a physical key. Of course, this lock is completely keyless.
The lock offers remote control, which could be considered a security feature as users can monitor and control the lock anywhere. In detail, the remote control works by pairing with Dato Wi-Fi Gateway, which allows users to set up passcodes, manage user access, monitor access times, and more.
Other features of this lock include easy installation, AI learning, and a sleek design that fits with most door designs.
Drawbacks
As per the lock's description, users should be able to add entry codes and view access history remotely after pairing with the Wi-Fi Gateway.
But these features are not supported through Wi-Fi. You need to connect via Bluetooth and be within range to do those things. Though locking and unlocking via Wi-Fi works perfectly.
2. Dato Smart Fingerprint Door Lock—L-F500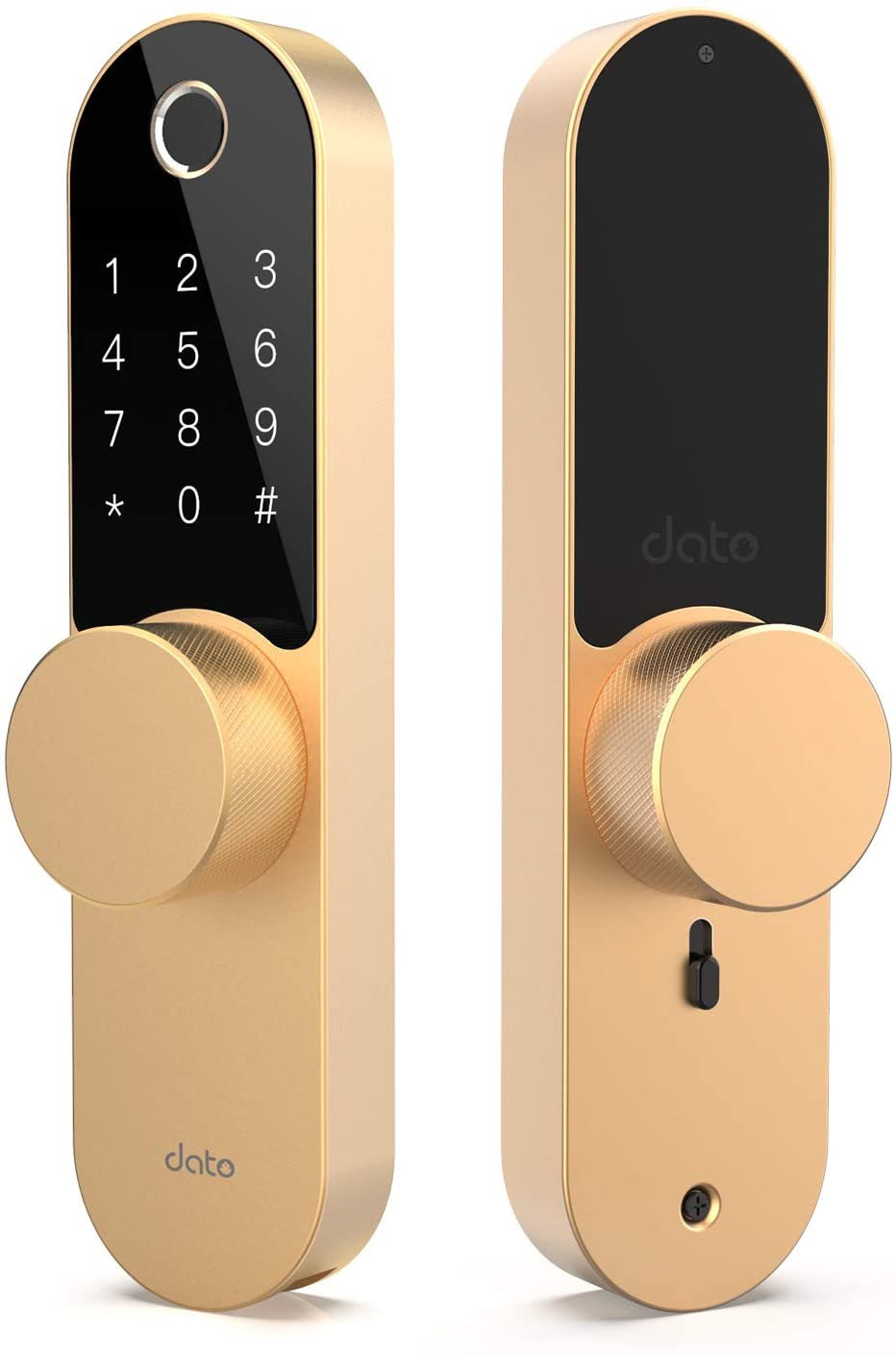 Dato L-F500 is a fingerprint-based lock with 5 unlocking methods:
RFID card
Mobile app
Numerical passcodes
Mechanical keys
Fingerprints
This, perhaps, offers users the convenience of locking and unlocking their doors through any method that appeals to them.
The lock has long-lasting batteries (up to a year) and a micro USB emergency power port, so users won't have to worry about being locked out.
This lock is also noted for its sleek design and metal body that can withstand extreme weather conditions.
This Model of DatoHome smart lock also works with its app. So users can control the lock remotely.
Drawbacks
Limited remote control via Wi-Fi. Only supports Bluetooth for setting up and removing entry codes remotely.
Also, the fingerprint reader is slow, takes several seconds to read and additional seconds to unlock the door
3. Dato Smart Lock for Front Doors—L-F504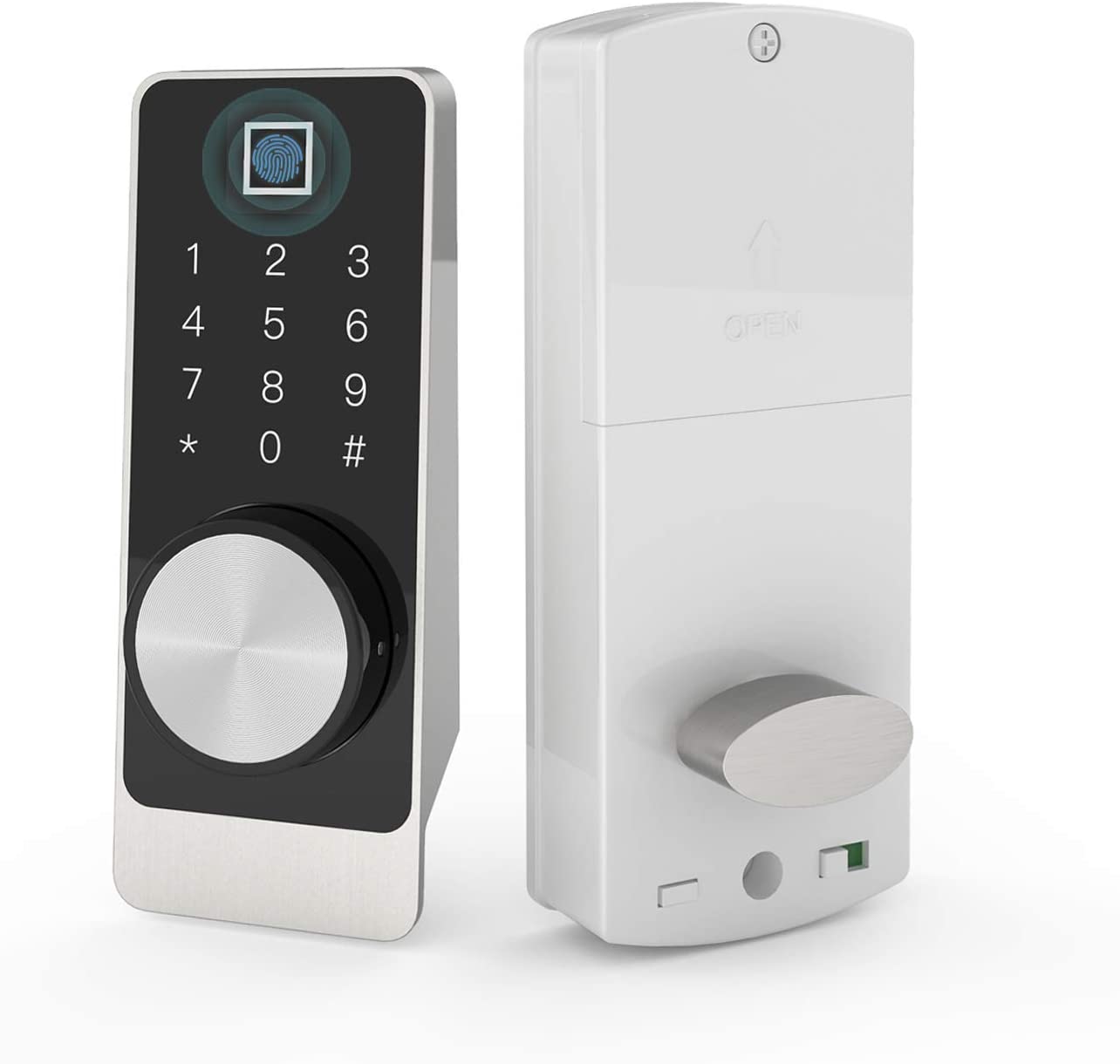 Dato L-F504 smart lock is designed for front doors. As expected, it comes with several features meant to protect your front doors against forced entry attacks. Some notable features are—a door sensor, auto-lock, and sturdy stainless steel lock body.
The door sensor detects when your door is closed and automatically locks it. The auto-lock also works via the app—remotely.
Moreover, the zinc alloy stainless steel body can withstand moisture and other extreme weather conditions. The lock is waterproof and has an IP54 rating.
Other features of this lock include passcodes and fingerprint entry. And it's suitable for left and right-handed doors.
Drawbacks
The lock works fine apart from the sensitivity of the fingerprint. As per our research, most users complained that the fingerprint reader only works occasionally—slow unlocking speed and overall poor sensitivity.
Another complaint is about the touchscreen backlight. It dims when the lock is on standby mode, making it difficult to identify the numbers on the touchscreen. It comes up after 2 to 3 seconds before getting off the standby mode and lit the touchpad properly. This could be a minor issue, though.
4. Dato Keyless Entry Door Lock—L-F505
The L-F505 is one of Dato's keyless entry lock models with a sturdy stainless steel body. Though the lock is not completely keyless as it has a keyhole for mechanical key access.
The lock features a built-in Bluetooth, Fingerprint and compatible with Dato mobile app for remote control. However, the remote control only works via Bluetooth, meaning it works when you're within the Bluetooth range.
When in range, you can monitor your door status and receive notifications when someone unlocks your door. This lock also has the auto-lock feature as other Dato smart locks.
The lock is battery-powered and uses regular alkaline batteries. Battery brands such as Duracell and Energizer work well with this lock.
Drawbacks
Limited remote control—it only works when you are close to the lock.
As with other Dato smart locks above, fingerprints don't work at one touch. It sometimes requires 3-5 taps to unlock.
5. Dato Fingerprint Smart Lock—L-B201
Like other models, the Dato L-B201 smart lock features a fingerprint reader and keyway for mechanical keys.
Users can switch between the fingerprint and key entry. More so, the key serves as a backup when the battery dies off.
The lock allows users to set up to 20 fingerprints, including 2 admin-user fingerprints. An admin user can remove and replace other fingerprints.
The fingerprint smart lock is powered by 800mAh rechargeable lithium batteries. You can quickly charge the batteries via its Micro USB emergency power interface.
The lock is suitable for both left and right-handed doors with a thickness level of 1-3/8 to 2-1/8 inches.
Note: At default settings, any fingerprint can unlock it, so be sure to set up your fingerprint immediately after the installation.
Drawbacks
If you're looking for a smart lock with keypads and/or remote control functions, this lock is not for you. You can only operate it via the fingerprint reader and keyway.
To Conclude: Are Dato Smart Locks Secure?
Based on the features and user ratings, it's safe to say Dato smart locks are secure as they are sturdy, durable, and have the essential features of a standard smart lock.
However, they may not be superior to other top smart locks brands such as August, Schlage, Kwikset, and Yale.
Keep in mind, Dato locks have no security rating such as BHMA/ANSI, so it's uncertain whether they can withstand a forced entry attack.