If you're on this page, my guess is you probably got a new Schlage Connect Smart Deadbolt and are wondering if the lock needs a hub to pair with your smartphone and/or home automation system.
If that guess was right, then you're sure on the right page. In the next few paragraphs, you'd learn about how the Schlage Connect pairs with other smart devices and more. Let's begin!
Does Schlage Connect need a hub?
Short answer: yes! Schlage Connect Smart Deadbolt uses Z-Wave for connectivity, meaning it requires a compatible hub to connect to your Wi-Fi-based smartphone and other smart devices—for remote control.
Using a Smart Lock with a Hub: What You Should Know
Perhaps you're wondering why some Schlage smart locks need a hub and others don't, here's why:
Schlage smart locks (like other smart locks) are usually equipped with different communication protocols, such as Bluetooth, Wi-Fi, Zigbee, and Z-Wave. Depending on the type of communication protocol the lock uses, it's able to connect directly to another device with the same communication protocol.
However, controlling your lock remotely requires Wi-Fi as Bluetooth, Z-Wave, and Zigbee have short ranges. So if your lock doesn't feature built-in Wi-Fi, it requires a hub to connect to your smartphone and other smart devices via Wi-Fi.
The smart hub basically translates data between the different communication protocols to establish a connection.
What's More About the Schlage Connect Smart Deadbolt?
Schlage Connect Deadbolt has other exciting features you'd like to learn more about. Let's take a closer look: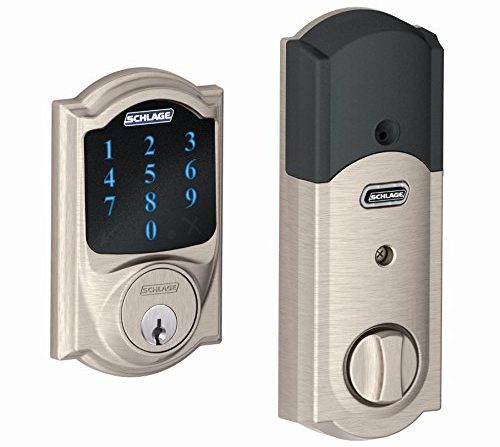 Keyless Entry
Tired of losing keys or going around with a bulky set of keys? The Schlage Connect Smart Deadbolt features a keyless entry—so you can ditch physical keys and mainly lock and unlock your door via user codes.
The lock allows users to set up to 30 entry codes, which you can as well share with your household members and anyone you want to give access to your home.
That's not all, you can operate the lock remotely by connecting to your smartphone via a compatible hub (as you read above).
Even so, the lock also features a keyhole, in case you have any need for physical keys. So you can switch between key and keyless entry.
Voice Control
Another unique feature of the Schlage Connect is its ability to connect with Voice assistant devices such as Alexa and Google Assistant.
You can connect any Schlage Connect lock to Alexa via a compatible hub, get the app installed on your phone and then lock and unlock your door via voice commands. You can also check your lock's status via Alexa app on your smartphone.
Read our related article on the BEST Smart Door Locks that Work With Alexa for more helpful info and lock choices!
Advanced Security
Smart locks have many interesting features, but you don't want to trade security with anything—so you need a secure lock.
Schlage Connect locks are mostly ANSI/BHMA Grade 1 certified—the highest security for residential and commercial properties.
They also feature a resistive touchscreen that prevents fingerprints retention/smudges. More so, the locks are equipped with a built-in alarm that notifies you when someone locks or unlocks your door.
Besides, Schlage Connect works with the Ring Alarm Home Security System that offers real-time monitoring and alerts you when someone tampers with your door.
Long-Lasting Batteries
Ever wondered if your smart lock batteries will eventually die off unannounced and lock you out?
Well, you can prevent that with a smart lock that has a long-lasting battery and low battery notification—like Schlage Connect Smart Deadbolt.
Yes, the locks feature a built-in alarm that notifies you when your battery is low. This should help you replace your lock's battery before it drains out completely. Moreover, Schlage Connect uses 4 AA lithium batteries that last up to a year.
Works with Leading Home Automation Systems
Yes, the Schlage Connect Smart Deadbolts work with a variety of top home automation systems. These include:
1. Samsung SmartThings
With your Schlage Connect Smart Deadbolt connected to Samsung SmartThings, you can check your lock's status via the app on your phone—from miles away.
It also allows users to lock and unlock, add user codes, and receive alerts when a user code is entered—all via the app on your phone.
2. Wink
Wink does almost the same thing with other home automation systems—compatible with Schlage Connect Smart Deadbolt. However, you can configure your lock with Wink—such that your lights will turn on when you unlock your door through the Wink app on your phone.
Other features include checking battery levels and adding user codes.
3. Nexia
Nexia is another top home automation system that works flawlessly with Schlage Connect Smart Deadbolt. It also lets users control their locks via the Nexia app when paired correctly.
The features include lock status alerts, battery level checking, adding and removing entry codes.
4. Ring Alarm
Though a home security system, there's a lot more to do when paired with your Schlage Connect. These include locking and unlocking your door from anywhere via the Ring app on your smartphone, receive security alerts, check your lock's battery level and add/delete access codes.
What Hub Works With Schlage Connect?
Here are some top smart hubs that work with Schlage Connect Smart Deadbolt:
Wink
Samsung SmartThings
Nexia
Amazon Echo Plus
How Do I Connect Schlage Connect to My iPhone?
To connect your Schlage Connect to your iPhone:
Ensure the Schlage Home app is installed on your iPhone.
Keep your Schlage Connect Lock active.
Open the Schlage app on your iOS device (iPhone) and select continue with Homekit.
Follow the instructions in the Schlage Home app to complete the integration.
Final Words
Keep in mind that Schlage has different models of smart locks and if in any case, your Schlage smart lock has no built-in Wi-Fi, it means you need a hub to integrate with your smartphone and home automation system.
The bottom line is, Schlage smart locks with built-in Wi-Fi do not need a hub, while those without built-in Wi-Fi but Z-Wave, Bluetooth, and Zigbee require a hub—which is the case with Schlage Connect.