If you're wondering what SmartKey locks are and how they work, this article is sure your go-to resource. Let's begin!
How do SmartKey locks work?
SmartKey locks are designed with a keyhole, meaning they work using a physical key for locking and unlocking. However, the SmartKey Technology makes them unique as they can be easily rekeyed, resist lock bumping, picking, and drilling. 
In the next few paragraphs, we'll consider the safety of SmartKey locks, the best ones on the market, rekeying, etc. Ready to learn more? Let's dig deeper!
What is a SmartKey Door Lock?
SmartKey lock somewhat sounds like an electronic lock powered by batteries and having other features like touchscreen, keypad, access codes, remote control, etc. But that's not what it is!
A SmartKey door lock is like the traditional door lock built with a keyhole. But it's distinguished by the SmartKey Technology.
The SmartKey Technology makes rekeying a breeze and also protects the lock from forced entry, such as lock bumping and the like.
Best SmartKey Door Locks
Looking to get a SmartKey lock? Here are the best ones to consider:
1. Baldwin Torrey Pines Single Cylinder Door Lock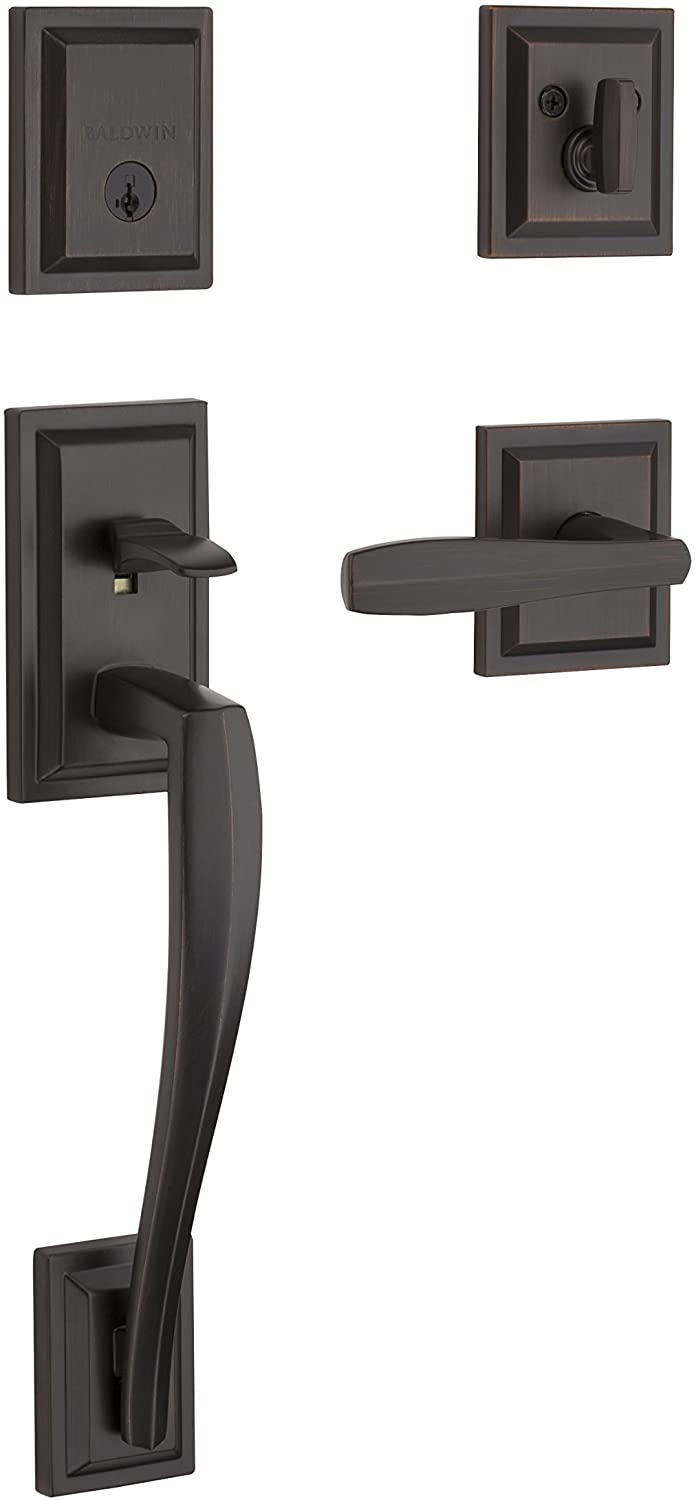 This is one of Baldwin's door locks with SmartKey Security. Yes, it's a SmartKey lock, meaning you can enjoy all the features of SmartKey technology, such as easy/fast rekeying, bump guard, and pick resistance.
Apart from security, this lock comes in an elegant design that fits most door designs. So if you want a sturdy front door lock with a mix of excellent security features and aesthetics, this Baldwin single cylinder lock is a great choice.
The lock is ideal for standard doors with 1-3/8 inches to 2-3/4 inches thick.
2. Kwikset 98180-001 Single Cylinder Handleset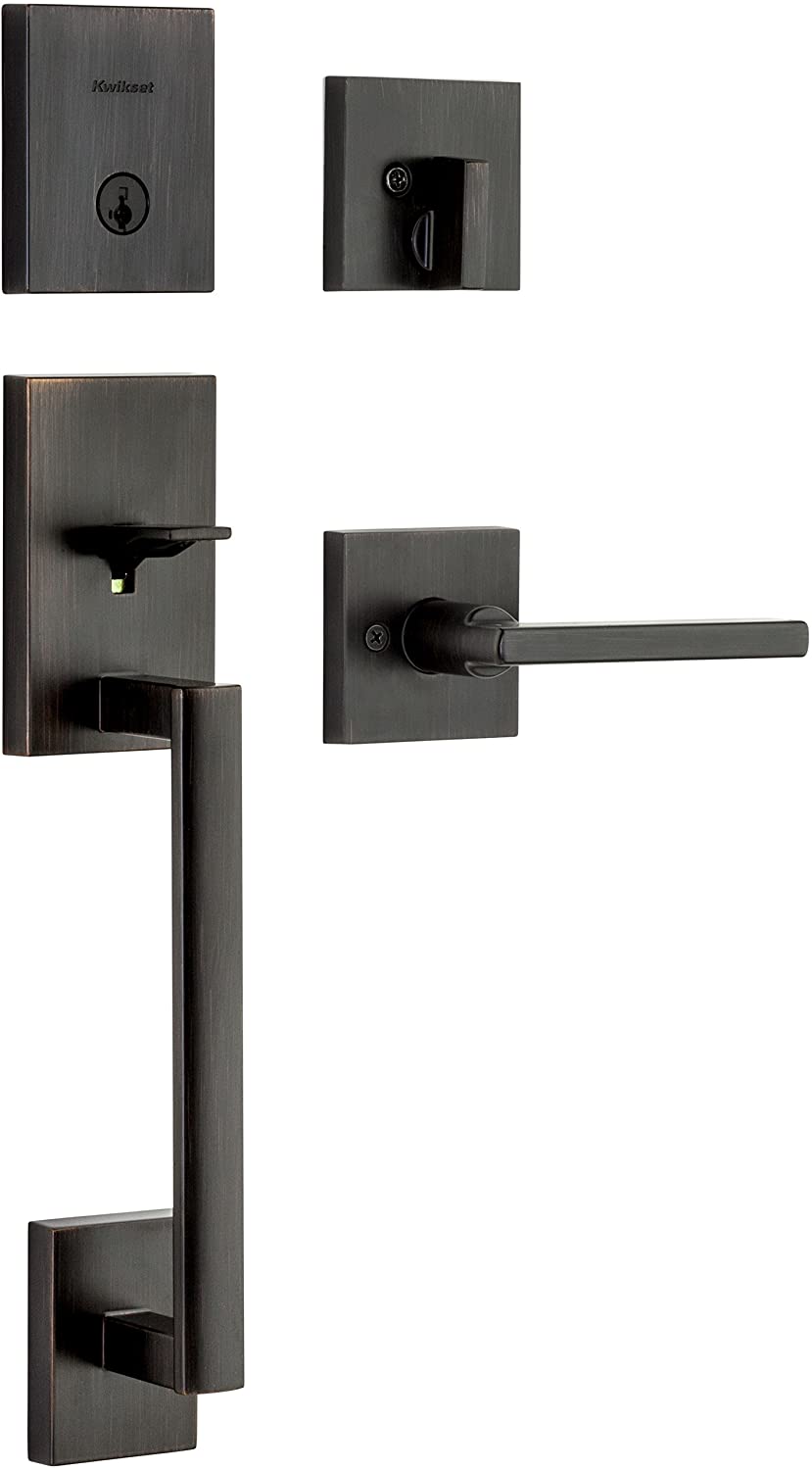 Apart from Baldwin, Kwikset is another top manufacturer of SmartKey locks, and this model is one of its best. The lock has earned several recommendations from users for its enhanced security features, aesthetics, and overall performance.
Of course, it's a SmartKey lock, so you can rekey in seconds and as well enjoy lock bumping and picking protection.
The lock features a reversible lever that fits both right and left-handed doors.
The lock is also ANSI/BHMA Grade 1 certified, which authenticates its excellent security status.
3. Baldwin Entry Lever with SmartKey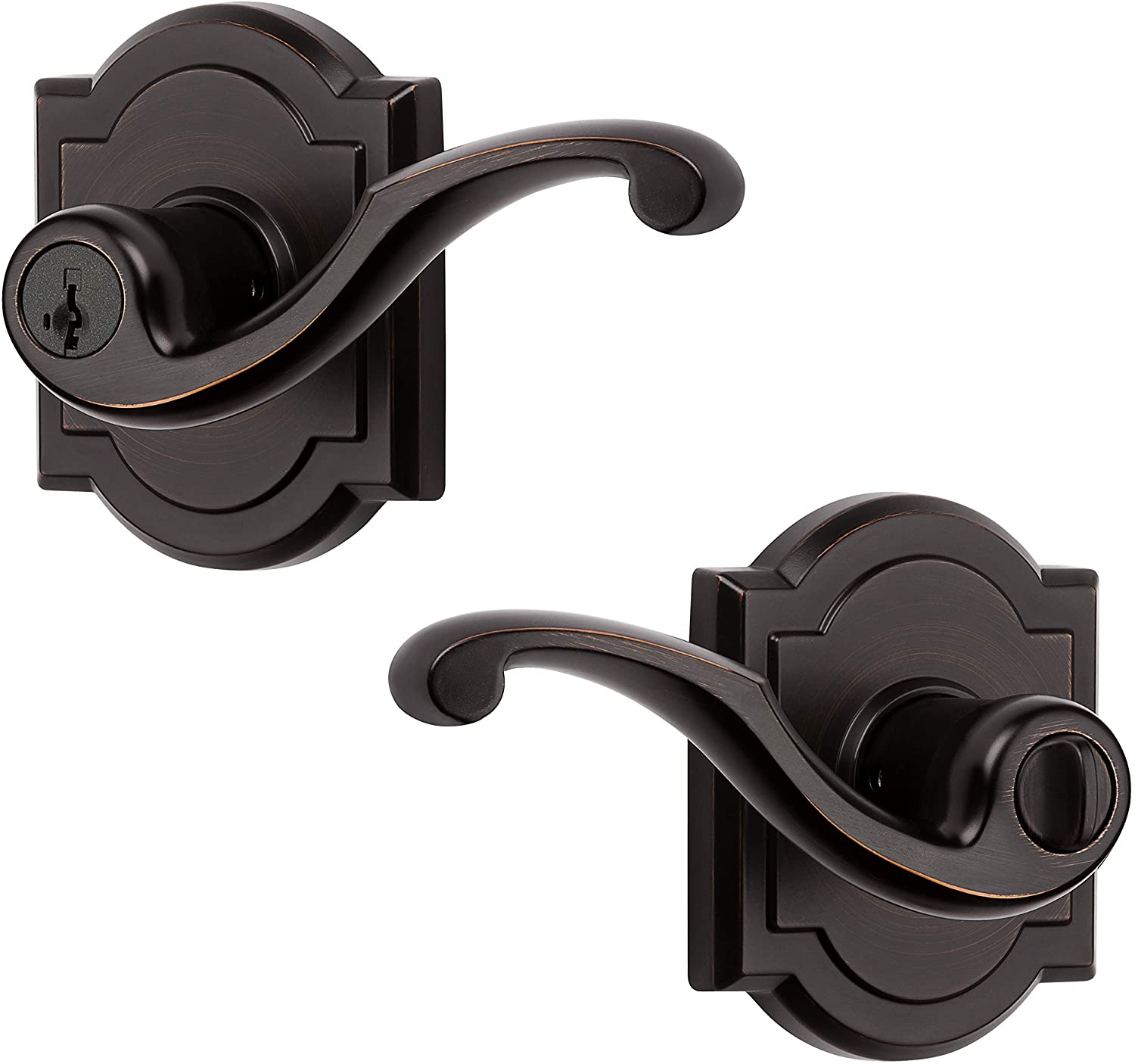 Like the other Baldwin lock above, this is an entry lock with the SmartKey security features.
It comes with two keys for locking and unlocking. Of course, rekeying the lock is certainly a breeze, and users are guaranteed bump and pick resistance.
The lock fits on standard doors—1-3/8 inches to 3/4 inches thick.
4. Kwikset Tustin Keyed Entry Lever with SmartKey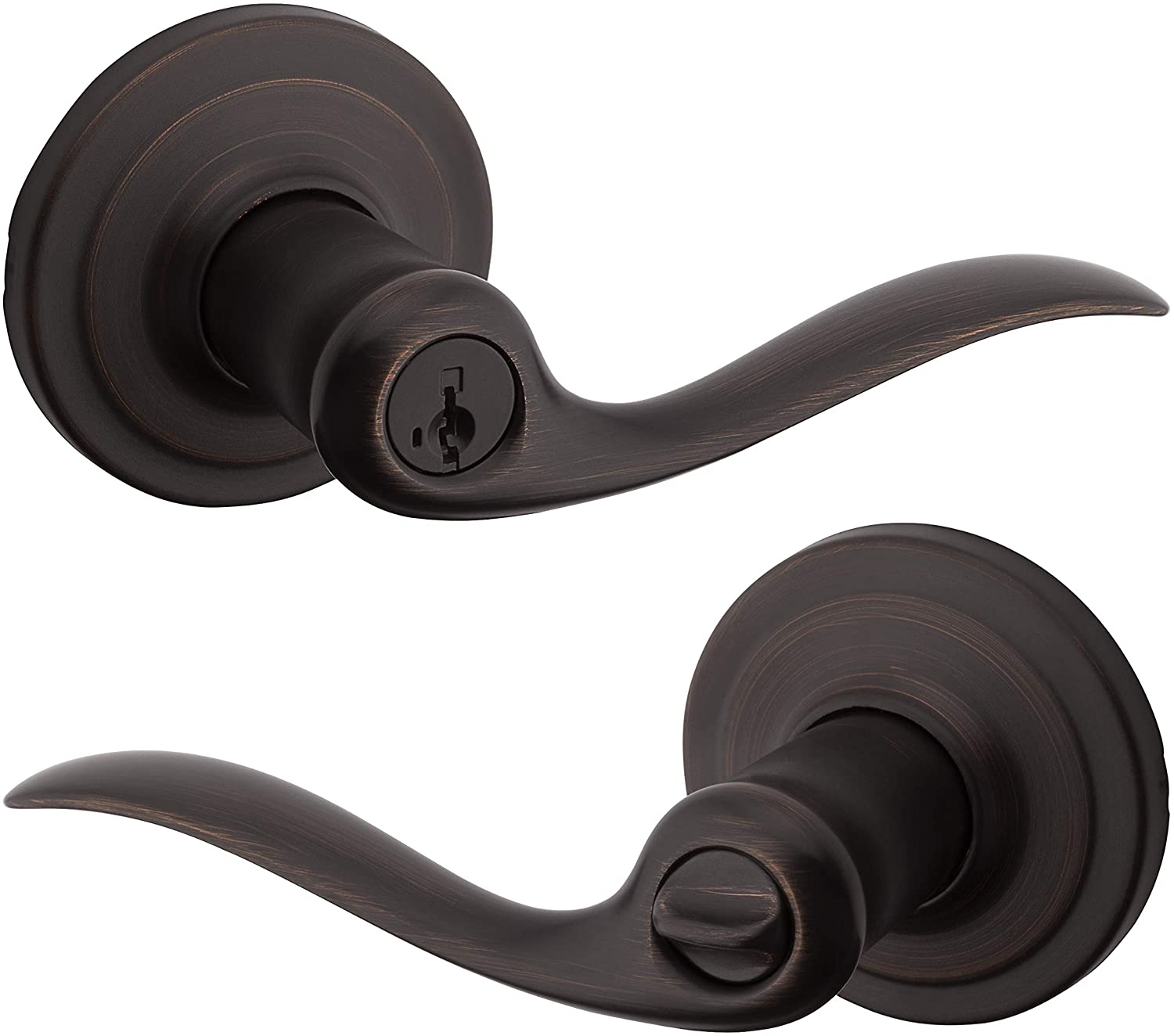 This is another excellent entry lock by Kwikset with SmartKey security. The lock comes with a fully reversible lever that fits right and left-handed doors.
What's more, it's a SmartKey lock with lots of positive feedback from existing users. If you're looking for a sturdy lock for your exterior door, here's one option to consider.
Of course, you can rekey in just a few seconds if you suspect any break-in attempt or other reasons that may require a lock rekeying.
5. Kwikset 96870-100 Belleview Single Cylinder Lock
It's still Kwikset! Of course, Kwikset has several outstanding SmartKey locks. So here's one you may want to consider. It's a single-cylinder deadbolt with a handle set and interior knob.
The lock is ideal for residential use as it's ANSI/BHMA Grade 3 certified, a basic security rating for residential door locks that can withstand forced entry techniques.
With its SmartKey features, you can rekey in a few seconds and also enjoy lock bumping and picking protection.
Are SmartKey Locks Safe?
Yes, the locks are quite safe because of the SmartKey security. While other locks with keyholes can be easily picked, SmartKey locks are protected by the SmartKey Technology from picking, bumping, and drilling.
Rekeying is another great benefit SmartKey locks offer.
But is lock rekeying necessary? Let's find out.
When Should You Rekey Your Door Locks?
1. You Moved into a New Home
Your new home was probably occupied by someone else. So it's only wise to ensure you close all loopholes that may result in unauthorized entry.
As you know, rekeying a lock can render all previous keys inoperative, which enhances your home security. Though changing locks offers the same security, you can save some bucks by rekeying instead of buying new door locks.
And if you have SmartKey locks, you can rekey the lock yourself without calling a locksmith.
2. Lost Your Keys
If you have lost your keys, rekeying is one option you want to consider. You can get new working keys while making the previous ones inoperative.
3. Break-in
If you suspect a break-in attempt, you should change your door locks or rekey them immediately. This helps protect your home from more burglary attacks.
4. Relationship Breakup
Yes, another reason to rekey your locks is when you fall out with your partner. They may have your keys and could come into your home unauthorized. If you don't want to change your locks at the time, rekeying is your best bet.
How to Rekey a SmartKey Lock?
Rekeying a SmartKey lock is relatively easy. Of course, that's one benefit the SmartKey Technology offers.
In this section, we'll walk you through the process of rekeying your SmartKey lock. However, the process may be slightly different based on your door lock brand, so be sure to check the user guide for more detailed instructions.
That said, here's what you need:
The original key
New key
SmartKey tool
Now, here are the steps to rekey your SmartKey lock:
Step 1: Insert the original key of your SmartKey lock into the keyhole and turn clockwise—90 degrees. Do not remove the key.
Step 2: With the original key still inside the keyhole, insert the SmartKey tool into the smart keyhole. Now, remove the original key and the SmartKey tool to reset the lock. Ensure you don't return the key from its current position before removing it.
Step 3: Program your new key by inserting it into the lock and turning it 180 degrees—counterclockwise. Turn the key again 90 degrees clockwise to the starting position. You can remove your new key after that to complete the rekeying process.
So this is all you need to rekey your SmartKey lock.
Note: the process may differ based on your lock brand.
Can SmartKey Locks Be Picked?
SmartKey locks are open to picking as they have keyholes. However, the locks are equipped with the SmartKey Security that protects against lock picking and bumping, meaning they can't be easily picked. Read more about smart lock picking.
To Conclude
Keep in mind; SmartKey locks differ from the regular smart locks that work via electronic means or remotely. They are more like traditional locks that function mainly through the keyhole and physical keys.
However, SmartKey locks feature the SmartKey Technology that adds security features like bump guard, anti-pick, drilling, and easy rekeying.