If you're looking to reset your Trilogy digital lock, this article is your go-to resource.
So in the next few paragraphs, you'd learn how to factory reset your Trilogy keypad lock (T2, T3, and Networx models). I also covered other basic things you want to do with your lock, such as creating and changing user codes.
Keep in mind, resetting your lock will permanently erase all settings and return it to its factory default settings.
That said, let's head right into it!
How to Reset a Trilogy Lock to Default Factory Settings
Step 1: Take off your lock battery cover and unplug the batteries. You may have to unscrew one screw to remove the battery cover.
Step 2: Press and hold down any button on your lock's keypad for about 20 seconds. This should be done with your batteries still unplugged.
Step 3: Release the button after 15 to 20 seconds and then plug your batteries back.
Step 4: After plugging back your batteries, the lock will flash the red light and beep three times. Next, press and hold the AL button, wait for the lock to beep again, and then release the button.
Step 5: Enter your lock's master code to complete the factory reset process.
Note: The default master code for T2 locks is 12345, and 123456 for T3 locks. Use your unique master code if you've already changed it.
Changing the Master Code in a Trilogy Lock (T2 Series—DL2700, DL2800, etc.)
The master code is a 5-digit code that lets you perform various administrative functions such as creating and deleting user codes. The default master code is 12345 and you want to change it immediately after your lock is installed—for security reasons.
So here's how to change your Trilogy lock master code:
Step 1: Enter your current master code and hit the AL button on your lock's keypad.
Step 2: Press number 1 and then press the AL button. Next, enter your new 5-digit master code.
Step 3: Press the AL button again and enter the same new code. This will trigger a series of red flashes and beeps to show that the new code is received and accepted.
Step 4: Enter your new master code to see if it opens the door. If it does, that's all about changing your master code.
Note: There's no limit to how many times you can change your master code.
How to Create a User Code in a Trilogy Lock
User codes let you unlock your door without using a physical key, and you can create several codes and share them with those you want to give access to your home/place of business.
Here's how you can create user codes on a Trilogy T2 lock:
Step 1: Enter the master code and press the AL button.
Step 2: Press the number you want to assign the user and then hit the AL button. Note that this is not the entry code but an identification number for the user.
Step 3: Now input a 5-digit entry/access code for the user. The indicator will flash red and beep about three times—showing the code is received.
Step 4: Enter the code again for confirmation. If the indicator flashes green and beeps three times (or more), it means the lock accepted the code.
And that's all about creating a user code. The process is almost the same for deleting/changing a user code. Let's take a closer look.
Changing a User Code in a Trilogy Lock
Step 1: Enter your master code and hit the AL button. Next, enter the number assigned to the user code and push the AL button.
Step 2: Input your new 5-digit code. The lock indicator will flash red several times, indicating it received the new code.
Step 3: Enter the new code again. The indicator flashes green this time, meaning the new code successfully overwrites the previous one.
How to Program a Timed Passage Mode in a Trilogy Lock
Putting a Trilogy lock in a passage mode means the lock will stay unlocked until you take it off the passage mode. That is, you can open your door by merely turning the handle—no need to unlock via user code as the passage mode keeps it unlocked.
With that being said, here's how to put your Trilogy lock in a passage mode (in two steps):
Enter your 5-digit master code (you can use managers' code too) and press the AL button.
Press the number 4 button and then the AL button. The indicator light (red) will flash several times to show the process is successful.
And that puts your lock in a passage mode!
To return it to lock mode:
Enter your master code and press the AL button.
Press 5 and then the AL button again. The indicator will again flash and beep several times to show that the lock is off the passage mode.
Note: Apart from factory resetting, other guides above are only for the T2 series locks—mostly DL2700 and DL2800. The processes may well differ slightly for T3 and Networx models. Refer to your user's manual or look up more details on Alarm Lock's website.
What Trilogy Lock Model is Suitable for Commercial Doors?
Trilogy locks, notably the T2 models, are ANSI/BHMA Grade 1 certified, meaning they are well-suited for commercial doors. However, as per our research, the DL2700 is one of Trilogy's most popular locks and has earned recommendations from various users.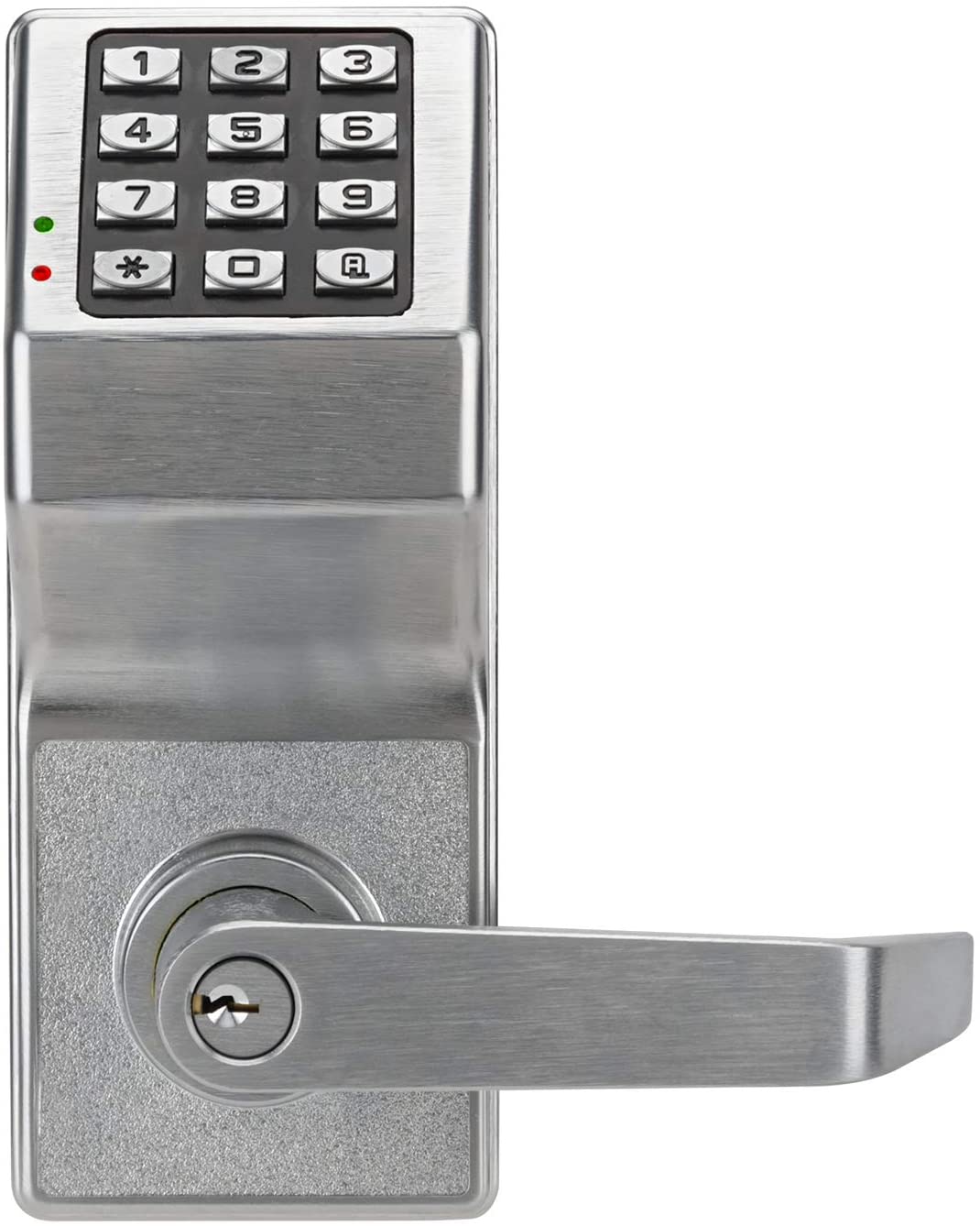 It features a keypad that allows users to program up to 100 entry codes. It also has a keyway, meaning you can switch between key and keyless entry.
The lock may well be difficult to pick or bump, as it has a fixed 6-pin cylindrical lock mechanism.
Besides, it's a Grade 1 lock, meaning it's been tested and confirmed to withstand lock picking, bumping, and other forced entry techniques.
Other features of this lock include a rugged clutch, reversible lever, vandal-proof, and long-lasting (5 AA) batteries.
Read our related article on the BEST Commercial Keypad Door Locks for more commercial locks to consider!
Related Questions
How can I disable my Trilogy lock keypad sound?
Apart from Trilogy DL2800 and DL300, you can disable the keypad sound on other models via the lock's keypad. The process varies for each model—you may have to refer to your user manual for a detailed guide.
Trilogy DL3000 won't lock (stays open), what to do?
Input your user code and listen to hear the lock's motor spin. Turn the lever/knob once you hear the motor spin.
If it locks for just a few seconds, say 5, chances are the motor wires are reversed. Try to fix it by checking the two-conductor cables that run through the lock's spindle to the door and the top of the board connector.
You may well contact Alarm Lock (the manufacturer) or have a locksmith fix it—if you're not sure of doing it yourself.
Why is my DL3000 lock not accepting new codes during programming?
You can troubleshoot this by:
Disconnecting the lock's battery plug.
Press and hold any button down to reset the lock.
Reconnect the battery and begin the programming again.
Wrapping Up
If you read up to this point, I want to say thank you for taking the time to read our blog. Perhaps you only sought to know how to reset your Trilogy lock or change the master code, and I hope the article was helpful.
Keep in mind, they're other models of Trilogy lock—T3 and Networx, so ensure you're using the right settings applicable to your lock's model.