When we think of outdoor lighting, wall mount and hanging lights are probably the light fixtures that come to mind. However, ceiling lights are also part of outdoor lighting ideas and they can either serve as decorative or security lights and for both purposes, even.
If you're considering using ceiling lights outside, we have featured the best of outdoor LED ceiling lights in this post.
Wondering what they offer? Like other outdoor lights, you can use them to illuminate dark areas, aesthetics, and security. In our selections, you'll find lights with motion sensors, dimmers, remote control, low energy consumption, and more.
So if you're looking to get a reliable exterior LED ceiling light, you may find a suitable one from our top picks.
Our Choices at a Glance:
| | | |
| --- | --- | --- |
| | | |
| | Lithonia Outdoor LED Ceiling-Mount Decorative Light | |
| | Westinghouse Large LED Indoor/Outdoor Dimmable Light | |
| | Youtob Motion Sensor LED Ceiling Light Fixture | |
| | LE Waterproof Flush Mount Ceiling Light | |
| | Oeegoo Waterproof IP54 LED Ceiling Lamp | |
| | Sea Gull Outdoor Ceiling Flush Mount Light | |
| | Lineway Motion-Sensing Outdoor Ceiling LED Flush Mount Light | |
Best Outdoor LED Ceiling Lights: Reviews
1. Lithonia Outdoor LED Ceiling-Mount Decorative Light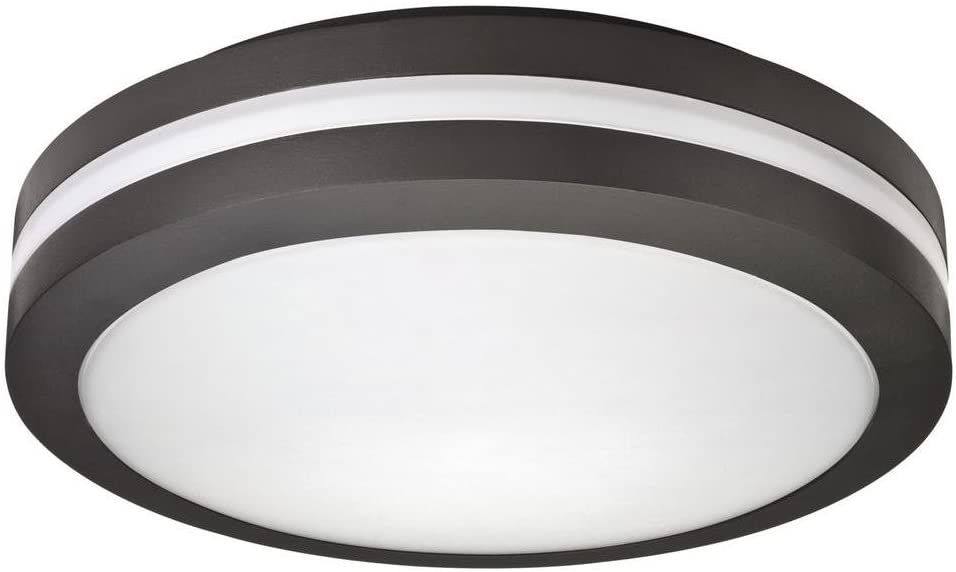 If you're looking for outdoor flush mount ceiling lights suitable for residential and commercial places, here is one of those that checks all the boxes. It's designed with rugged cast aluminum and a thermostat powder coat finish. These features act against corrosion and weathering.
Aside from durability, the light offers excellent outdoor lighting. It's suitable for porches, store entrance, covered walkways, and any outdoor space with a ceiling. The LED gives off up to 1077 lumens.
The light fixture is compatible with LED and fluorescent bulbs; uses a 17W LED and 120V fluorescent lights. The light is safe for outdoor use. Of course, it's UL listed and also meets the Canadian safety standards for wet areas.
So the light is waterproof and can withstand moisture.
2. Westinghouse Large LED Indoor/Outdoor Dimmable Light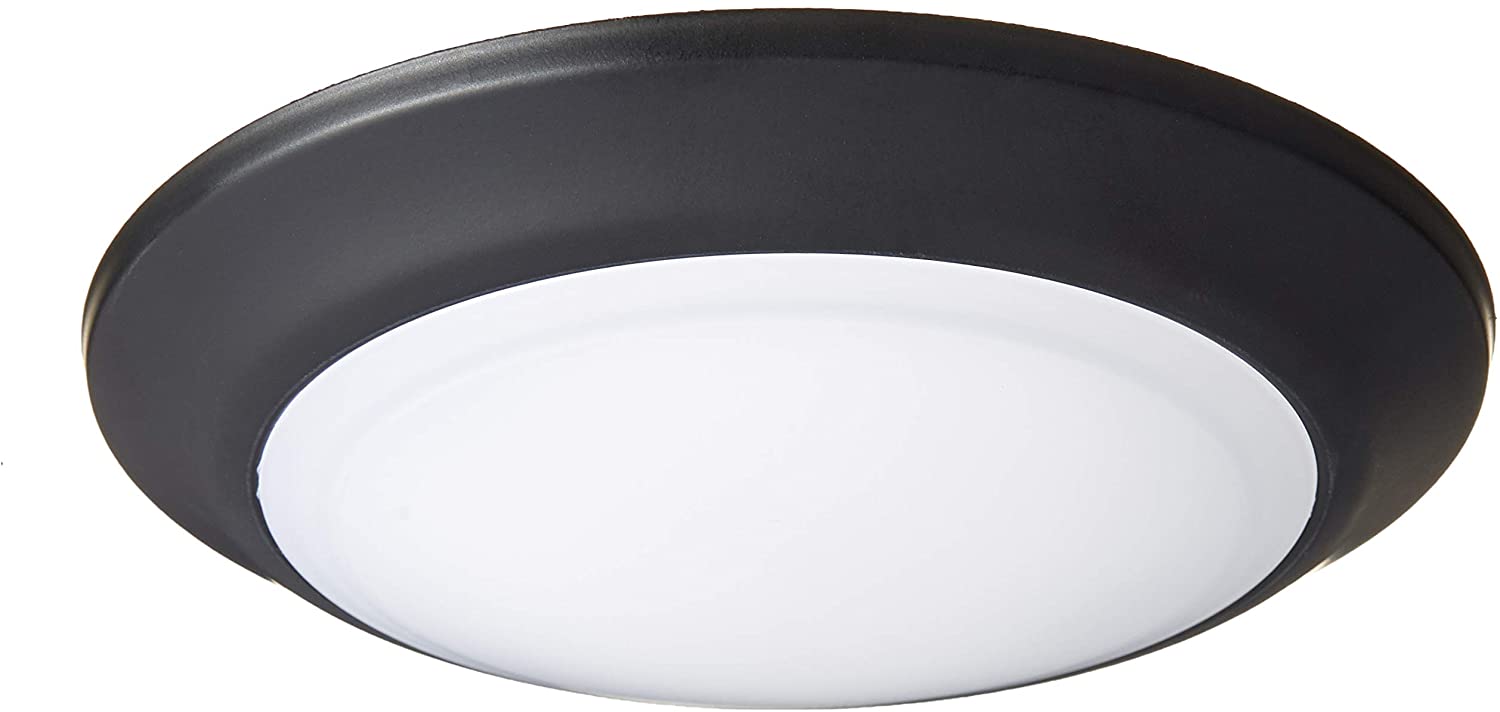 This ceiling light is suitable for both indoor and outdoor lighting. Among other numerous features that make it stand out, its energy-saving feature is a significant highlight. It's dimmable and only consumes 15 watts of energy. It saves up to 80 percent energy.
More so, this modern ceiling light gives off brightness of 1050 lumens, enough to brighten your outdoor space or provide the ambiance you want. It's a low profile light fixture with dimension; 7-3/8 inches in diameter and 1-3/8 inches in height.
This light fixture also features a sleek and brush nickel color that blends with many outdoor and indoor spaces. The light is waterproof, meaning it can withstand wet locations; shower or rain.
Installation is easy, and you can easily attach it to any junction box.
3. Youtob Motion Sensor LED Ceiling Light Fixture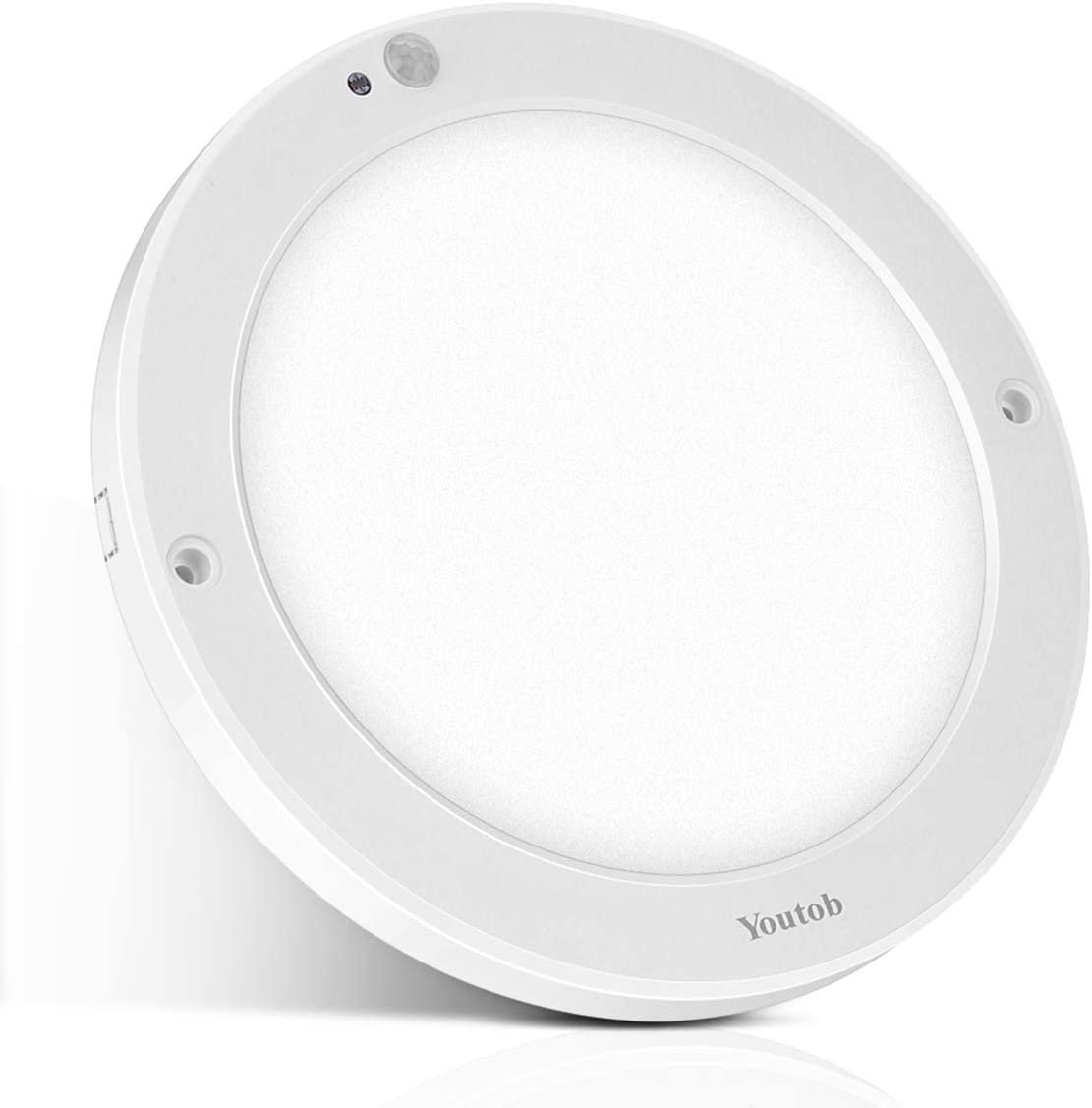 Increase the security of your home with this motion sensor LED light by Youtob. It's equipped with highly sensitive motion sensors that turn on the light automatically when someone goes close to it. It senses motion from 9 to 16 ft. and turns the light off after 30 seconds when the motion signals cease.
This light is suitable for outdoor spaces with ceilings and can also be used indoors. You can use it in commercial and residential areas.
The light has two working modes; daylight and night mode. The night mode is suitable for outdoor lighting as it gives off 1200lm brightness and a color temperature of 4000k. This is enough to brighten anywhere it is used throughout the night.
The light fixture requires hardwiring yet simple installation. It comes with a bracket, installation guide, and all mounting hardware. You may not have a hard time installing it if you can follow simple DIY tips.
It uses 15W LED, which reduces energy consumption.
4. LE Waterproof Flush Mount Ceiling Light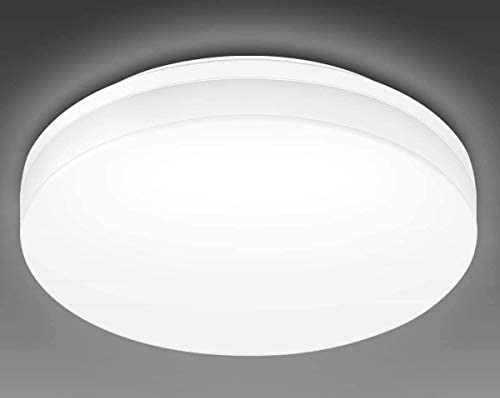 Looking for flush outdoor ceiling lights that provides excellent brightness yet consumes low energy? You may not be wrong to choose this ceiling light. It combines both aesthetics and optimal functionality.
You can use this light in the front foyer, corridors, balconies, and other covered outdoor spaces. It's water-resistant (IP54) and dustproof, which means it won't wear off even when exposed to water splashes.
And that's not all about this waterproof outdoor ceiling light. You may keep it on throughout the nights without worrying about increased energy bills. It uses a 15W LED with excellent brightness but low energy consumption.
This ceiling lamp has a long lifespan, and it's rated to last beyond 20,000 hours. It's also easy to install and comes with all mounting hardware.
5. Oeegoo Waterproof IP54 LED Ceiling Lamp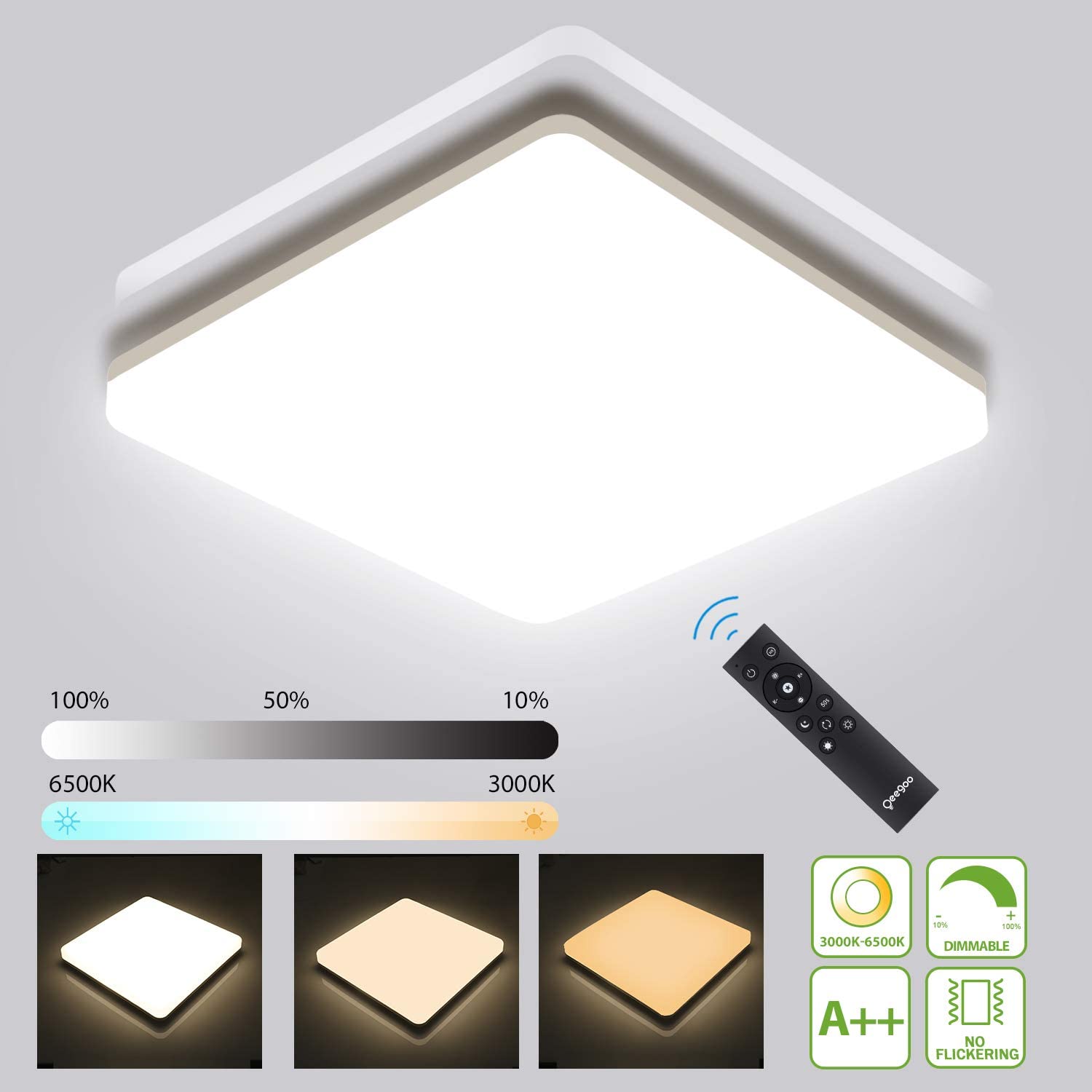 This is another dimmable flush mount ceiling light designed to add more colors to your outdoor space. It's a 3 color changing light with a wall switch and remote control.
It features a color temperature range of 3000k to 4000k and a dimming range of 10% to 100%. You can change colors and dim the lights via the remote control.
The light is waterproof (IP54), which means it can withstand moisture. It's suitable for outdoor and indoor use as it is a low voltage light. It's rated to provide over 30,000 hours of light depending on usage.
Like other modern outdoor ceiling lights, it's easy to install and you may not need an electrician to get it on.
6. Sea Gull Outdoor Ceiling Flush Mount Light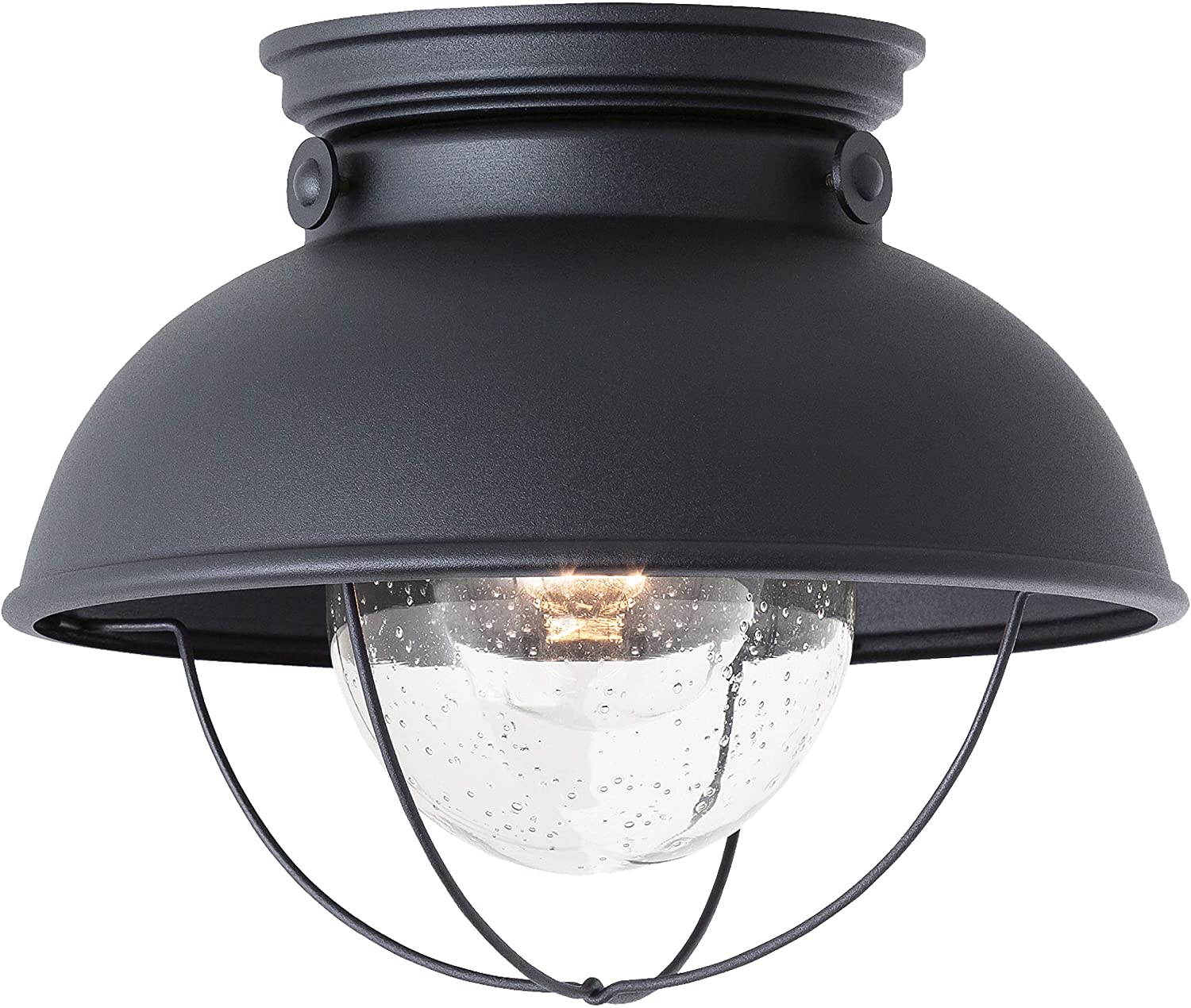 Sea Gull has a couple of excellent light fixtures for outdoor and indoor lighting. You may want to give this their light fixture a try if you want outdoor LED ceiling light that consumes less energy.
This light is also beautifully designed and can be used as a decorative light outside. Of course, it's a flush mount ceiling light and you should use it in outdoor spaces with ceilings. It fit perfectly on sloped, flat, or vaulted ceilings.
This fixture uses only one light, and the recommended bulb is an A19 100-watt bulb. The pack comes with all necessary installation accessories but no bulb is included. So you have to get the bulb separately and ensure you buy only compatible bulbs.
Note that the installation process requires hardwiring. You may need an electrician to help you out.
7. Lineway Motion-Sensing Outdoor Ceiling LED Flush Mount Light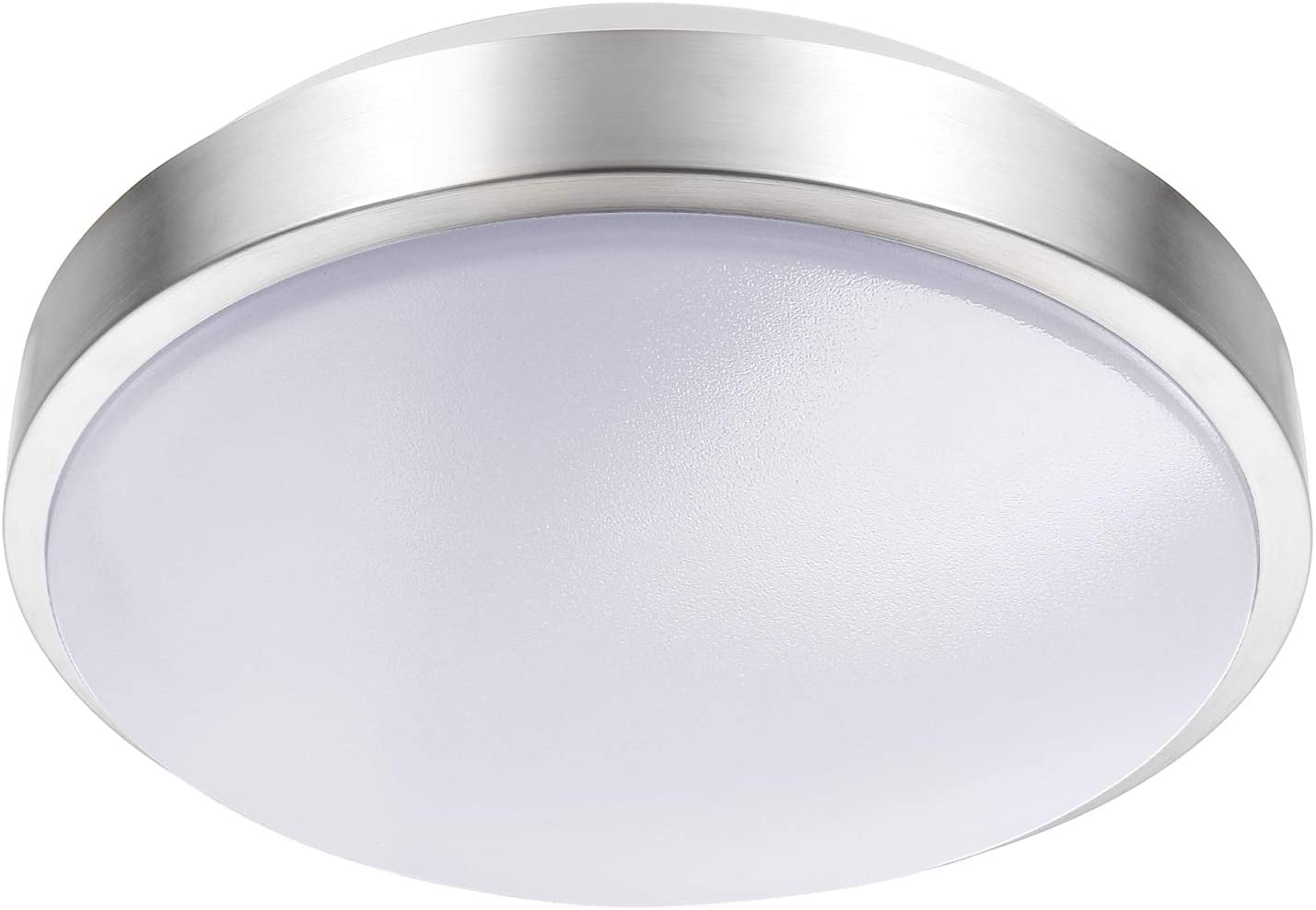 We also found this LED flush mount ceiling light suitable for decorating and illuminating outdoor spaces. It is a motion sensor light, which extends its functions to security apart from illumination and decorations.
The motion sensor detects movement from 9 to 18ft. It also turns off the light automatically when motion stops. Besides, this light is also energy saving due to its dimming feature and low energy consumption bulb. It gives off 1020 lumens with a 15W LED bulb.
The light is not battery powered but works with corded electric power sources. It's dimmable so you won't worry about energy consumption, which is also regulated by the LED bulb.
It comes with daytime and night mode; each mode works perfectly based on the correct usage. That is; the daytime mode in the day and night mode at night. Night mode gives off more brightness to illuminate dark areas.
This light is perfect for garage stairways, corridors, patios, balconies, and other covered outdoor spaces. It comes with mounting accessories and a guide to ease the installation process.
FAQs About Outdoor LED Ceiling Lights
Can all LED lights be used outside?
Yes, LED lights are ideal for outdoor lighting. However, you need to first consider the lumens depending on where you want to use them. The lumens determine the brightness levels of the lights, so you want to choose one with super bright lights or otherwise.
More so, another factor that determines how well a LED light can perform outside is the light fixture. You need weatherproof light fixtures that can protect the bulb from harsh weather conditions. Again, this depends on where you want to use the lights—whether where they're exposed to water or sunlight.
Read More: Best Remote Control Ceiling Lights. We put the top remote-controlled ceiling lights to the test — here are our results!
How many lumens required for outdoor ceiling lights?
Since these lights are installed in different areas, the required lumens depend on where the lights are going to be installed or what you want to use them for. Keep in mind that outdoor lights can be used as decorative or security lights. So you may need fewer lumens if you're mainly using them as decorative lights and more lumens for security lighting.
To give you a hint; if you're illuminating small patios, driveways, or gardens, 600 to 2200 lumens works best. And for large patios, gardens, and driveways, you can choose from 1200 to 2400 lumens, still based on the size of the place.
To help you understand this better—here's more about lumens.
What are lumens and why are they important for lighting?
It's what you probably think of it; lumens determine the brightness of LED lights. So practically, lumens measure the amount of light you get from a bulb in terms of the brightness. This measurement is all about the capacity of lumens that fall on a surface, which is lux. Lux refers to one lumen per square meter, which is measured by lux meter or lumens.
What is the difference between lumens, watts, and voltage?
If lumens determine the brightness of light, you may wonder what voltage or watts do. You're not alone in this puzzle. But this is it: the difference between these three lighting terminologies lies in what they measure. Lumens measure the level of illumination (brightness), while wattage is for energy and voltage for current output.
Note that before the introduction of LED bulbs, wattage was more or less used to determine the brightness of a bulb. But with the LED technology, we no longer use watts to measure a bulb's brightness but lumens, which is more accurate. So lumens basically apply to LED bulbs.
Final Words
Using LED lights outside helps reduce energy consumption, yet offers excellent illumination. As you have read, these flush and semi flush outdoor LED ceiling lights are ideal for covered outdoor areas like porches, patios, balconies, corridors, front foyers, garages, and anywhere else with ceilings.
Note that you have to install your lights correctly to get the best lighting experience. So be sure to get an electrician to handle the installation if you're not sure of getting it done properly yourself.
Also, you need to use only compatible bulbs. These lights may be used indoors too, but check to see if the lumens are suitable for indoor lighting before using them.
RELATED: