Wondering why your Schlage keypad lock won't lock? There are several reasons behind this issue, and it can be solved by trying different troubleshooting steps.
So in this post, we'll take a closer look at the possible causes of this issue and how to troubleshoot it. Let's begin!
Troubleshooting a Schlage Keypad Lock that Won't Lock
1. Replace Batteries
So this is the first thing to do if your Schlage keypad lock refuses to lock. As mentioned, several reasons may cause this issue, and low battery is one of them. Your lock won't operate correctly if the battery is low or completely drained.
So, replace the battery and try to lock your door via the keypad again to see if it works.
Did it work? Great! But if not, continue to the next step.
2. Check Whether Your Lock is Set to Unlocked (Schlage FE595 Only)
Schlage FE595 has the "unlocked" feature that keeps the lock temporarily unlocked.
So if your lock is set to "unlocked" — you won't need a User Code to unlock it. That is, the "unlocked" feature (when enabled) keeps the deadbolt unlocked until you return it to re-lock mode. So during this time, your lock won't lock.
Check to see if the interior thumb turn of your lock is set to the vertical position. If so, rotate it back to the horizontal position to re-lock. See the image below.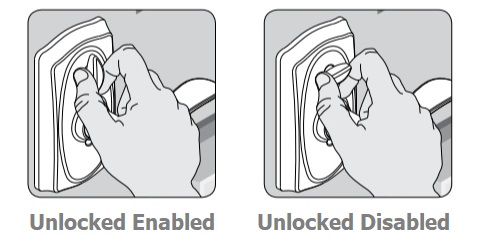 This should fix the "locking" issue with your lock. But if not, see the next troubleshooting step.
3. Ensure You're Locking the Lock Correctly
While this may rarely be the cause of the issue, you want to be sure that you're locking the deadbolt correctly. That is, you need to be sure that you know how to lock your Schlage keypad lock via the keypad and are following the procedure correctly.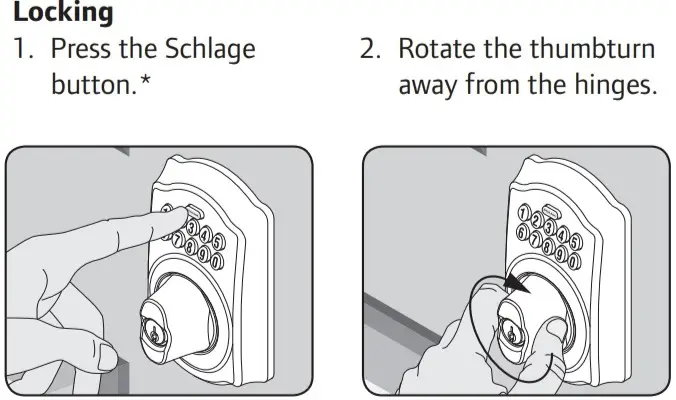 For instance, if you have a Schlage BE365 Keypad deadbolt, you'll need to press the Schlage button and then rotate the thumb turn to lock the deadbolt. But this only works when the Turn Lock/Lock and Leave feature is active. Otherwise, you'll need to first enter a valid User Code and then press the Schlage button before rotating the thumb turn to lock the deadbolt. Read more about how Schlage Turn Lock feature works.
That said, depending on the model of your Schlage keypad lock, check and ensure that you're following the right processes to lock the deadbolt. You may refer to your User Manual for detailed instructions.
Still won't lock? See the next step.
4. Reset the Lock
If the problem persists after the above steps, then it's safe to assume that there's a bug obstructing the locking process. To fix this, restore default factory settings on your lock—this usually helps to fix several electronic issues with Schlage keypad locks, including the 'not locking bug'.
Not sure how to reset your Schlage keypad lock? For Schlage BE365, BE369, FE595, and FE575, here's how to restore factory default settings:
Remove the battery cover, disconnect the battery and take it out.
Press and release the Schlage button.
Within 10 seconds, replace and reconnect the battery, and then press and hold the Schlage button until it illuminates green and the lock beeps once.
Now your Schlage keypad lock is reset, and that should fix the "not locking issue" you're having with it.
Note: You'll need to program your lock—using the default Programming Code, as restoring factory settings will erase all previous programming. Check the interior assembly of your lock for the default Programming Code—usually printed on a white sticker.
Continue to the next troubleshooting step if the issue persists.
5. Lock it with a Physical Key
Now, you've exhausted the troubleshooting steps that directly tackle issues with the keypad/electronic system. So let's see if locking the deadbolt with a physical key can get your lock to work correctly via the keypad.
Your lock should come with a keyhole and physical keys, so try to lock it with a physical key to see if it works. If it locks via a physical key but still won't lock through the keypad, then you'll need to contact Schlage Customer Support for help.
But if it doesn't lock via a physical key, it means the latch isn't retracting, and this might be caused by incorrect installation, jammed or broken internal mechanism. To fix this, you'll have to reinstall the lock or replace the internal mechanism. Go here for a step-by-step guide on how to fix a Schlage lock latch that isn't retracting.
Read More: Schlage vs Weiser Door Locks. In this ultimate guide, we put two door lock giants and their products to the test!
Final Thoughts
As mentioned, your Schlage keypad lock may refuse to lock because of various reasons. So make sure to try the different troubleshooting steps to see which one fixes the issue.
And that's it! Hope hope that this post was helpful and you could fix the "not locking" issue with your Schlage keypad lock.