Are LED lights controlled by phone necessary? We may want to assume you have this question in mind, but visiting this page seems you already know the benefits of controlling your lights via your smartphone and are only interested in finding the best of them.
Either way, remote control lights either via a remote controller or phone comes with great benefits. You won't leave your couch or bed to head over to where you have the switches. You can control all lights in your home from your comfort area, which amounts to convenience, right? Of course, that's one of the benefits, including energy-saving and more.
Since you need the best of LED bulbs you can control via your phone, we have written this piece to point you to the best. We spend meaningful time researching the very best of them, and we'd hope you can find a suitable one from our top picks.
If you're ready to have a look, let's head right there!
The Best LED Lights Controlled by Phone at a Glance:
Best LED Lights Controlled by Phone — Reviews
1. Govee Smart Wi-Fi LED Strip Lights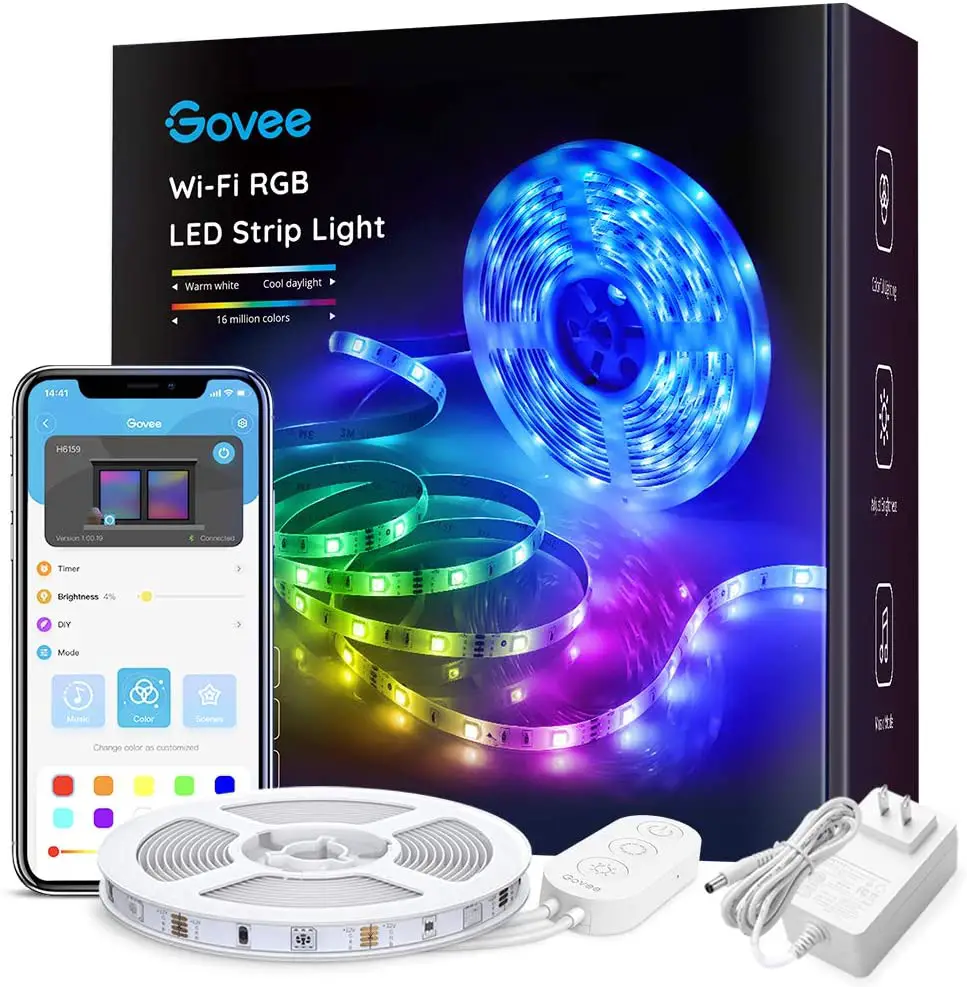 These LED strip lights are designed for indoor use. You can use them to decorate your bedroom, stairs, kitchen cabinet, ceiling, porch, and more. Apart from decorating your home with these lights, you can also enjoy the convenience of controlling them remotely via your smartphone. The lights feature a phone app that lets you switch the lights on and off, select colors, and schedule them to go off and on at intervals.
The lights also support hands-free control via Alexa and Google Assistant. You can connect to Alexa or Google Home to turn your lights off and on, make them brighter, and set colors via voice command. The lights also come with a built-in microphone that sync with music played from your phone speaker and other speakers in your room. You need to enable this function on the App to have it work with your music.
These lights are equipped with quality bright 5050 LED lights guaranteed to provide perfect ambience in your living room, kitchen cabinet, etc. The lights are also easy to install, and you can find all installation accessories and guides inside the pack.
Note that the lights are not waterproof, so you should only use them indoors.
Key Features
Smartphone controlled via the App
Wi-Fi and Bluetooth enabled (via the App)
Sync with music
Perfect ambience
Easy to install
2. Ultra-Long KIKO Smart Led Lights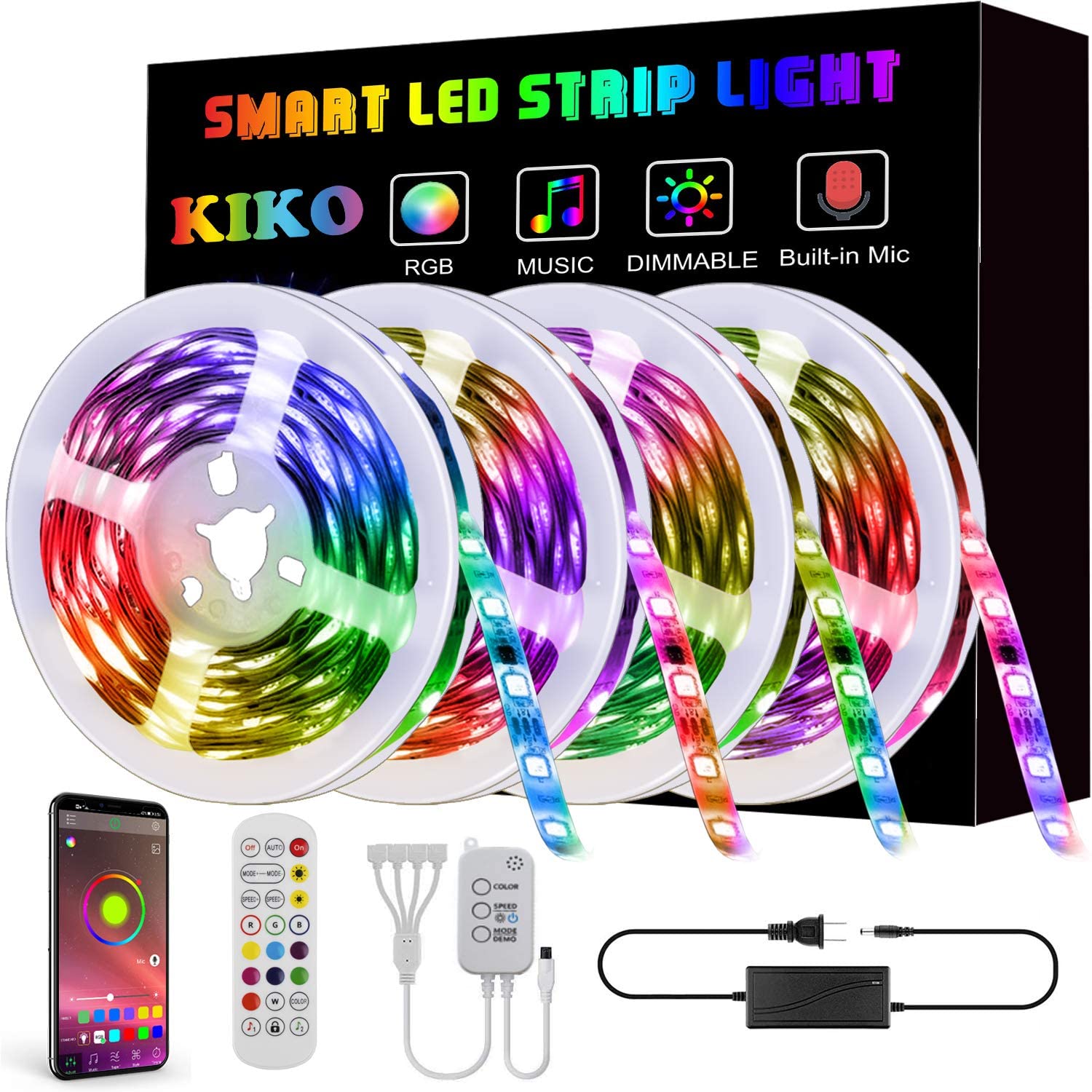 Looking to schedule your lights to turn on and off periodically? You won't be wrong choosing these KIKO smart LED lights. They are equipped with many excellent features apart from the remote control function. Controlling the lights remotely can be done via the remote controller or App on your smartphone.
The lights are designed to sync with music, so you can decide to use them to spice up your party, create romance, and more. The light color changes along with music beats.
The light features 360 SMD RGB LEDs in 65.6ft. The dimmer and brightness control lets you adjust the lights to fit your mood—whether dining, partying, bedtime, etc. You can set it to turn off and off with different colors. This feature also helps save energy as your lights can be set to turn off when not in use.
You can install these lights easily without spending extra bucks on hiring a technician. The pack contains an AC adapter, four reels, remote control and other installation accessories.
Key Features
Remote control
Bluetooth enabled
Smartphone app
Music sync
Easy installation
Dimmable
3. SOLMORE Bluetooth RGB LED Light Strips

Controlling your lights remotely takes off the stress you may go through moving around your home to turn the lights on or off via traditional switches. These lights are designed with a remote control feature that allows you to control your lights via an app on your phone. There is also a remote controller with almost the same function as the phone app. The App specifically lets you dim and switch the LED strip lights while you can turn them off and on via the remote controller.
That's not all; you can make the lights adjust or change colors based on your music beats. The lights are music sync, which means you can use them to add more colors to your party, and other similar activities. You can also use the rope lights to decorate home parties, club, Halloween, living room, etc.
These RGB LED strip lights have a working voltage of 12V, making them safe for indoor use. The heat level is extremely low; they are touchable and safe for children.
The lights come in a pack containing all installation accessories and guide to installation. You can do it yourself or call a technician.
Key Features
Bluetooth enabled
App controlled led lights
Remote control
Sync with music
Low heat—12 volts
Multiple uses—dining, bedroom, ceiling, party, etc.
4. COZYLADY Wi-Fi LED Strip Lights 65.6FT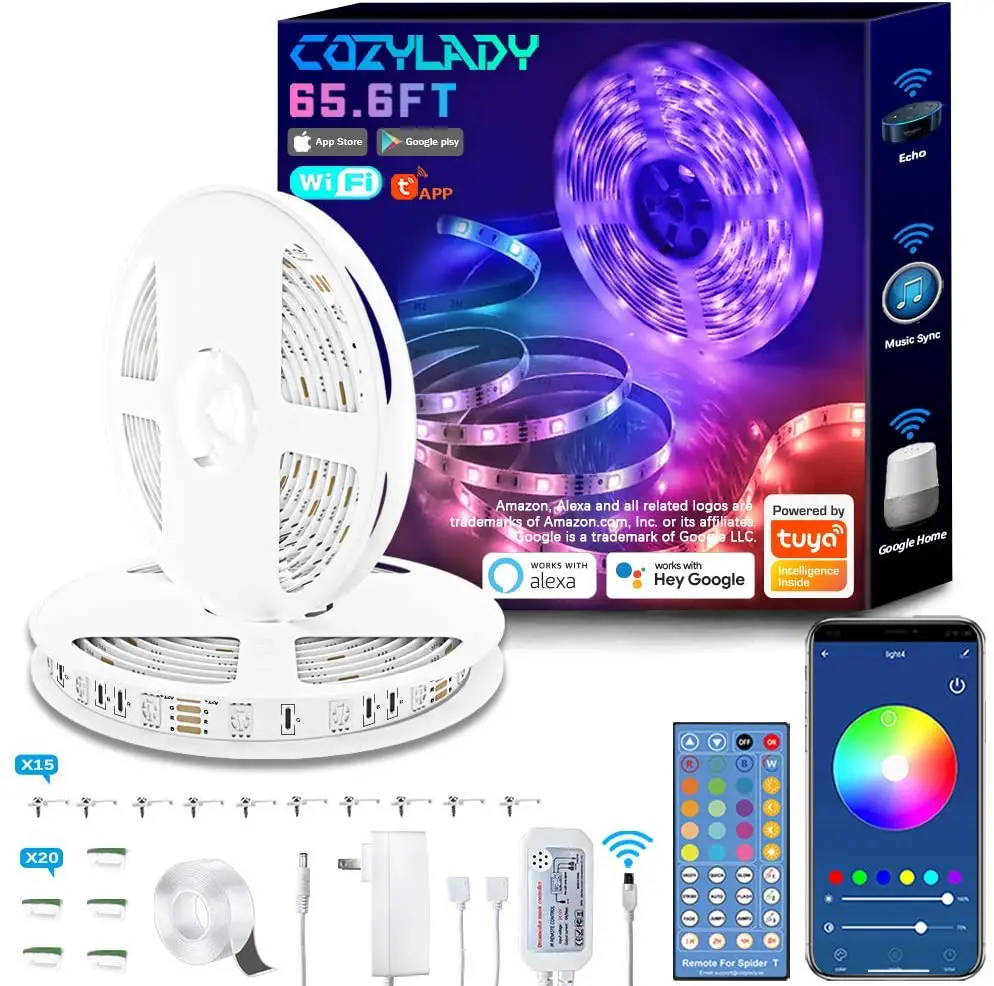 Colorful lights can change your mood for good, and that's what you get from these color-changing Wi-Fi lights. Moreover, you can control them from your comfort zone via the phone. You can also go hands-free by connecting to Alexa or Google Home for voice control. This feature works via connecting with Smart life or Tuya App.
The light also comes with timer features. That means you can schedule the lights to turn on and off at specific times. This also includes dimming or changing the lights colors. This feature helps you save energy as your lights can automatically go off when you're not using them, thus reducing your energy bills.
If you want your lights to sync with your music, these lights are also suitable. You can configure it to change colors based on the music beats.
You probably might have experienced LED lights falling off, and that's not a pleasant experience. That has been considered in these lights, and they are equipped with sufficient reinforcement accessories that won't let your strip lights fall off.
More so, the lights are certified by UL, which marks them safe for indoor use. They are suitable for bedrooms, dining, kitchen cabinets, wardrobe, staircases, etc.
Key Features
Wi-Fi enabled
Voice control via Alexa and Google Home
UL certified
Music sync
5. GUSODOR LED Strip Lights—RGB LED Light 5050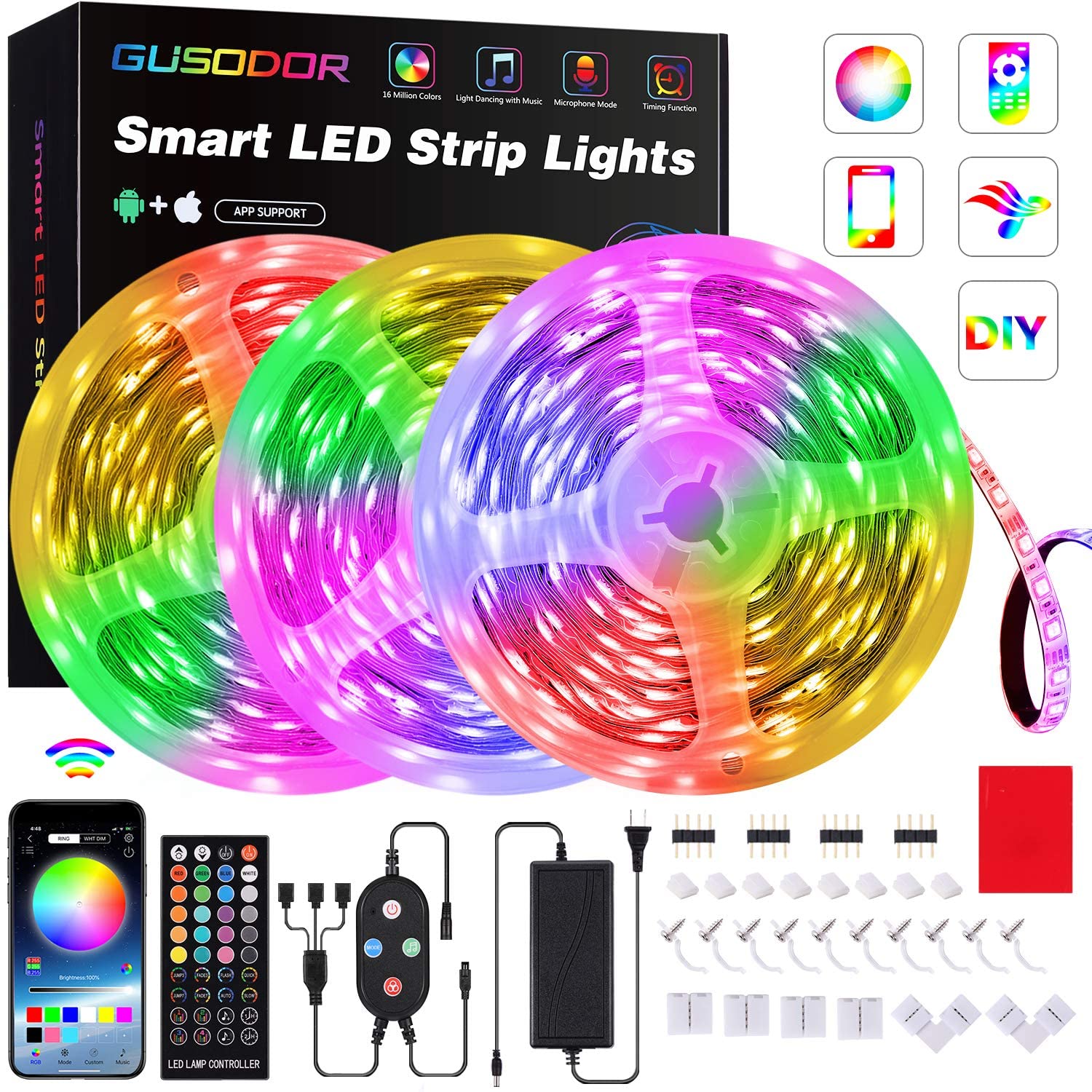 With the App installed on your smartphone, you can turn these LED strip lights on and off and also reduce or increase brightness. But you should have turned on your Bluetooth and paired your device with the light strip before you can control them via your smartphone.
These lights come with many colors and lets you set any color that fits your mood at a particular time. Additionally, they are designed to sync with music. That is, you can set them to change colors following the music beats. You need to enable this feature on the App or via the remote controller to have it function as you want.
You can also set the lights to go off and on periodically. This works via the timer function available in App and remote controller. You may decide to use the lights as your alarm clock or to set reminders. It has different modes to use—such as flashing, strobe, breathing, gradient, etc. It also has a memory function that returns to the previous setting when the strips are used again.
The lights are suitable for indoor decoration in places like bedrooms, porch, dining, living room, and more. Note that the lights aren't waterproof and not ideal for outdoor use.
Key Features
App control via smartphone
Remote controller
Works with Bluetooth
Music and mic mode
Multiple scenes
User-friendly
6. Micomlan 50ft/15M LED Strip Lights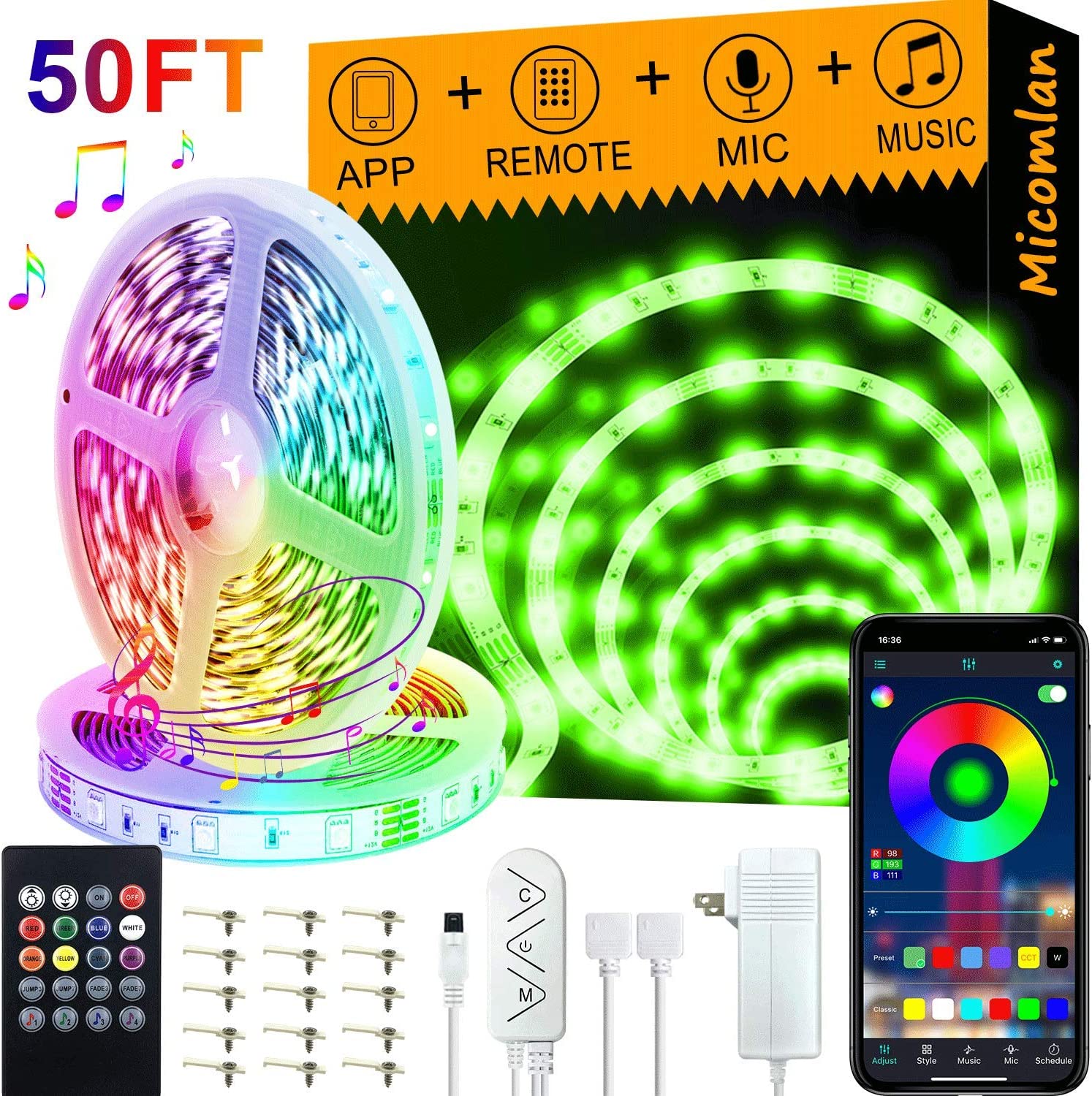 This is the last in our list of the best LED lights controlled by phone. But does that make it any less? Of course no, we have put out this list in no order, and you can expect to get a high performance that meets your expectation from each light.
With these Micomlan LED strip lights, you can enjoy the convenience of controlling your lights without leaving your bed or couch. The lights feature both a remote controller and smartphone control via the App. You can change modes, turn lights off and on, set the music and mic function and more via the App on your phone. You can use these lights to decorate your special events by setting different colors to change along with music beats. It also works with mic—the light color changes as you speak through the microphone.
More so, the lights have an extremely low voltage – 12V. This makes them suitable for indoor use, whether in your dining, bedroom, kitchen, living room and more. It's user-friendly, and won't get hurt when you touch them.
Installation is quite easy as it requires no wiring. You can simply plug and start using right away.
Key Features
User-friendly—very low heat light (12 volts)
Easy installation
Remote control
Smartphone app
Music and mic functions
Energy saving
SEE ALSO: Best Remote Control Floodlights
LED Lights Controlled by Phone Related — Questions
Can I use a different remote for my LED lights?
It depends on the product brand you have and the configurations. Check with your manufacturer to see if you can use other remotes for your LED lights. Also, technicians may be able to alter some settings to accept multiple remotes.
How do LED strips connect to music?
This depends on the brand you have purchased. If your lights are Bluetooth enabled or work with other apps that are compatible with your music system, you can easily connect via the settings on the App. Moreover, the lights featured here can connect via the remote controller or smartphone App. The process is seamless and involves following the on-screen instructions.
Why is my LED light remote not working?
Check to see if there is any dust, dirt, sand or debris in your remote. This could prevent your remote from functioning correctly. Make sure to clean it properly with a tissue or dry cloth. Also, check the battery and re-fix properly or try a new pair. If all fails, you may have to contact your manufacturer for a replacement or further help.
What LED light voltage is best for indoor use?
You should go with 12 volts. This is an extremely low voltage and suitable for indoor use. You can touch the bulb and not get hurt as the heat level is quite low.
How do I control my LED strip lights with my phone?
LED strips lights that work with phones are designed with Apps. You should first install the App on your phone (you do see where to download the App on the user's guide, usually Google Play Store and iOS App Store). After installing the App on your phone, all you need to do is follow the instructions on the App to connect your lights and control them.
Wrapping Up
Apart from just looking to get LED lights controlled by phone, you should consider other factors such as voltage before you opt-in. You don't want to purchase an indoor light with an outdoor light voltage. So you should consider the voltage before getting one—12V is suitable for indoor use.
You want to also consider other features such as ease of installation, hands-free control, music sync, etc., depending on your needs. We have considered all these in our selection, so you can be sure of getting lights with other functions like voice control, Wi-Fi and Bluetooth enabled, music-synced and more from our top picks.
Note that we have mainly featured indoor lights in this piece, if you want outdoor lights that work with smartphone apps and remote control, see our outdoor lights with remote control top picks and guide.