You probably know that forced entry techniques such as lock picking and drilling could damage locks, which signals a burglary attack. But what about lock bumping; does it damage locks as well? Let's head right into it!
For the most part, lock bumping doesn't damage locks, unless a bump key breaks off in the lock's keyhole. This is why most lock bumping attacks are unnoticed, as the lock still functions correctly afterward.
That said, this article explains the basic things you need to know about lock bumping, including the signs and how to prevent it. Let's begin!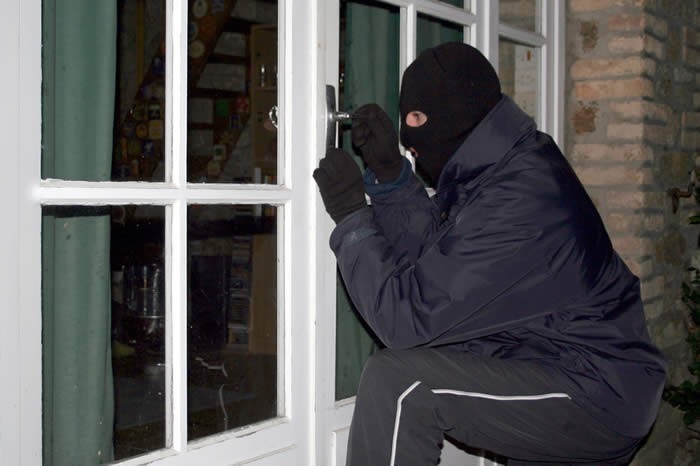 What is Lock Bumping and How Does It Work?
Lock bumping is a technique used in bypassing a typical pin-and-tumbler lock when the key is not readily available—lost or stolen. Unlike lock picking, lock bumping requires no special skills to open a lock.
It works by inserting a special key known as a bump key into the lock and then hit with a screwdriver or a similar tool to open the lock—which is the bumping.
It's called bumping because the bump key (also known as a 999 key) literally bumps the lock by altering the pins forcefully.
Until recently, lock bumping was used by professional locksmiths to open a lock when the original keys are not available. But as you know, it's now one of the major forced entry techniques used by burglars. The method is quick, quiet, and leaves no viable signs to suspect an attack. This is why homeowners need to protect their homes against lock bumping attacks.
What is a Bump Key?
As mentioned, a bump key is the major instrument of lock bumping. It's a special key design to open all pin-and-tumbler locks it fits into. The keys come with ridges—cut to the depth of 999, this is why they're also called 999 keys.
Bump keys can be purchased anywhere, including online shops for only a few bucks. And you don't need any license to own a bump key, perhaps the reason housebreaking attacks are on the increase.
How to Tell If Your Lock Has Been Bumped
As mentioned, lock bumping usually leaves no signs to suspect an attack. However, the bump key could sometimes break in the lock, and this is the most visible sign of lock bumping.
Other signs include strange marks on the keyhole and the like. But then, this could be a sign of other forced entry attacks, so it's not a sure telltale sign of lock bumping.
The best way to go about this is to protect against lock bumping.
How to Prevent Lock Bumping
1. Replace Your Old Locks with Bump-proof Locks
While bump keys can bypass any lock they fit into, bump-proof locks can resist them. So if your old locks are not bump-resistant, you want to get them replaced.
Though you may have a hard time finding direct bump-proof locks, certain locks with features such as the SmartKey Security can resist lock bumping. You may consider them as bump-proof locks as they're able to withstand lock bumping attacks because of the SmartKey Technology.
More so, door locks rated BHMA/ANSI Grade 1 and 2 are high-security locks. They can resist lock bumping and other forced entry techniques such as lock picking and drilling.
2. Add Chain Latches to Your Front Doors
Adding chain latches to your front doors and other exterior doors may not directly protect against lock bumping, but it adds another layer of security to your door, meaning a thief will have to struggle with that too—irrespective of the forced entry method.
3. Add More Pins to Your Lock
You may not need this if you already replaced your existing locks with bump-resistant locks. Otherwise, have a locksmith add more pins to your lock to beef up security.
This doesn't make your lock bump-proof, but it makes the lock difficult to bump. Locks with more pins are usually difficult to pick or bump.
Besides, you won't spend more money compared to lock replacement.
4. Install Home Security Systems
Home security systems such as SimpliSafe and Ring Alarm offer real-time monitoring and notify you when someone tampers with your door. So it's a good way to prevent lock bumping, as the system will alert you once someone is at your door.
5. Get Keyless Locks
Overall, keyless locks can keep your home free from lock bumping attacks. As you know, lock bumping only works on locks with keyholes, meaning keyless locks have no relationship with lock bumping.
Best Bump Proof Locks (Brands)
As mentioned, there are no absolute bump-proof door locks apart from keyless locks. For locks with keyholes, they may be considered bump-proof because of their advanced security features. If you're looking to get a bump-proof lock, below are the top brands notable for producing locks with bump-proof features.
1. Kwikset
Kwikset has a good number of smart key locks, an example is Kwikset98001-098 Ashfield and 98001-107 Shelburne single cylinder locks.
And as you know, smart key locks are equipped with SmartKey Security that protects against lock bumping and other forced entry techniques such as drilling and lock picking.
2. Baldwin
Baldwin is also a leading manufacturer of smart key locks. Notable among them are Baldwin Nautica Single Cylinder Lock, Bighorn Single Cylinder Lock, Pistoria Single Cylinder Handleset, etc.
Not only do these locks resist lock bumping, but they're somewhat immune to lock picking, drilling, and other break-in methods. Read more about Baldwin bump-proof locks.
3. Schlage
Though Schlage locks are not famous for SmartKey Security, they have other advanced security features such as an anti-pick shield that protects against lock picking and bumping. Plus, most Schlage locks are Grade 1 and 2 BHMA/ANSI certified, meaning they've been tested to withstand forced entry methods, including lock bumping.
One of the Schlage's bump-proof models you can trust is the Schlage Connect Deadbolt. It's quite sturdy and has the ANSI BHMA Grade 1 certification.
4. Medeco
The Medeco brand is notable for sturdy locks—that can resist various forms of forced entry.
Particularly, Medeco has high-security locks that can withstand bump keys. One of those is the Medeco 11TR50319FM Single Cylinder Deadbolt.
Most Medeco locks users attest to their high-security features, and you may well be one of the satisfied users—if you try them out.
FAQs About Bump Proof Locks
Do bump keys work on all locks?
Bump keys can work on all locks with keyholes except bump proof-locks. That means there's a limit to which bump keys work.
How do I know if my lock is bump-proof?
If your lock features the SmartKey security and/or certified by BHMA/ANSI as Grade 1 or 2, it might well resist lock bumping. However, the best way to know if your lock is bump proof is to test it with a bump key.
Can you lock a door with a bump key?
Yes, if a bump key can unlock a door lock, it can also lock it.
Usually, burglars will unlock a door with the bump key and lock it after the operation, leaving no traces/signs of a forced entry.
Are Medeco locks bump-proof?
Yes, some Medeco locks are equipped with advanced security features that protect against lock bumping and similar forced entry attacks.
Final Words
Lock bumping doesn't break or destroy a lock completely. It is even the forced entry method that leaves no signs.
Users can always protect their homes from lock bumping attacks by replacing old locks with bump resistant locks and adding other security measures as discussed above.