Ever thought of using more than one lock on your front door? That might be a great way to bolster the security of your home.
But on second thought, you may want to consider getting a single sturdy lock that locks at different points instead of getting two or three locks. Sounds like you? Then let's talk about Multipoint Locks—what are they and how do they work?
How Does a Multipoint Door Lock Work?
Unlike the regular door lock, a multipoint lock comes equipped with three different locking points. That is, the locking system locks at different points—top, middle, and bottom.
The system works with one locking mechanism, so you can lock all three points by turning a key, or pulling the handle. As typical of traditional multipoint locks, users can lock and unlock them via a mechanical key or by pulling the handle to open the door—perhaps when the door isn't locked.
So, a multipoint lock is what it is—a lock that consists of multiple locking points—usually three locking points. These types of door locks are commonly found on composite or uPVC doors, and they are quite secure.
Are Multipoint Locks Safe?
Yes. Multipoint locks are known to provide over three times the typical level of security you would expect from a regular lock as they come with multiple deadbolts—up to three. It may well take more time and force to break through a door that is locked at three different points.
In addition to improved security, this type of lock also guarantees less wear and tear of the door hinges. The bulk of the load will be evenly distributed across the lock points, taking pressure off the hinges. If you are looking to increase your home security, getting a multipoint lock installed on your entry doors could be a smart decision.
However, multipoint locks may not work on all doors, so be sure you have a door that's suitable for a multipoint lock before you get it.
Are they Multipoint Smart Locks?
Yes, there are a couple of smart locks out there—specifically made to replace existing multipoint locks. Depending on the model/brand, the smart multipoint lock could replace the handle, cylinder, or entire lock.
Upon successful installation/replacement, you can lock your smart multipoint lock via a tap on a button, access codes, remotely (through the app on your phone), and more—depending on the entry modes the smart lock comes with.
That said, if you're interested in getting a multipoint smart lock to replace your regular multipoint lock, see our top picks below.
The Best Multipoint Smart Locks to Consider:
1. Avia Multipoint Smart Lock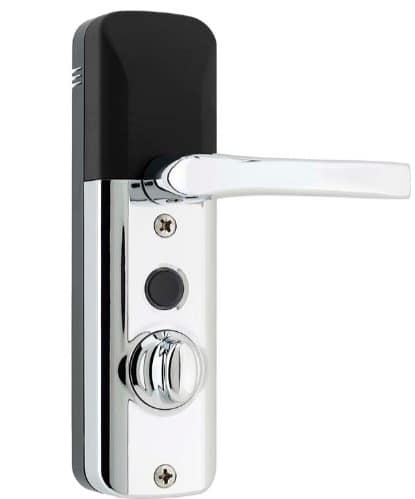 A secure multipoint smart lock that supports remote access via Apple HomeKit Technology. That is, you can connect it to your iPhone, iPad, or Apple smartwatch for remote access.
It can also be operated via the keypad, fob, and a manual key.
The lock works on most lever-operated multipoint locks. And it fit on both left and right hand hinged doors of 44mm–70mm thick.
2. Yale Conexis L1 Multipoint Smart Door Lock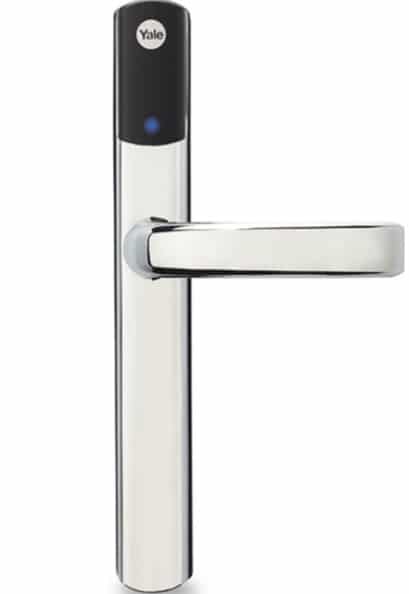 Yale is a leading smart locks brand, notable for producing secure locks with other outstanding features.
As expected, this multipoint smart lock does not differ from other top models in terms of security, remote access, entry modes, battery life, etc.
The lock offers you various entry modes, including a key card, phone tag, a key tag, and via the Conexis L1 app on your smartphone.
More so, the lock allows you to assign permanent or temporary virtual keys (via the app) to anyone you want to give access to your home when you're away. You'd also get notifications when any of the keys is used to access your home.
Besides, the lock features a tamper alarm that immediately notifies you when there's a forced entry attempt.
The Yale Conexis L1 is suitable for 44-70mm thick doors.
3. Netatmo Smart Door Lock
The Netatmo smart lock comes with a mobile app that lets you lock and unlock it via the app on your phone, deactivate keys, and more.
However, it's a Bluetooth-based smart lock and you can only operate it via the app when you're within range.
The lock features Smart Keys that can be easily deactivated via its mobile app. That is, if your key is stolen or misplaced, you can quickly deactivate it and then reactivate it when you eventually find it again. Sounds like a security feature, right?
That may well prevent unauthorized entry, as the lost key won't be functional anymore.
The lock works on doors fitted with a Euro cylinder lock—regardless of the door's width.
Are Multipoint Locks Suitable for All Door Types?
Short answer: no. As mentioned, multipoint locks are not suitable for all doors but uPVC and composite doors.
uPVC doors are white plastic doors commonly used as external doors, especially in houses built as far back as the 80s. Most people prefer this type of door because of its resistance to swelling, even when exposed to the elements.
Composite doors, on the other hand, are a mix of wood and aluminum. They are often used as front or back doors. But they tend to be common in very modern houses.
Multipoint locks may also be used on patio doors to secure your patio entrance.
What Are the Common Problems with Multipoint Locking Systems?
Misalignment: This is usually the most common problem homeowners face with multipoint locks. Misalignment happens when your door and door frame are no longer in the correct position. This usually happens when your door is old and your hinges are becoming worn out.
Drooping Handles: This happens when your multipoint locking system has been overworked. This usually happens over time until the lock eventually stops working.
Trouble Turning the Key: This happens when the locking system has completely failed. It becomes pretty hard to turn the key in the door. It could also mean that the key cam is jammed.
The solution? You should consider changing the lock (and other faulty door hardware) if you experience any of these problems—and ensure you get a high-quality product. If you like to opt for multipoint smart locks, see our top picks above.
Are Multipoint Locks Worth It?
Even though multipoint locks are more expensive than regular deadbolts, they are still worth it. These locks do not only provide an extra layer of security around your home and property, but they are also appealing, especially when coupled with a smart lock.
Also, because of how tightly multipoint locks hold the door in place (making it airtight), it helps keep the inside of the house warm, particularly during the cold months. Looking at these unique features of multipoint locks, one would believe that they are well worth the additional expense.
Final Note
Although installing a multipoint door lock might seem a bit more expensive than the regular single deadbolt locks, it is worth it. This lock not only ensures curb appeal at your front door but also guarantees your safety more than other locks, at least.
As you know, the lock comes with three locking points, which is the reason for its reliability.