Auto-lock is a feature in smart locks that automatically locks the door when it's left unlocked for a few minutes—depending on the lock's configuration.
While notable Schlage smart locks models like Schlage Connect come equipped with the auto-lock feature, a few others do not have this feature.
That said, you probably want to know if Schlage Touch locks automatically, right?
The short answer is no. Schlage Touch doesn't have the auto-lock feature, though it has other features you may like.
If you're looking to get the Schlage Touch Keyless Touchscreen Deadbolt, this article has valuable information for you. Let's begin!
Is Schlage Touch a Better Option?
It depends on what you need. But generally speaking, Schlage Touch is a sturdy, user-friendly smart lock with other excellent features. However, it has some drawbacks.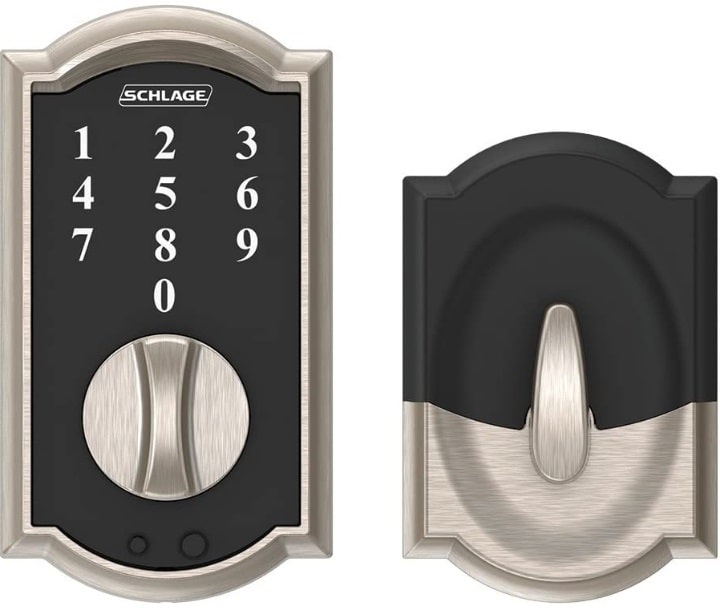 So before you go for it, you want to read this review to see if it has all the features you need. Let's dive in!
Schlage Touch Keyless Touchscreen Deadbolt Review
Key Features:
Keyless Entry
While most Schlage locks are notable for keyless entry, they're usually equipped with a keyway, meaning users can as well lock and unlock the door via a physical key.
But this is not the case with Schlage Touch. The lock is completely keyless—no keyway. This further implies that the lock can't be picked.
As you probably know, lock picking works via a keyhole, so a lock without a keyhole is somewhat a pick-proof lock, which is the case with Schlage Touch Keyless Touchscreen Deadbolt.
More so, the lock offers users the convenience of locking and unlocking their doors via access codes, which minimizes misplacing of keys and the need to re-key or replace door locks.
Security
If you need a secure lock that can withstand forced entry attacks like a kick-in, then the Schlage Touch is an excellent option.
It's a sturdy lock with BHMA/ANSI Grade 2 rating. As you may know, Grade 2 locks are tough locks, recommended for residential front doors.
They're also considered low commercial grade locks, meaning they're strong enough to be used on commercial doors—though as low-grade locks. Read more about door locks grading.
Access Codes
Schlage Touch allows users to program up to 19 access codes. Codes can be shared among those you want to give access to your home—family, friends, contractors, etc.
You can always change/delete any code. For example, you can delete access codes assigned to contractors as soon as the contract is complete.
Illuminated/Secure Touchscreen
The lock features a backlit touchscreen that ensures you don't fumble around it at night. A tap on the screen automatically illuminates the touchpad, allowing you to enter your access codes with ease.
More so, the touchscreen is fingerprint resistant. That is, it doesn't retain fingerprints on the screen, thus preventing access codes guessing.
Installation
All you need to get this lock up and running is a screwdriver. The lock's installation is just a breeze for DIY enthusiasts. But you may have to get a locksmith to install it if DIY is not your thing.
Low Battery Warning
So you may well be wondering how to unlock your door if the battery drains out and probably locks you out. But that may never happen, as the lock has a low battery indicator that notifies you when the batteries are running low.
You should replace the batteries (on time) before they go flat.
Drawbacks:
No Remote Access
Unlike other Schlage models (Schlage Encode and Connect), this lock is not Bluetooth, Z-Wave or Wi-Fi enabled. So you can't connect it to your smartphone for remote access.
If you need a smart lock that lets you control it remotely, then this is a major drawback. This lock mainly functions as an electronic lock—with keyless entry via access codes only.
Low Access Codes Memory Capacity
While other Schlage smart locks can store up to 30 user codes, Schlage Touch accepts just 19.
Although 19 user codes should be enough to share among those you want to give access to your home—unless you want more. So this might well not be a major downside.
Doesn't Work with Home Automation System
If you're looking to make your smart lock part of your smart home, Schlage Touch is not the ideal candidate for you, as it doesn't support integration with smart home systems.
Yes, Schlage Touch has no communication protocol to connect with wireless networks, meaning it doesn't support pairing with other smart devices.
Doesn't Support Voice Control
As mentioned above, the lock mainly works via the touchscreen for locking and unlocking. It doesn't support voice assistant devices like Alexa, Google Assistant, etc. It's also not compatible with Homekit.
No Built-in Alarm
Smart locks with built-in alarms notify you when there's a security threat—forced entry and the like. You may also get notifications (via SMS or the lock's app on your phone) when anyone else locks or unlocks your door.
Of course, this is an excellent security feature, but not available in Schlage Touch.
Though as a Grade 2 lock, Schlage Touch is secure and may well resist forced entry attacks. Besides, it's a keyless lock that can't be picked or bumped.
Final Words
So that's it! If you want a not so pricey smart lock, but secure and let you conveniently lock and unlock your door via access codes, Schlage Touch is the ideal candidate.
However, you want to look elsewhere if you need a smart lock with remote access, auto-lock feature, and the ability to connect to your home automation system.