Are you looking to read a detailed review about SMONET smart lock to help you make a buying decision? You're sure on the right page.
In this post, we review the top two models of SMONET smart locks—focusing more on security, remote access, and other basic features of a standard smart lock.
Let's begin!
SMONET Smart Locks Review
1. SMONET Touchscreen Keyless Door Lock (SMUS-AM)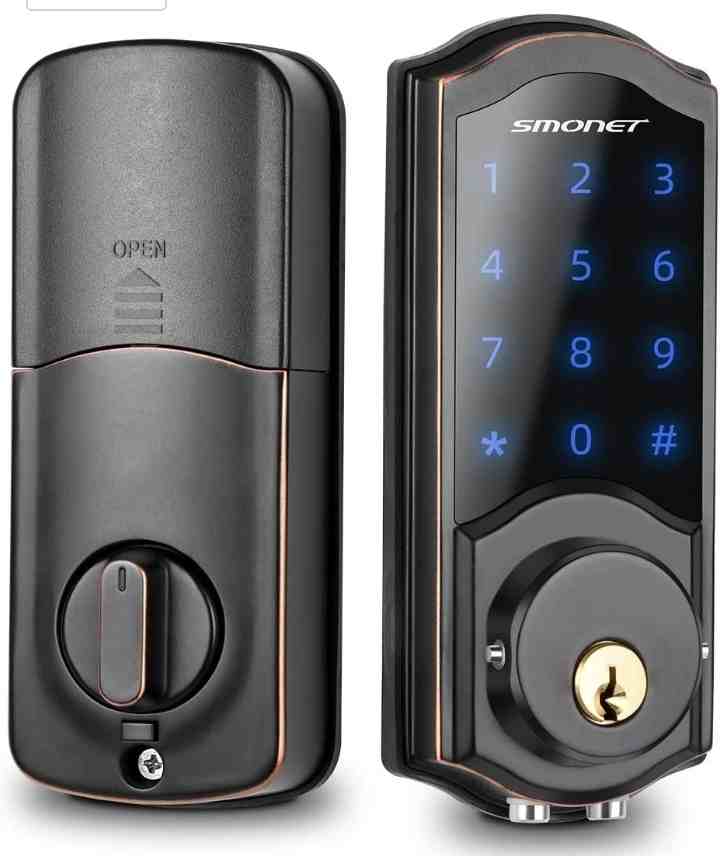 Security
SMONET keyless smart lock is somewhat secure, as it comes equipped with auto-lock and other security features—such as anti-peep and built-in alarm.
As you probably know, the auto-lock feature automatically locks the door when it's left unlocked for a few seconds/minutes—based on how the lock is programmed.
This helps to keep the doors locked, even when you forget to lock them. Sounds like a security feature, right?
Of course, burglars could easily enter your home when the doors are not properly locked, so a door lock that locks automatically sounds like a good way to beef up security in your home.
More so, the built-in alarm notifies you (via the app on your phone) when anyone attempts to unlock the door, while the anti-peep password feature prevents passcodes guessing/stealing.
With these features, the SMONET Wi-Fi Smart Locks could be considered a secure option for your home.
However, the downside to this lock is that it features a keyway that makes it vulnerable to lock picking. And it's not clear if it can resist lock picking—as it has no ANSI/BHMA ratings to prove that.
Remote Access
If you're looking for a smart lock that allows you to access it remotely, this SMONET lock may well be the ideal candidate. The lock uses Bluetooth for connectivity, and it can be connected to your smartphone via Wi-Fi for remote access.
Once successfully connected, you can lock and unlock your door via the app on your phone, program access codes, receive notifications, and more.
But keep in mind that the lock can't connect directly to your smartphone without a Wi-Fi Bridge. So you need to purchase the SMONET Wi-Fi Gateway (sold separately) to pair it with your smartphone and enable remote access.
Batteries
The lock uses 4 AA batteries that last up to 6 months. And you'd get notifications from the low battery indicator when replacement is needed.
Access Codes
This lock allows users to program and store up to 500 access codes. It supports temporal, permanent, and customized access codes. Of course, you can share codes with anyone you want to give access to your home/office.
Voice Assistant
This model of SMONET smart lock works with Amazon's Alexa voice assistant. That is, you can connect it to Alexa and then lock and unlock your door via voice commands.
However, it doesn't support Google Assistant or Siri. Maybe you want to consider that a downside.
Keyway
While it could be considered a downside because of lock picking, a keyway can be useful when your lock's battery drains out unannounced.
So this lock lets you choose between access codes, voice assistant, smartphone (via the app), and mechanical key entry.
2. SMONET Fingerprint Smart Deadbolt (ZNS-Y001)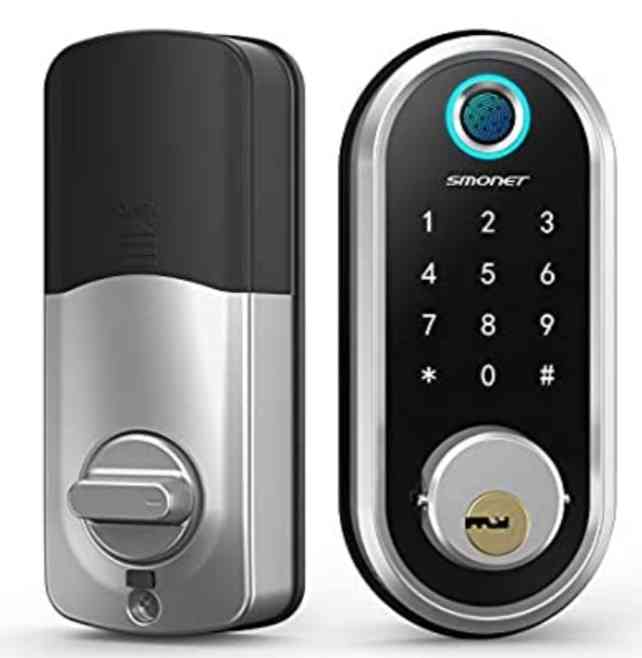 SMONET Smart Deadbolt features a highly sensitive fingerprint sensor that recognizes registered fingerprints at one touch—when placed correctly. The lock has other exciting features that make it one of the best SMONET locks.
What's more, let's take a closer look:
Security
This lock is no different from the other model above in terms of security. It has the auto-lock feature that automatically locks the door when you leave it open for a few minutes.
It also automatically locks the door for about 5 minutes when a wrong code is entered over five times.
More so, you can view your lock's status via the app on your phone. That is, you can see who opened the door at any time—via the code or fingerprint used. You'd also get notifications on the app when anyone locks or unlocks the door.
However, the lock has a keyway, meaning it's not completely immune to attacks.
Remote Access
The lock supports remote access via the TTLock App and Wi-Fi Gateway.
To access your lock remotely, you need to download the app (compatible with Android and iOS devices) to your smartphone and as well get the Wi-Fi Gateway—sold separately.
Upon successful connection, you can lock and unlock your door remotely, create and assign user codes, view your lock's status, and more.
But the little downside here is that you have to get the Wi-Fi Gateway, which might well be out of your budget.
Entry Modes
The lock has five different entry modes—fingerprint, mobile app, access codes, IC card, and mechanical key. Users can switch between any of the methods they prefer.
For user codes, you can program up to 500 codes and share with those you want to give access to your house or office. It also stores multiple fingerprints, which can be removed anytime.
Voice Control
It's compatible with Amazon's Alexa voice assistant. That is, you can pair the lock with Alexa via SMONET Wi-Fi Gateway and unlock your door through voice commands.
Read our related article on the BEST Smart Door Locks that Work With Alexa! We found the top Alexa-enabled door locks and tested their claims.
Batteries
The lock has long-lasting batteries—lasts up to 6 months. Besides, it comes equipped with a USB backup power that lets you unlock it via a power bank—when it's out of power.
You can also charge the battery via the ports.
Looking for an alternative to SMONET smart locks? Read our review about Dato Smart Locks.
Read More: Best Remote Control Floodlights. Increase the security of your property with these tried and tested floodlights!
Final Words
If you want a secure smart lock with remote access and multiple entry modes, the above SMONET smart locks are reliable options for your home or office.
But as mentioned, the locks may not be completely immune to burglary attacks, as they have keyholes that could give in to lock picking and bumping.
You may want to beef up your home security by getting a security system such as Ring Alarm, SimpliSafe, and Xfinity Home.
That said, if you already purchased a SMONET smart lock, you want to ensure it's properly installed to enjoy all the features. You can find more information on installation, troubleshooting, resetting, and more—on the user manual.
If you've misplaced your SMONET smart lock manual, you can request a copy (PDF) from SMONET.